The mylo COM 2 boasts a 3.5-inch touchscreen LCD (800 x 480 pixels), 1GB of flash memory and integrated camera. The mylo COM 2 has a several chat clients and can be customized with widgets. For $299 you get what Sony calls 'all the fun parts of computer' in a compact form factor.
The price also includes free access to participating Wayport hotspot locations in the U.S. including more than 9,000 McDonaldâ€â"¢s locations through 2010. Depending on how much time you spend stuffing Big Macs into your face, this could be one of the best value propositions of the mylo COM 2.
I played with the new mylo last week and it's interface worked reasonably well. There are several widgets to keep you connected, including one for Facebook. Sony has a library of widgets you can download and you can easily build your own.
The communications tab includes chat clients for Skype, Yahoo, Google Talk and AOL Instant Messenger. You can use the mylo as a Skype handset to make Skype Out calls. This was my favorite part of the mylo as all of the chat apps worked well and I could open several of them at once.
The web browser works reasonably well, but seems to hesitate from time to time. The mylo COM 2 does have Adobe Flash, which means you can watch videos from YouTube and other popular video sharing sites. The mylo allows you to upload and download content, something that's sorely lacking from Apple's iPhone and iPod Touch.
While it's a nice device in many ways, it's a product that's hard to define and faces competition on several fronts. With only 1GB of memory, the mylo 2 is extremely limited in the amount of media you can load onto it. Music and movie fans won't give up their iPods for it. The mylo 2 can be used as a Skype handset, but that's no substitute for a mobile phone. It's definitely not a substitute for a notebook.
Given that most students already own a mobile phone, personal media player and a computer, I doubt that a significant number of them will buy a mylo COM-2. Sony is targeting 14 to 24 year olds, people you are generally on a budget. I can see this doing well as a PC alternative for people who have to share computers with other family members, but want to chat all night.
It's certainly a fun device and has a lot of functions the Apple products don't have, but it doesn't have the same sex appeal. The touch interface isn't as smooth and it's ridiculous that a portable device only has 1GB of memory in 2008. I understand that Sony's trying keep prices down, but having 850 MB of user-available storage just isn't good enough. You can add memory via a Memery Stick Duo slot, but 8GB of add-on memory will set you back about $170.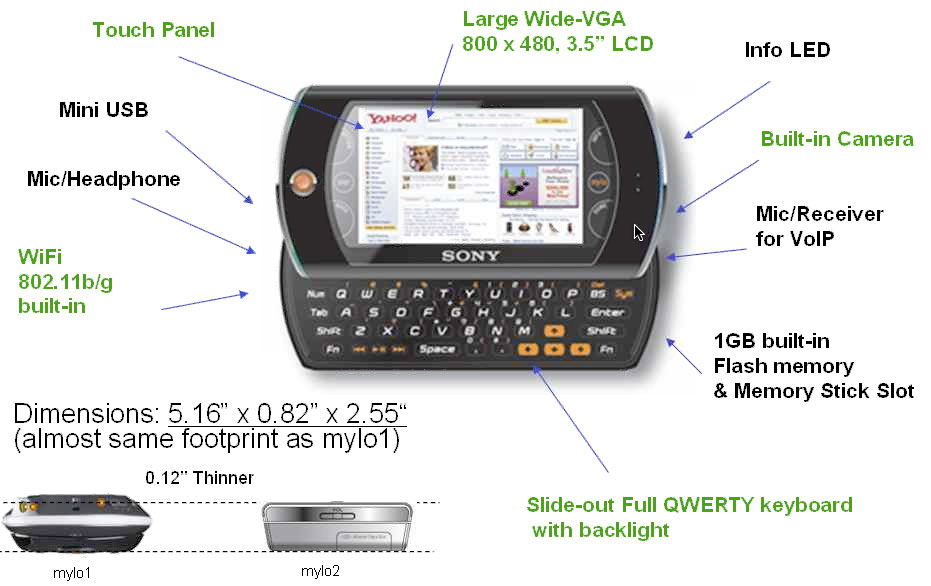 The mylo communicator uses a lithium-ion battery that offers up to 20 hours of music playback, six hours of continuous Skype talk time, and up to seven hours of video playback. It comes equipped with a microphone, stereo headphones, USB cable, a stylus and a neoprene case. You can personalize the device with attachable face plates, which are sold in two packs — red with gold or blue with pewter. Each pair will be sold for about $20. There is also an optional charging cradle available for around $30.
Advertisement