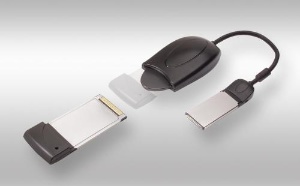 If you've amassed a small collection of PCMCIA cards, it can be pretty painful to switch over to a notebook that only sports an ExpressCard slot. Duel Systems is changing things with the DuelAdapter, the first PC ExpressCard to PCMCIA adapter for notebooks.
One end fits into any 34mm or 54mm ExpressCard slot, the other end accepts any PCMCIA card, such as your EVDO card or compact flash card adapter.
Sounds good, but the DuelAdapter only fully supports Windows XP. Most notebooks that only have ExpressCard slots are shipping with Vista. The company's site says the DuelAdapter is "Mac OS X compatible," but down in the fine print it says "your MacBook Pro or other Apple computer must be restarted before reinserting the DuelAdapter into the ExpressCard card slot on your computer."
Nice product, but Vista and Mac OSX users should definitely wait until driver issues are sorted out before shelling out $99 for this accessory.
Advertisement