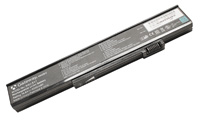 Gateway is joining in on the battery recall fun, with the requisite recall website and press release stating the recall is for Sony-made batteries, a safety precaution and none of their notebooks have caught on fire yet. The company is only recalling 35,000 batteries, small potatoes compared to the likes of Dell.
Donâ€â"¢t fret too much if you bought your notebook at retail, as Gateway says the recalled batteries were sold primarily through their direct and business channels.
This is part of Sony's latest recall, and Gateway is acting proactively.
"Gateway was not affected by Sony's previous recalls. When Sony expanded their recall today to include a new subset of batteries, it affected Gateway systems. We immediately responded with a voluntary battery exchange program," Gateway spokesperson Lisa Emard said by email.
If you've purchased any of the following notebooks since September of '05, head over to Gatewayâ€â"¢s battery recall site to see if it's time for a new battery.Gateway CX200, CX210, E100M, M250, M255, M280, M285, M465, M685, MP8708, NX260, NX510, NX560, NX860, NX100, MX1025, MX6918b and MX1020j.
Advertisement