Unplggd has compiled a list of 10 cord management solutions for under $10. These possible solutions should help you to reduce the clutter of power, USB, and other types of cables that you may have with your current home or office set-up.
Even though many companies have reduced the amount of cables that are needed to keep a computer running, especially with the introduction of AIOs (all-in-ones) such as the Apple iMac, cord management has proven to be a fairly difficult task. Throw in an external monitor, an external hard drive or two, a USB sound system, and an iPod Dock and you will have yourself a tangled mess of cables behind or on top of your desk.
Unplggd's list of cord control solutions aims to alleviate that tangled mess for a very small investment. One solution is the Signum Cable Organizer by IKEA. This handy little pouch attaches to your desk or table without any drilling or adhesives. What I really like about this solution is that your cables are hidden, while still quite accessible. This would be particularly beneficial if you have a laptop and experience the constant need to quickly unplug your power adapter to take it with you on the go. Best of all, the Signum Cable Organizer will only set you back $5.00. It can be used on table tops with a maximum thickness of two inches.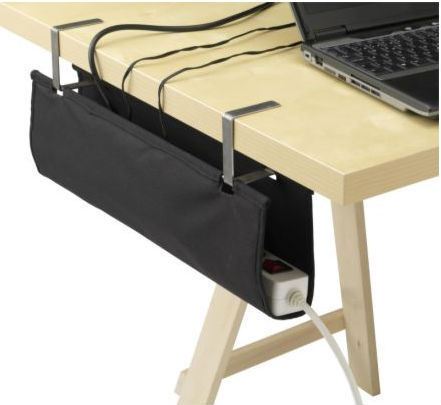 Signum Cable Organizer
Another option is the Cable Station II from Organize.com. This handy little $5.79 station allows you to organize up to five cords on your desktop. The rubber station attaches to your desk via double-sided tape and keeps your most important cables right where you need then. Say you have a Wacom tablet that you don't always have on your desk. When unplugged, the USB cable can always be easily accessible, rather than fall behind your desk. Another useful feature is the fact that the surface is writeable. This gives you the freedom to label each individual cable slot, so you know exactly what USB cable goes to which device.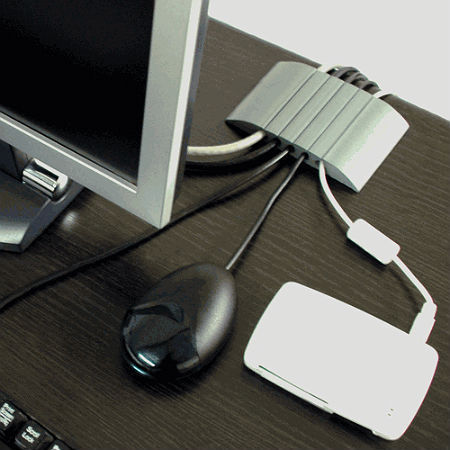 Cable Station II
There are many more ideas under $10 over at Unplggd. Check it out and get organized today.
Advertisement