Lenovo made the Lenovo Flex 11 Chromebook for the modern two-in-one laptop market with a screen that will swivel back into tablet mode useful for the Google Play Store and Android apps, which are coming soon. This Chromebook also enjoys a rugged design that will withstand a drop from up to 2.4 feet and spills on the keyboard thanks to the sealed ports, trackpad and keyboard.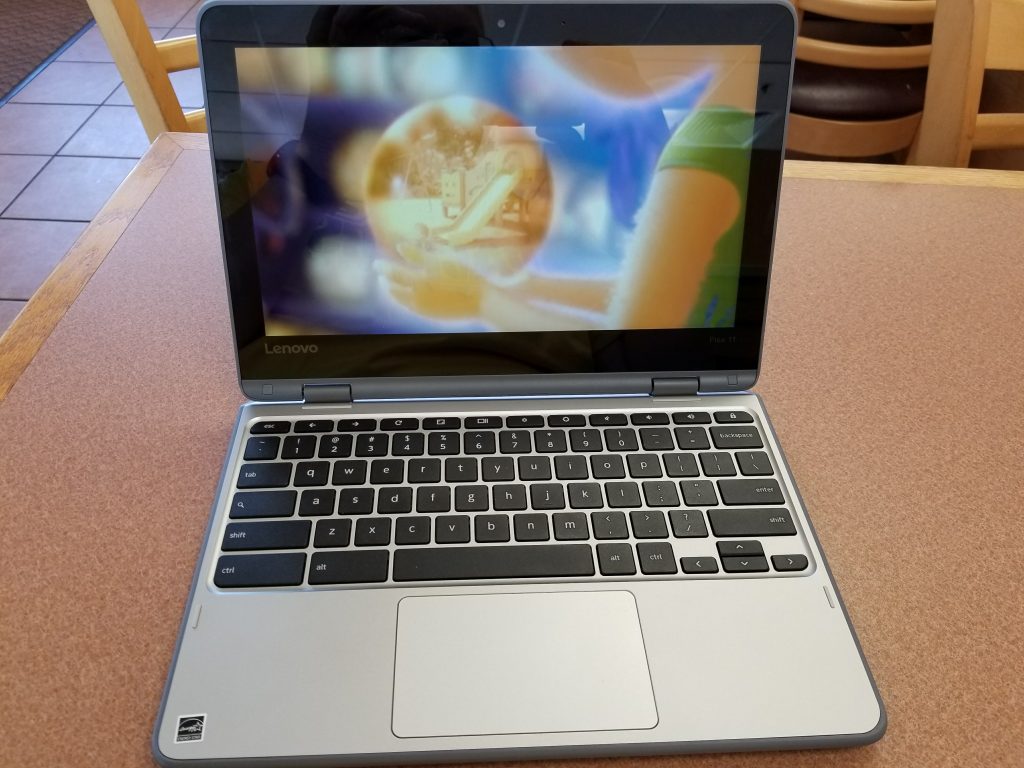 Schools snap up Chromebooks in large numbers today because they're inexpensive and simple to use. Companies like Lenovo make the Lenovo Flex 11 rugged for that market.
Kids in classrooms sometimes drop their devices. If you're going to make it rugged, then give it water resistance as well. And design it small enough for grade school kids to use. That describes the Lenovo Flex 11 perfectly. However, how does it measure up as a consumer laptop?
Lenovo Flex 11 Chromebook Hardware Design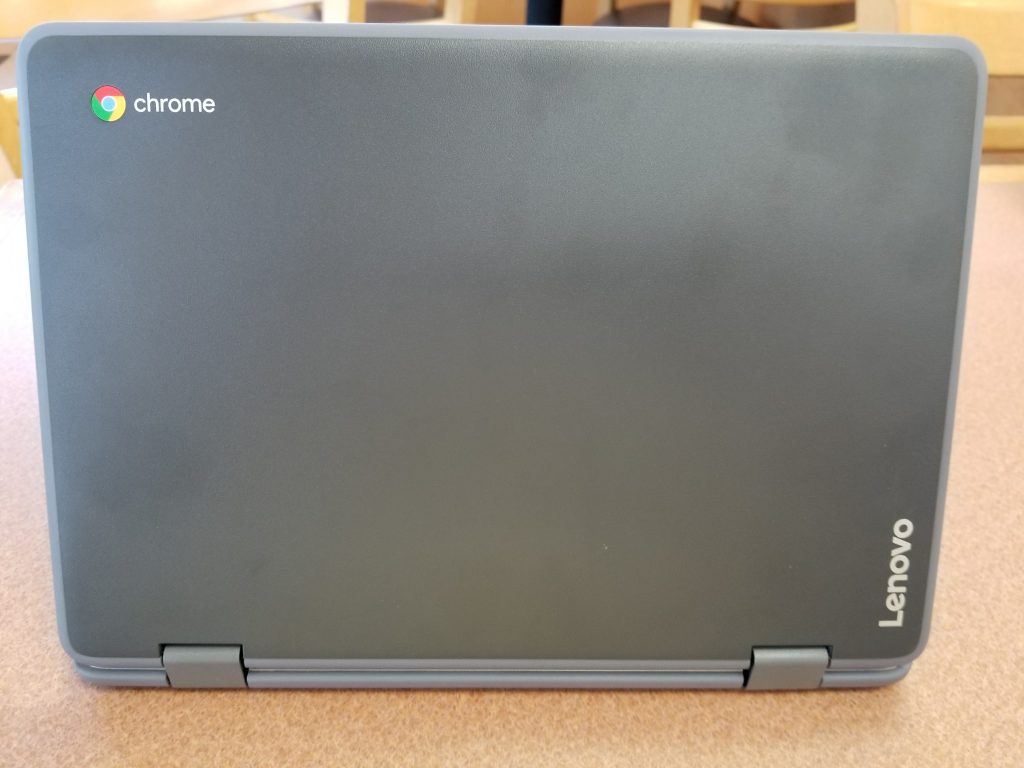 The Flex 11 comes in an ugly dark gray textured two-in-one design with a screen that will rotate back so users can hold it in multiple modes. They include the following: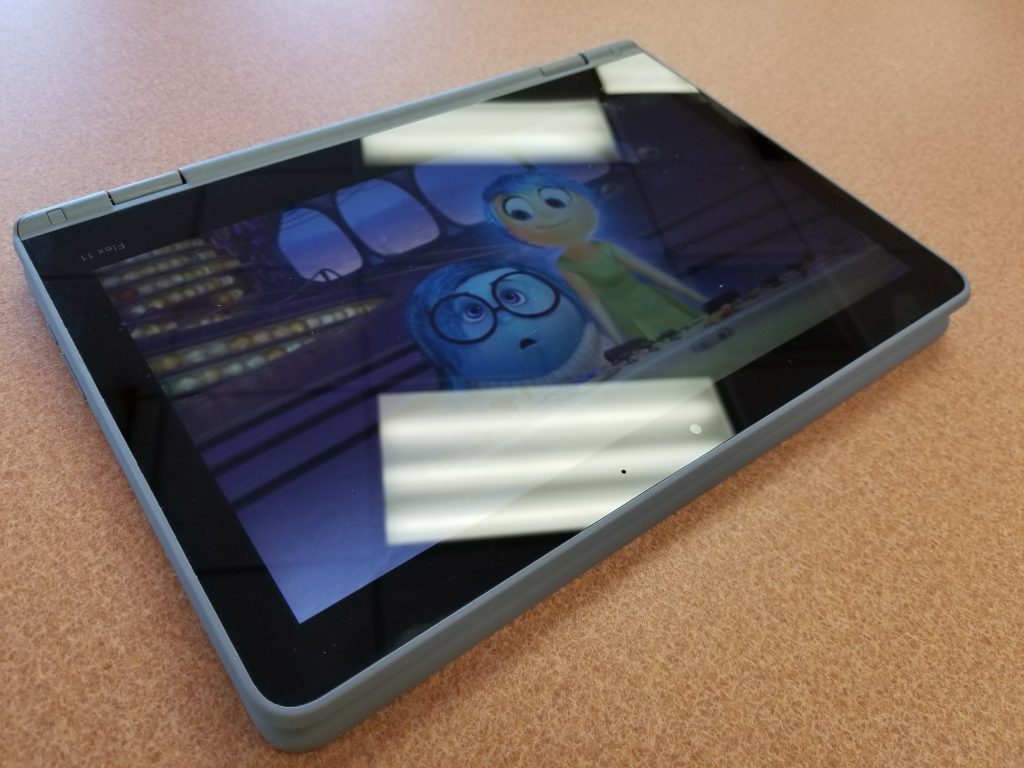 Tablet mode with the screen folded back almost 360 degrees seen above.
Stand mode so you can prop it up with the keyboard facing the table directly below.
Tent mode with a V formation and the screen facing forward seen in the last photo in this section below.
Traditional laptop mode as seen in the first picture above.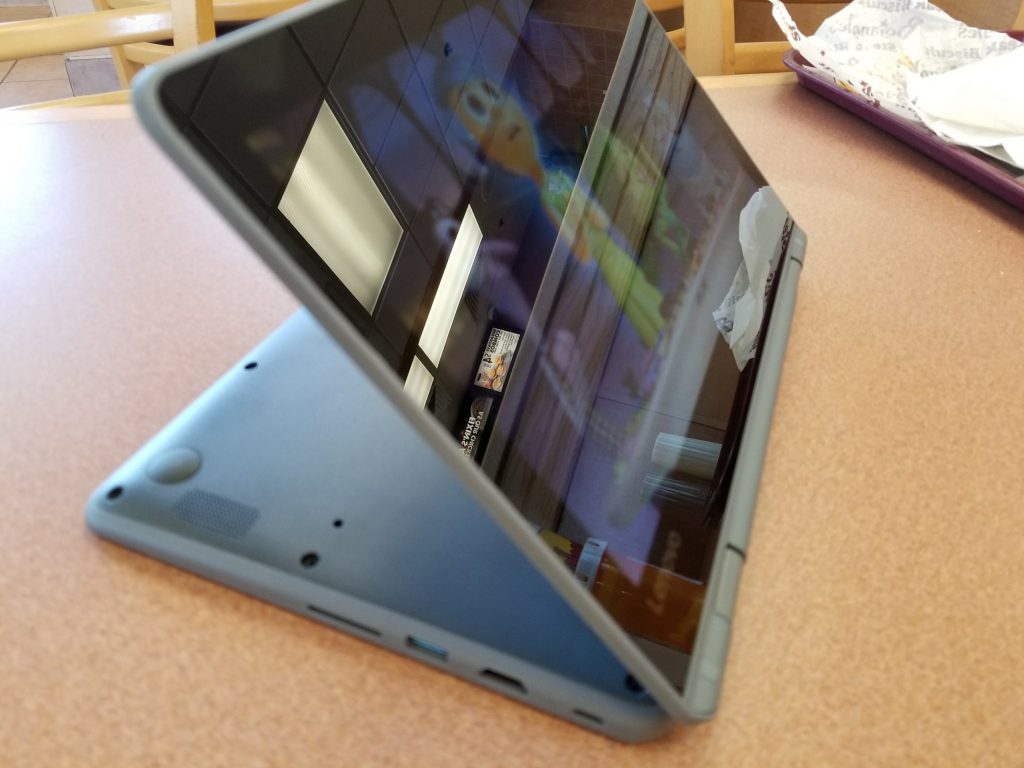 Thanks to the rugged nature it's a little thicker than some of the other Chromebooks released recently. At 2.9lbs. the Flex feels a little heavy for an 11-inch laptop.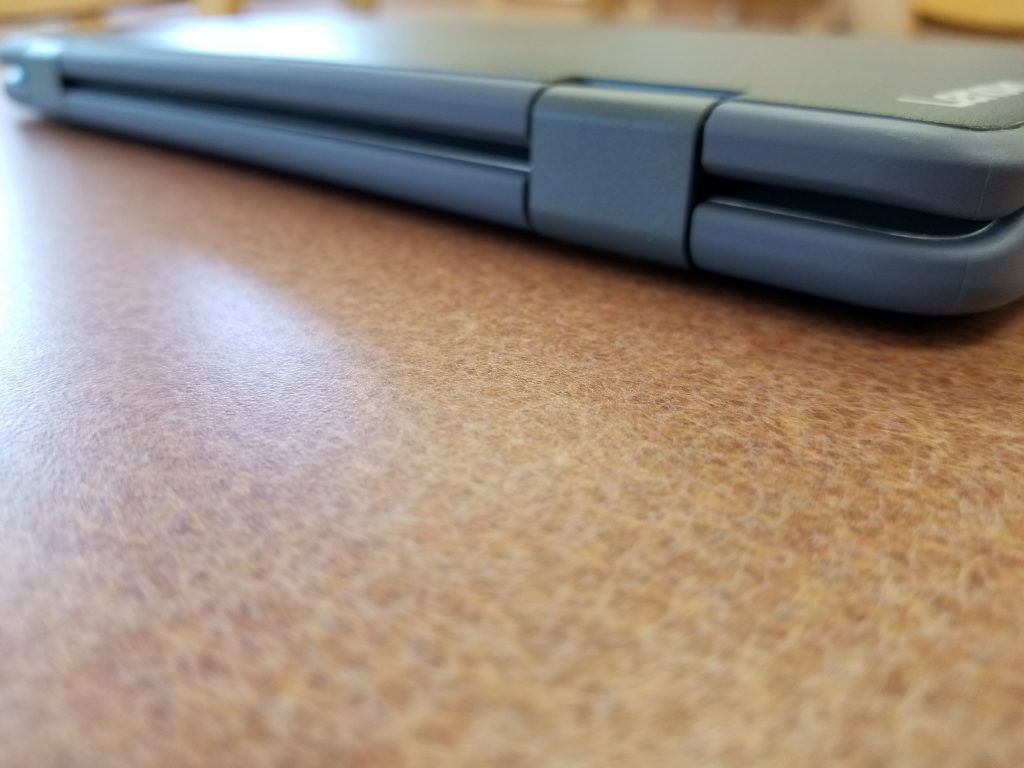 The hinges that swivel around nearly 360 degrees degree offer enough resistance to keep the screen upright while in laptop and stand modes. The hinge also makes it hard to open with one hand.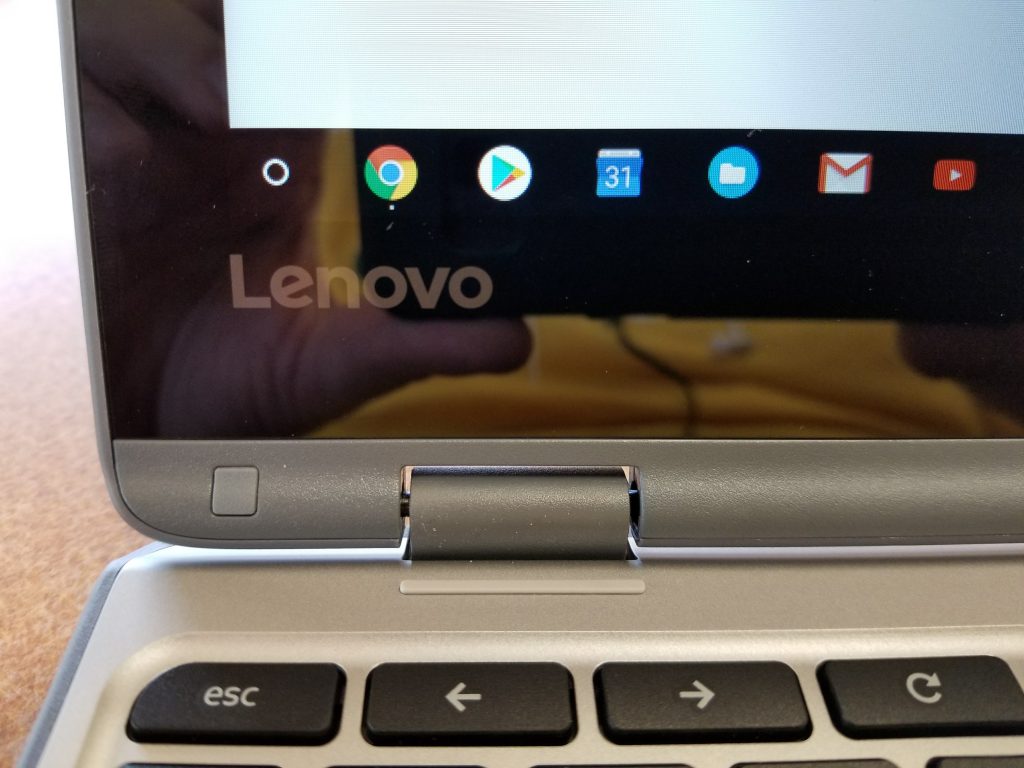 Around the display, there's a thick bezel compared to other computers this size. That reinforces the strength but makes it wider and taller that other 11-inch Chromebooks.

The design style feels dated. People won't buy this model for the look, like the Samsung Chromebook Plus or Pro buyers might. Despite the small dimensions the laptop feels bulky for a small computer designed for portability and for school kids. That's what makes this model compelling to a segment of the market. It will stand up to some abuse.
Lenovo Flex 11 Chromebook Performance and Battery Life
Inside, we get a MTK 8173C Processor with quad-core 2.10GHz speed. That's an ARM system on a chip design meant for long battery life and enough speed for simple tasks that most Chromebook users need like browsing, typing documents, checking email and maybe a little video streaming online. It should handle light casual online gaming too. The ARM processor also handles graphics performance.
I tried opening 12 browser tabs and the computer didn't slow down, even though my Internet connection did struggle. The computer performed well even if the public Wi-Fi hotspot didn't. At my home, where Internet speeds are fast, the slowdown went away.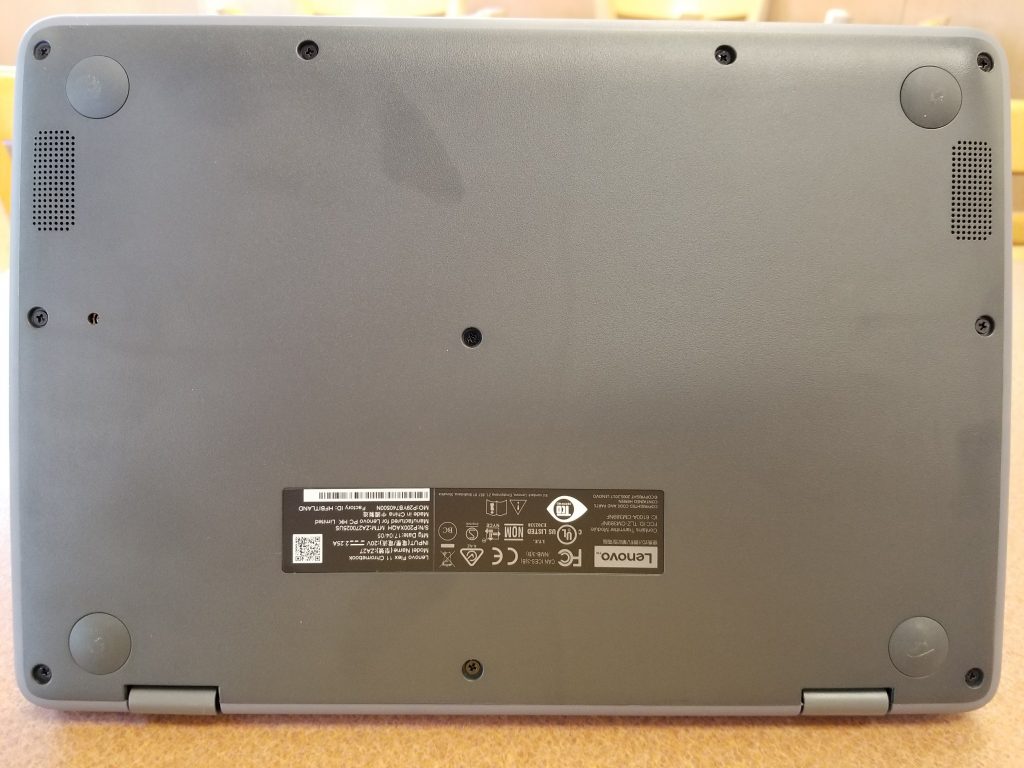 Buyers will get 32GB of built-in storage, plus an SD-card reader. Add in 4GB of RAM for decent browsing performance. Expect to open up a dozen tabs in Chrome without much slowdown.
The 3-cell 45 watt-hour battery lasts about 6-8 hours in real world usage. Lenovo promises 10 hours, but that's not likely with the screen at a bright enough level to use in a bright room. The SoC Arm processor sips power compared to other Chromebooks and still handles day-to-day tasks well while giving users long battery life on a budget.
Lenovo Flex 11 Chromebook Display and Audio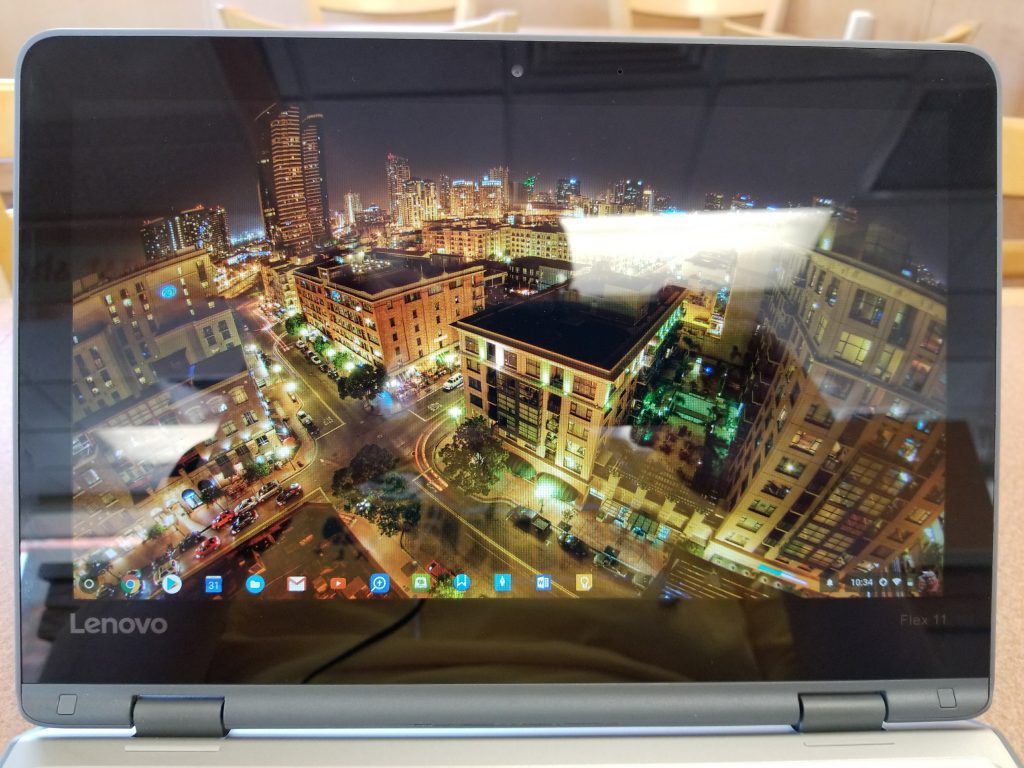 We get an 11.6-inch IPS AntiGlare display that boasts a 1366×768 resolution, which means we get 720P HD performance. While it's not as bright and brilliant as the Samsung Chromebook Plus, which offers a beautiful display, it does give users a nice look for a sub-$300 Chromebook.
Lenovo calls the display on the Lenovo Flex 11 Chromebook "AntiGlare", but I wouldn't. It's shiny and under bright lights has plenty of glare. It is not what any reasonable person would call "AntiGlare".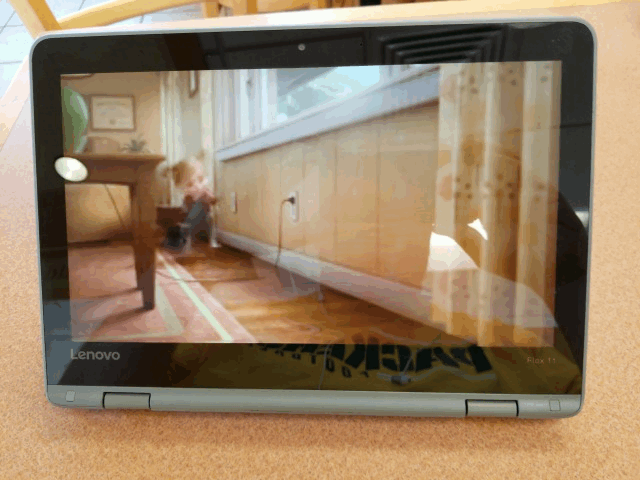 Watching a movie on the Lenovo Flex 11 in any of the four modes (laptop, stand, tent or tablet) will entertain users even if the display's a little too reflective. The sound's a little muddled, but adequate for use on an airplane or in the car on a long ride. Students can enjoy it for basic tasks while away from home in the dorm.
Plug in a set of decent headphones and the sound quality goes up drastically. The weak speakers under the keyboard wrist rest produce decent sound for basic tasks, but the headphone jack gives a better listening experience for movies, music and other audio.
We get a basic 720p camera. It's fine for streaming video chats or going live on social media, but little else.
Lenovo Flex 11 Chromebook Keyboard and Touchpad
The keyboard's decent compared to other budget notebook computers. It feels a little springy and has a little give in the middle.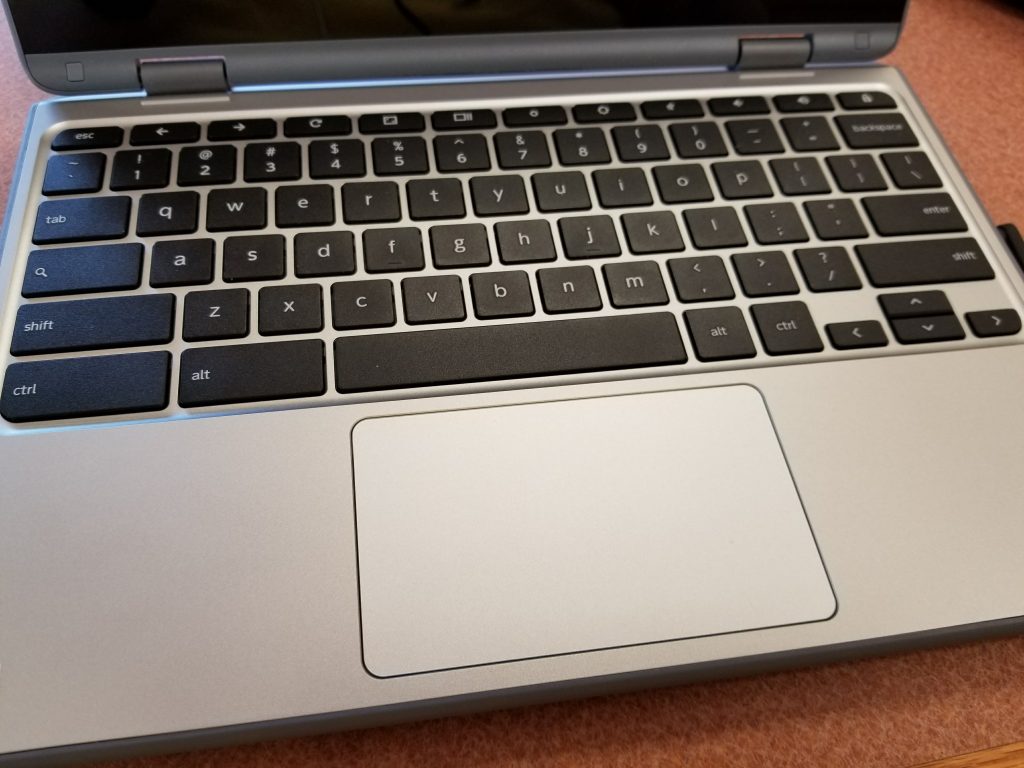 The Flex 11 keyboard gives users a spill-proof experience. Don't test it if you get one, but should a user accidentally spill their drink, it should hold up. The touchpad and ports also promise spill-resistance. That's a great thing for a notebook that's designed for young hands.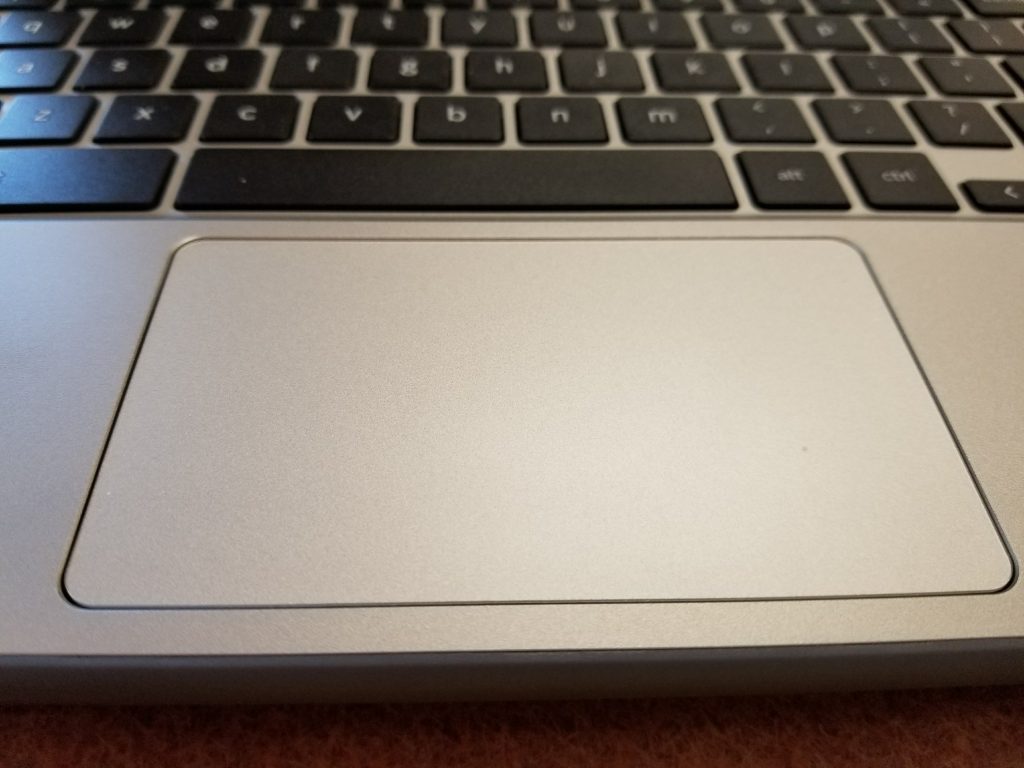 The touchpad feels accurate and gives the user enough space for comfortable pointing. Like the keyboard the click feature feels springy and that's not a good thing. At this price, it's adequate, like the keyboard.
The touchscreen makes the touchpad less important. Since the screen responds well to swipes, touches and even dragging, the user might use the touchpad even less.
Lenovo Flex 11 Chromebook Ports and Networking

Unlike other recent Chromebook releases, the Lenovo Flex 11 comes with plenty of legacy ports. In addition to a USB-C port that functions as a video out or data port and for charging the system, there's an HDMI port, USB 3 port and a full-size SD card slot all on the left side of the system.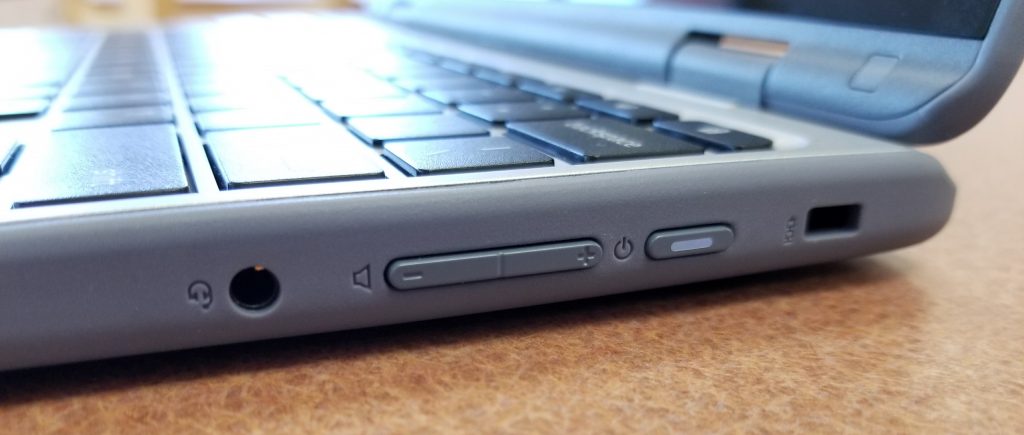 Over on the right we get a Kensington Lock for security, the power button and volume up/down buttons. There's also a mic/headphone combo port.
The Lenovo Flex 11 comes ready to connect wireless with 802.11 a/b/n/ac Wi-Fi. It also has Bluetooth 4.0, but no LTE option.
Lenovo Flex 11 Chromebook Software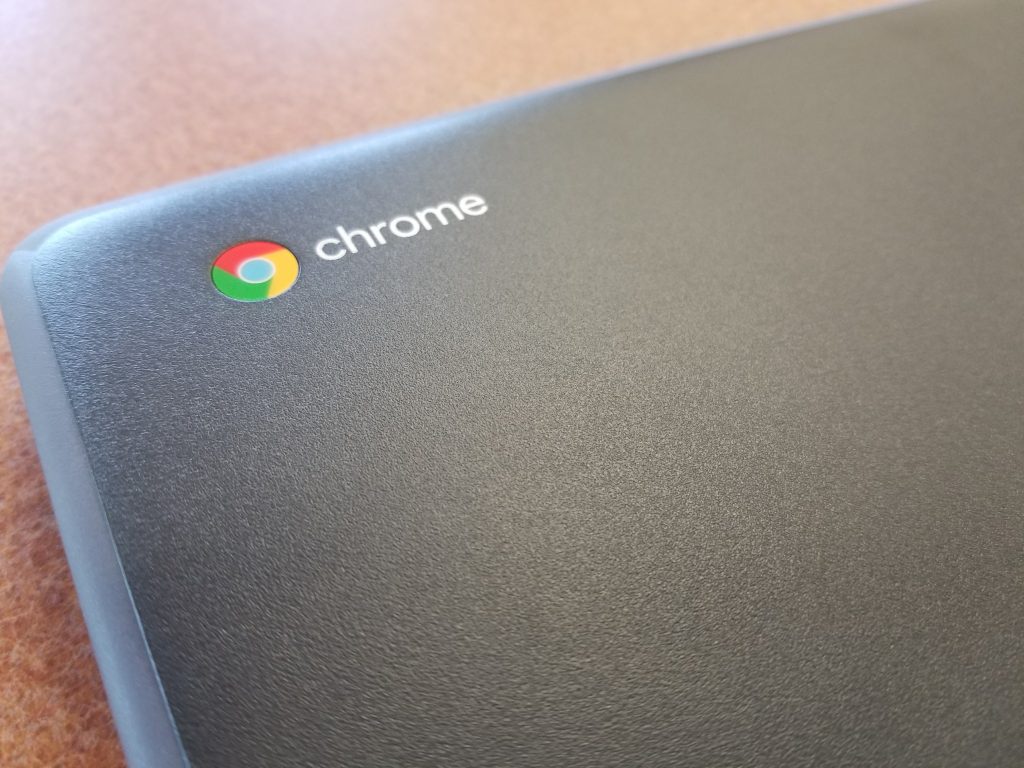 Lenovo advertises this as a Chromebook ready for Android apps, however, it shipped with a Chrome OS version that didn't include the Google Play Store yet. Users will need to upgrade to the Dev Channel of Chrome OS to get the Play Store and install Android apps. Hopefully the Play Store will filter down to Beta and eventually Stable Channel very soon on the Flex 11.
I upgraded almost immediately and the computer ran smoothly even on Dev Channel. If you don't like running it on Dev Channel, switch back to Stable, a trivial matter thanks to the easy Powerwash feature of Chrome OS.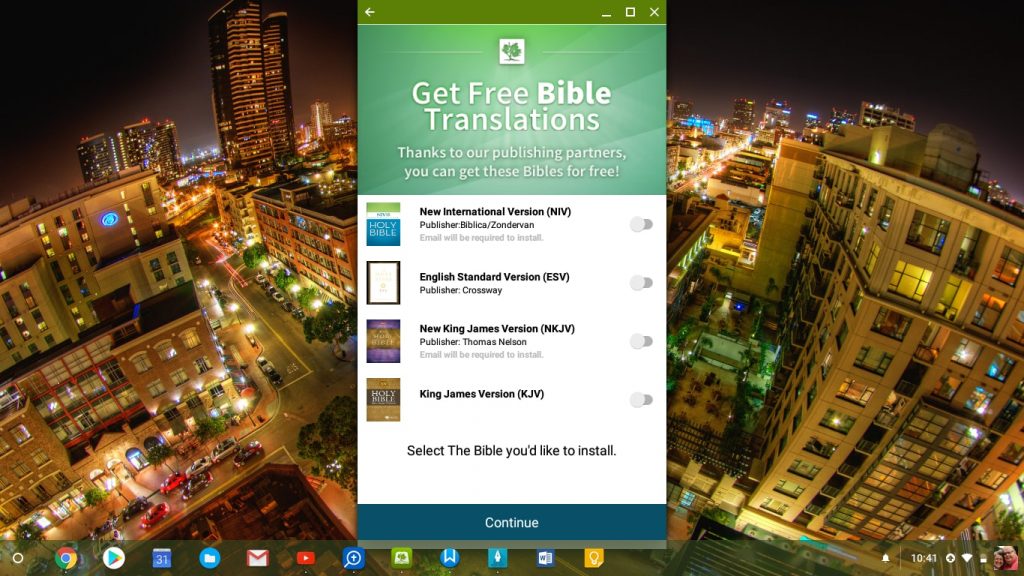 Android apps run fine on the Lenovo Flex 11 Chromebook in Dev Channel. At first they will launch in a small portrait window and, if the app supports full screen mode, you can open the app to cover the entire screen. The Flex 11 handled all the Android apps I use on a Chromebook without any issues.
Bottom Line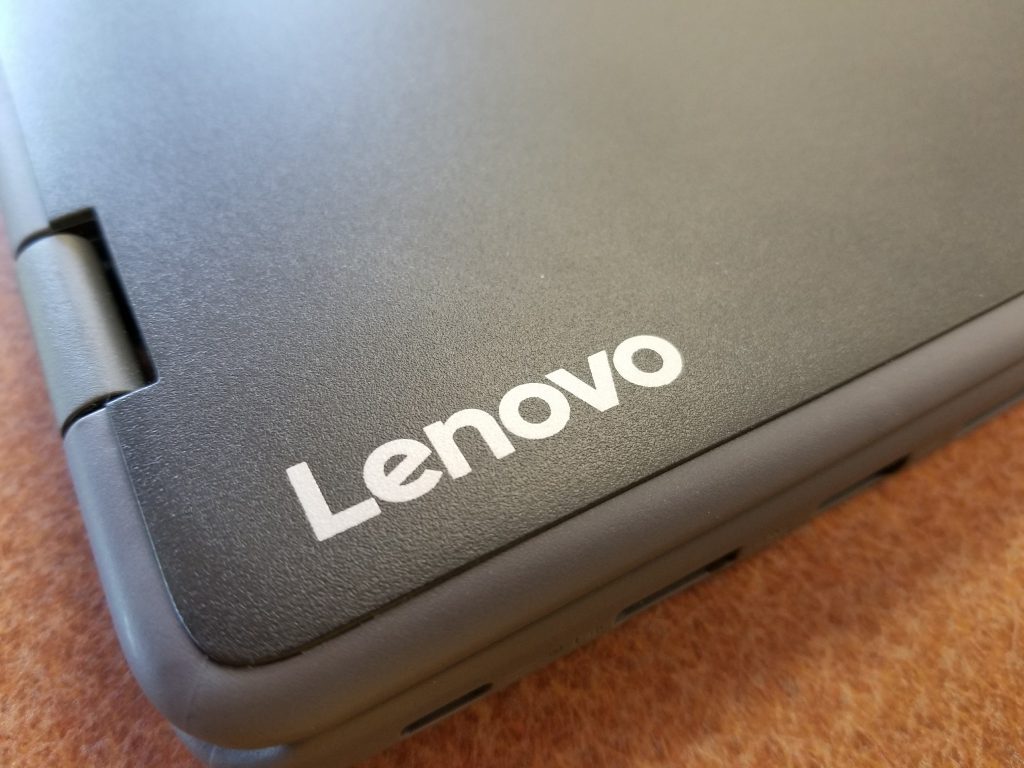 Buyers can get the Lenovo Flex 11 Chromebook for just $279 at Lenovo. That's a great price for a rugged 11-inch machine with touchscreen and good battery life. It performs well enough and will give users a good experience for basic tasks like schoolwork, light browsing the web and even some entertainment. It's a little chunky and heavy compared to other recent Chromebooks. It's also not as attractive in its design.
For those with simple needs or for a young person wanting a device for homework, we can recommend the Lenovo Flex 11 Chromebook without reservation. Others may want something a little more powerful or with a more attractive design. The current king of the Chromebook market comes from Samsung. The Samsung Chromebook Plus costs at least $200 more its big brother, the Samsung Chromebook Pro, and will set you back twice as much money. The Flex 11 will likely win a spot in our top five Chromebooks this summer, knocking out Dell's 11-inch Chromebook for education.
Advertisement