At WWDC 2017 Apple announced an update to the 2017 MacBook Pro lineup, putting the faster and more efficient Kaby Lake processor in the laptop. The entry point price also drops to $1,299 for their lowest price 13-inch MacBook Pro model. Users will get faster SSD storage as well. The Kaby Lake chipset fixes the biggest complaint people had about last year's MacBook Pro update.
Last year Apple updated the MacBook Pro with Touch Bar and made other changes, like a larger glass trackpad and a better keyboard, it left out upgrading to the 7th generation Intel Kaby Lake processor. The omission disappointed a lot of Apple's fans, but their hopes were finally realized with this update available now from Apple.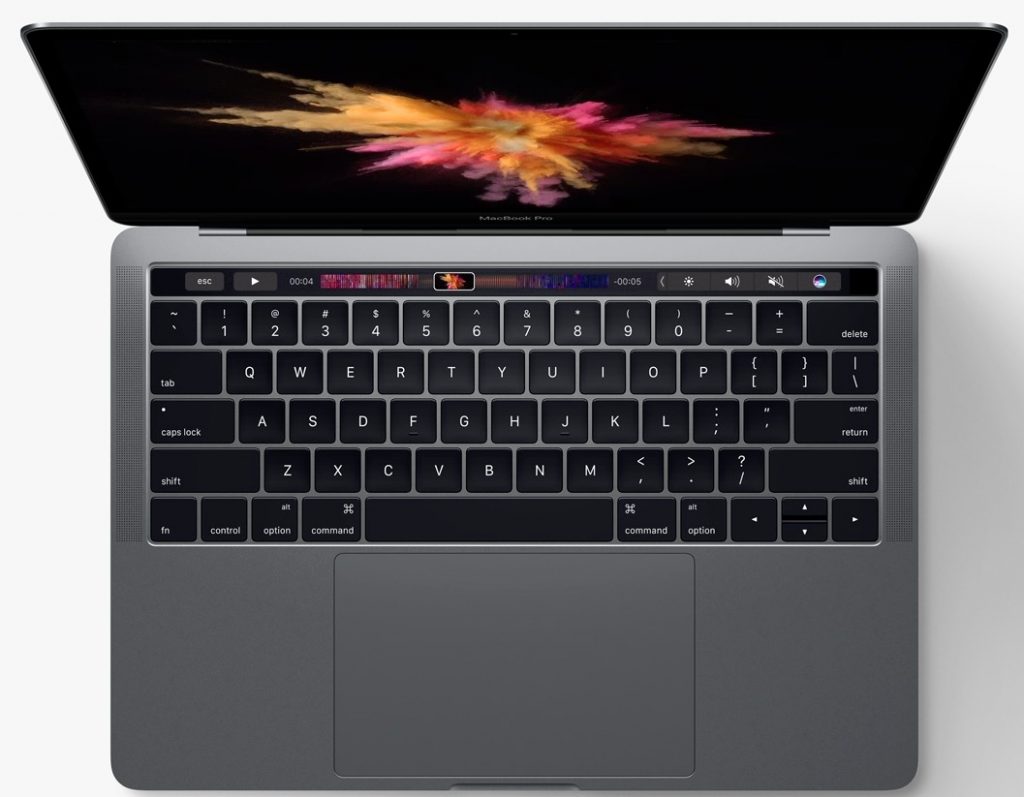 2017 MacBook Pro with Faster Specs
The 2017 MacBook Pro gets Kaby Lake for the first time, replacing the 6th generation Skylake architecture. The 7th generation processor and architecture from Intel gives the new 2017 MacBook Pro better performance and more efficient power usage. The battery will last up to 10 hours, according to Apple's claims. These new computers will give users a speed bump in the megahertz numbers as well.
Intel's new Kaby Lake chip has a 14nm manufacturing process, which means Intel can put more power in the same size chip. Also, the chip will give users better UHDTV or 4K video encoding.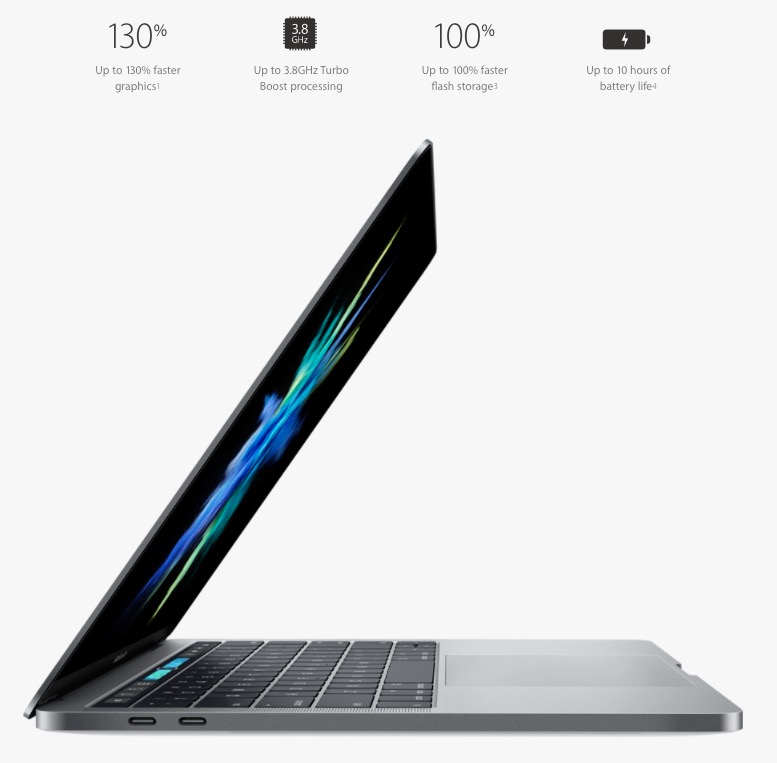 The base model 13-inch 2017 MacBook Pro laptops will come with integrated graphics chips. Gamers will want to jump to a higher-end system, as will serious graphics creatives or hardcore design pros. The integrated Iris Plus GPU probably does a great job since it's similar to the earlier generation Intel Iris GPU available in older models. They're not as powerful as the dedicated graphics processor that Apple puts in their high-end model but do come with 64MB of embedded DRAM to accelerate graphics for everyday applications.
Apple gave their 15-inch 2017 MacBook Pro a quad-core AMD Radeon Pro graphics card. It comes with 4GB of graphics memory using GDDR5 chips. What does this mean in usage? Faster performance in applications like Final Cut Pro X as well as better gaming and VR options.
Video Editors will appreciate getting faster rendering while using their 15-inch 2017 MacBook Pro with Final Cut Pro X. Editors can also work with up to 3 streams of 4K video in a single project.
For those who care about the detailed specs, Apple says the new SSDs will get 3.2GB/s sequential reads and 2.2GB/s sequential write speeds on both the 13 and 15-inch systems. The 13-inch MacBook Pro offers a 3.5GHz or 4GHz processor. The 15-inch MacBook Pro has 3.1GHz or 4.1GHz. These represent maximum speeds of the Kaby Lake processors and will depend on which speed processor the buyer chooses.
2017 MacBook Pro Prices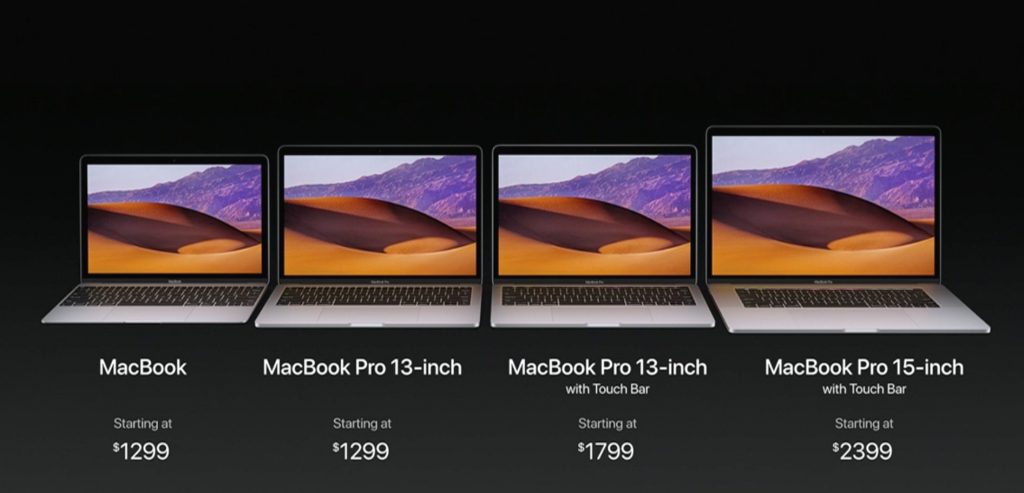 The new 2017 MacBook Pro that Apple announced today starts at $1,299 for a 13-inch MacBook Pro without the Touch Bar. It looks more like the old design that's a little thicker, however it does sport the faster, more efficient 7th generation Kaby Lake processor and faster SSDs. Apple claims the SSD will perform 150% faster than the previous models from 2016. The speed boost will get tested and we'll see whether Apple's claim end up proving accurate.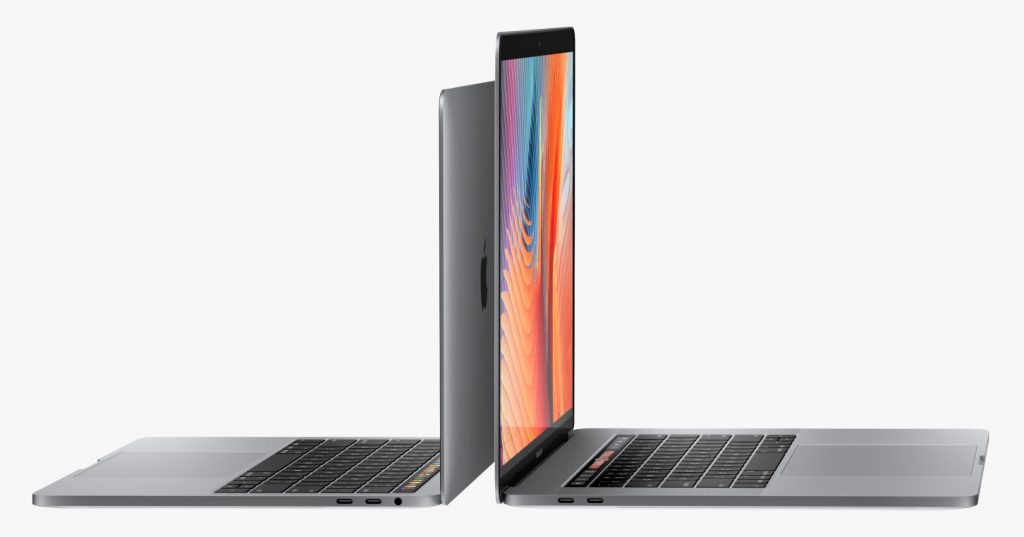 To get the Touch Bar buyers will need to spend $500 more for a 13-inch MacBook Pro for $1,799. It comes with the new keyboard and larger glass trackpad Apple introduced last year. You still get the faster SSD and newer 7th gen processor. A 15-inch MacBook Pro with Touch Bar starts at $2,399. They also still offer the older 15-inch model for about $2000.

Apple also added the Kaby Lake processor to their 12-inch non-Pro MacBook. It comes with the same keyboard and pointing device, faster SSD but no Touch Bar. It's designed as an introductory computer for people who want mobility more than power. This means it's a little thinner than than the Pro.
All of these new models went on sale today as soon as the online Apple Store came back online after the live WWDC 2017 announcement.
macOS High Sierra Update Details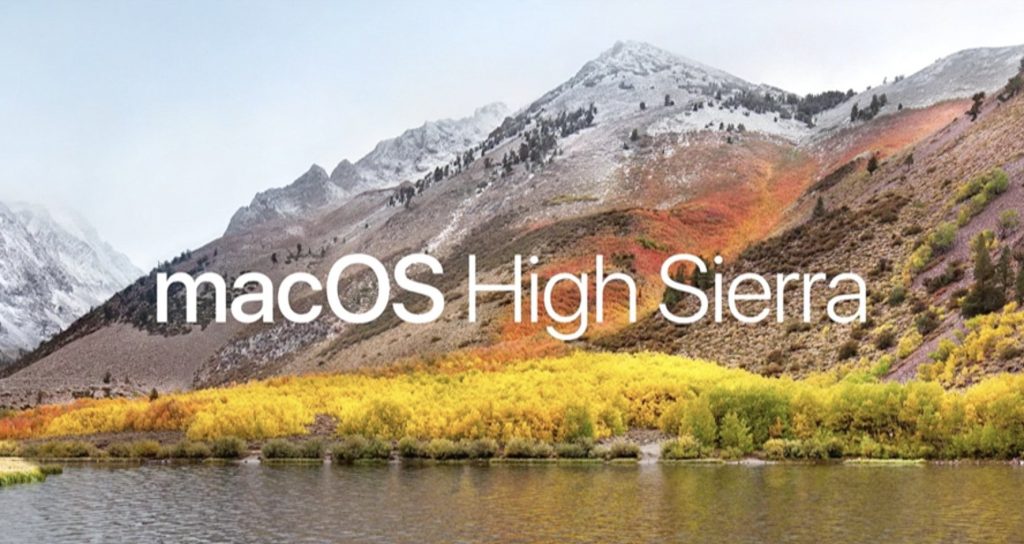 Apple added a few cool features to their slight upgrade to macOS. Instead of Sierra, it's now called High Sierra. It adds better security features and privacy. There's support for VR and external graphics cards so that Pros can get updates to their graphics system without waiting for Apple to offer one.
The new operating system will go through beta testing throughout the summer and ship in Fall 2017. Beta testers will get access today. The new 2017 MacBook Pro will ship with Sierra, but developers can get the beta now and others can get it later this month. Over at GottaBeMobile, readers can see the following features list:
Safari – Faster and more secure.
AutoPlay Blocking – Stops autoplay video from annoying you.
Intelligent Tracking Prevention – Stops advertisers from tracking you.
Photos Upgrades includes better face recognition that syncs across devices.
Photo Editing Upgrades This includes new editing tools like curve, selective color and more.
Photo edits sync back to photo library from Photoshop or Pixelmator.
Third Party Printing Services allow you to print wall art and books.
Apple File System on Mac delivers super fast file transfers and management.
Metal 2 delivers better graphics support.
External GPU Support with Thunderbolt 3
Metal for VR – Steam Engine, Unity and Unreal
For more information on the Apple WWDC 2017 announcement, please see GottaBeMobile.com.
Advertisement