A good computer bag can help protect a valuable piece of equipment like notebooks and tablets. It also has to look good and feel comfortable while one carries the bag and its contents around. WaterField Designs understands this, which made it easy to jump at a chance to try out their newest computer bag: the WaterField Designs Bolt Briefcase.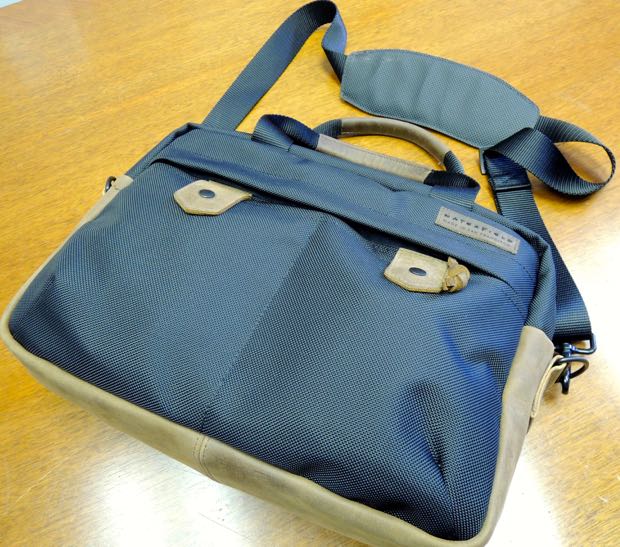 This bag isn't cheap at $249 for the smaller version that holds up to a thin 13-inch machine and $279 for one that can house bigger computers, up to 17 inches. To make the briefcase worth the price, it needs to excel in three areas. First, it has to protect all the gear in the bag. Next, it needs to last for years even if the owner uses it in some extreme settings. Finally, a bag of this caliber must look good. People willing to pay over two-hundred dollars will have particular tastes. How does the WaterField Designs Bolt Briefcase measure up in these three areas?
WaterField Designs Bolt Briefcase Video Review
Now here's the demo video from WaterField Designs.
WaterField Designs Bolt Briefcase Look and Design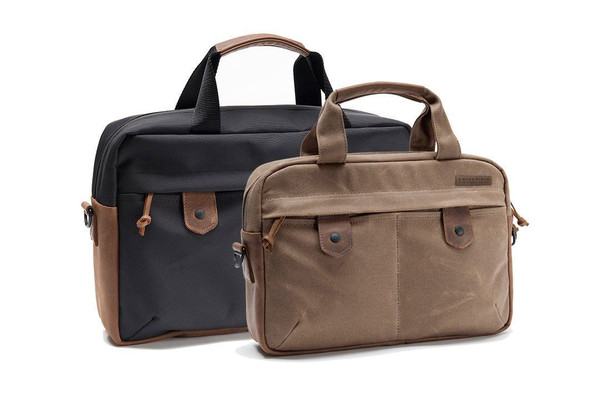 The WaterField Designs Bolt Briefcase carries with it the typical high quality ballistic nylon that we're used to seeing from this company. The Bolt Briefcase includes the black ballistic nylon and three colors of leather accents around the sides, bottom, on the handles and the shoulder strap. They also make one with waxed canvas and the same three leather accent colors for a total of six combinations in each of the two bag sizes.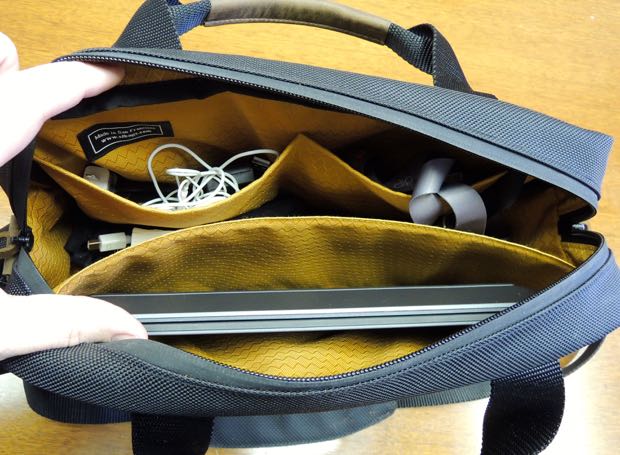 On the inside there's a spacious compartment made of soft gold cloth. The larger compartment in the center will hold a thicker computer, or some books and other accessories. It's even got room for a change of clothes if you're not a big person like me.
On one side of the large inner compartment we find two pockets half the width of the inner compartment. They're great for headphones, a computer mouse, or other smaller accessories. The other side of the inner compartment holds another pocket that runs the length of the inner compartment. It's a great fit for a thinner computer, like the Dell Chromebook 11 seen in the image, a Microsoft Surface Pro 3 or a MacBook Air. I'm sure any ultrabook, Chromebook or large tablet would fit.
The bag's inner compartment zips closed with metal zippers that come with leather tassels, making them easy to grasp.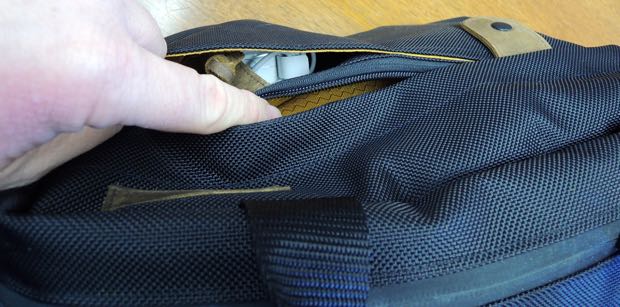 On each side of the WaterField Designs Bolt Briefcase we get some external pockets to carry even more gear. One side offers a wide pocket without any covering making it easy to quickly slide some folders or thin books in and out. There's a strap on the outside of that pocket that's meant to slide over the long handle of a rolling suitcase that one wheels through an airport or on the way to a hotel room.
The other side holds three more pockets. Two pockets include magnetic clasps that keeps them shut while the third pocket zips closed and runs the length of the bag. A flap hides the zipper making it a great place to protect a tablet or other electronics during bad weather. These outer pockets will hold plenty of items. The owner can cram more gear than one would normally fit into a bag this compact.
The flap over the zippered pocket on one side makes it easier to slip things out quickly. Since the other large outer pocket doesn't include a zipper or clasp, I put my Nexus 9 tablet in it, and thanks to the slick nylon material, it easily slide out while the bag sat on its side on my car's back seat. Be careful how you store the bag in similar situations so valuable items don't slip out and break.
WaterField Designs Bolt Briefcase Durability
We've reviewed many WaterField Designs bags and cases and they always last, still looking good even after years of continual use. In fact, as the distressed leather ages, it gains character and looks even better than when it comes new.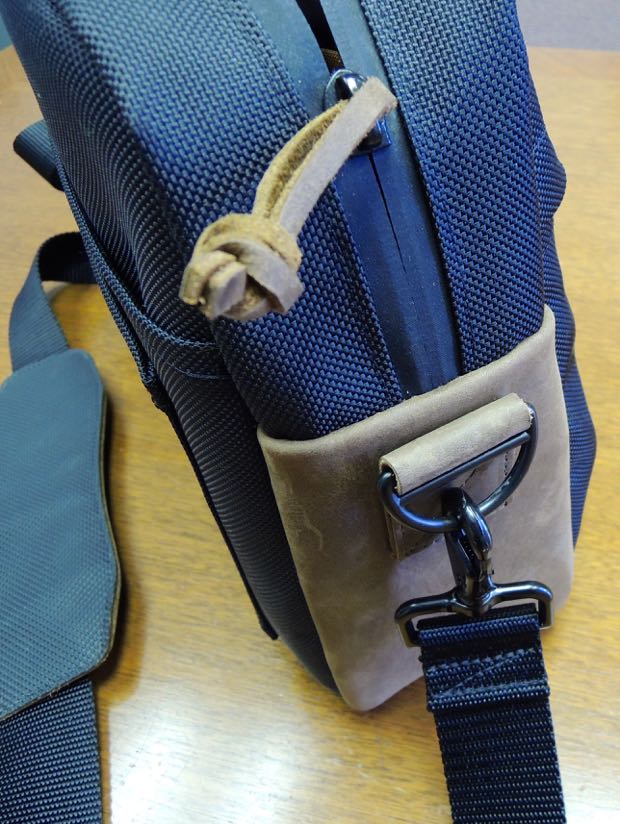 The stitching doesn't come undone and the bags don't come apart. Everything holds up well to abuse and cleans up well when it gets dirty.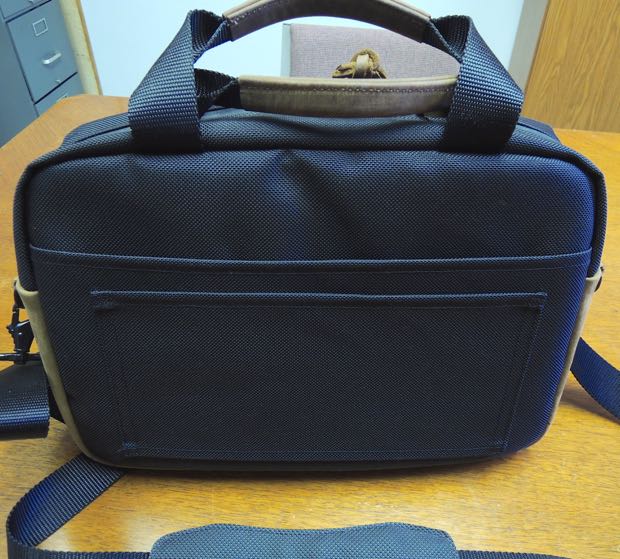 The handles on top won't detach and the metal hooks holding the shoulder straps don't come unfastened. Based on experience, it would surprised me if one of these bags fell apart within the first few years of ownership. Buy with confidence that you're getting what you paid for.
WaterField Designs Bolt Briefcase Recommendation
Some people prefer sleeve cases or backpacks, but people who prefer a more business-like briefcase design should take a look at the WaterField Designs Bolt Briefcase. As noted above, the smaller bag costs $249 and fits computers up to something like a 13-inch MacBook Air. For $279 get the larger bag, which fits a 17-inch laptop. It's easily the best briefcase-style bag I've used. It includes plenty of storage space, looks great in all of its designs and will last. The computer, tablet and accessories housed inside should stay protected while carrying this bag even in some snow or rain. Obviously, I love this bag and think you will too.
Advertisement