The Lenovo Y50 Touch  is a strange beast. All at once, the laptop is meant to straddle the dividing line between two worlds and two types of consumers.
The first type of consumer is the person who buys a laptop because they want something powerful and portable. As a laptop it's built to be the best of the best. There's enough battery life to make taking it out to a coffee shop an affair that doesn't involve a wall charger. There's also a rather large screen for browsing the web and writing word documents.
On the other hand, the $1,000+ Lenovo Y50 Touch was clearly designed for a new type of laptop buyer. In an ideal world these Lenovo y50 Touch buyers would value portability and battery power. They'd also need the latest advances in computing. Touchscreens so that they can interact with on-screen elements just like they do on their tablet and a large amount USB ports would be appreciated too.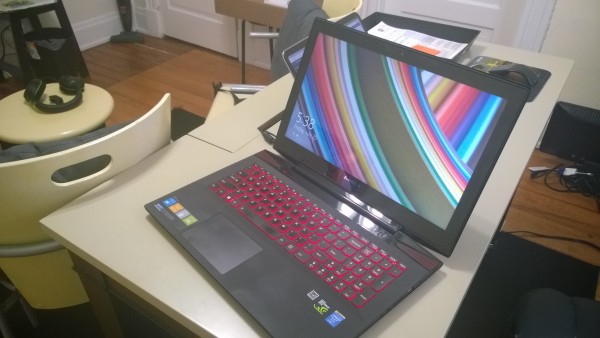 The Lenovo Y50 tries to be everything at once. Gaming console when it's required, media making power-house when it's necessary and a modern Windows 8 laptop when users want to play media or video games. Whether it succeeds depends on which activities you care about most.
Design
When I call the Lenovo Y50 a strange beast I mean that in the literal sense. Physically, the Lenovo Y50 is a behemoth when compared to other Windows laptops like the Dell XPS 13.
The bottom and lid portions of the Lenovo Y50 Touch are wrapped in sort of black metal finish. The lid has a few angles to give the top of the laptop a bit of added sophistication. So too does the bottom, but this metal does very little to make the Lenovo Y50 Touch not look bulky. It does look bulky, but for good reasons that we'll get to a bit later.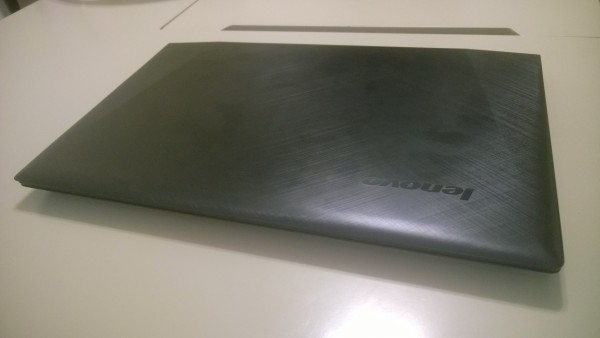 Opening the Lenovo Y50 Touch reveals a centered 15.6-inch FHD display with a 1080p resolution. On the deck, there is an inset keyboard, or what Lenovo is calling the Backlit AccuTupe Keyboard. When the keyboard's backlight is on it glows red to match the speakers and other accents on the bottom of the laptop. The bottom button sits just above that keyboard and a buttonless touchpad sits below it. On either side sit all the ports users need.
Holding the Lenovo Y50 Touch with one hand betrays just how large it really is. Lenovo Y50 buyers who plan on walking a lot should prepare in advance: just having the laptop in your backpack means you can count on that bag weighing 5.29 lbs. It's 15.23 inches wide, 10.37 inches deep and 0.9 inches high when closed.
Look, the Lenovo Y50 Touch isn't a looker. The plastic used on the device's keyboard and screen bezel leave you feeling a bit like Lenovo spent a lot of time planning to stuff features into the Lenovo Y50 Touch for gamers and not a lot of time thinking how cheap the Lenovo Y50 feels on user's palms. The giant bezel around the Lenovo Y50s touch screen doesn't exactly make it look anymore attractive, but this is a gaming laptop. Looks are important, but so is what's inside.
Internals
Earlier, I mentioned that the Lenovo Y50 Touch is a gaming PC. Its internals are why that's the case. Lenovo Y50 buyers can choose between a fourth generation Intel Core i7 processor and another slightly faster Intel Core i7 processor. Lenovo Y50 buyers can also configure the machine for up to 16GB of memory. Hybrid hard drives with moving storage like the laptops of yesteryear and flash RAM mean that users get a PC that performs fast, but has enough storage space for all of their media and games. This gives the Lenovo y50 Touch a huge advantage.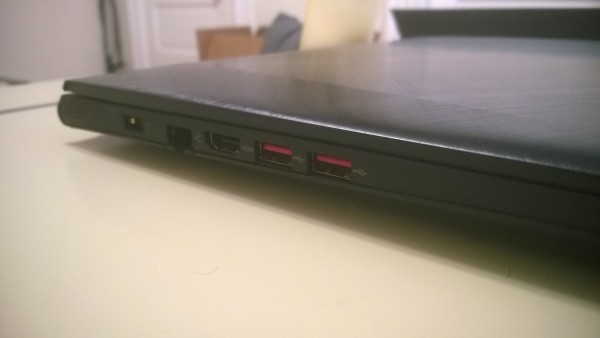 The model sent included 8GB of RAM, a 1 Terabyte hybrid hard drive and the slower fourth generation Intel Core i7 processor. It also came with Windows 8.1 and a touchscreen for me to interact with on-screen elements directly.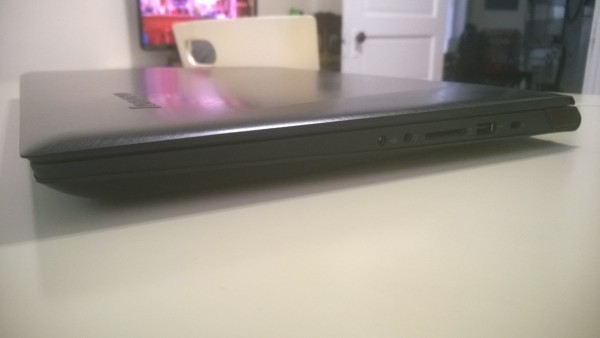 Ports on its sides include two USB 3.0 ports and a single USB 2.0 port. There's a audio-in and audio-out jack, networking port, infrared audio port, a headset jack and a card reader that accepts SDXC, SDHC and MMC cards from cameras and other mobile devices. 802.11 AC wireless internet and Bluetooth 4.0 round out the Lenovo Y50's connectivity options. Of all of that, The memory card slot is what really stands out. So few devices come with them these days. It's a really nice feature to have, and something that solidifies the Lenovo Y50 Touch's stance on being a great machine for creators as well as gamers.
Speakers & Graphics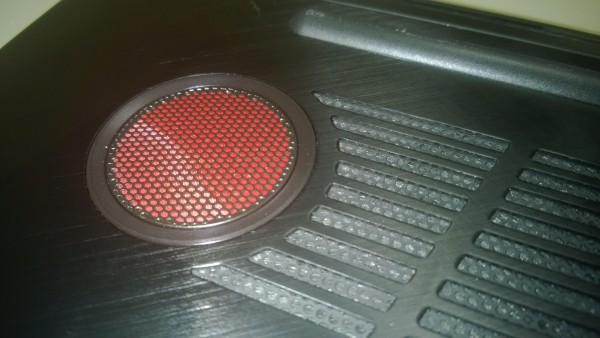 Of course, there are two other things that make the Lenovo Y50 Touch a great gaming laptop. The first are the speakers that are visible from around the laptop. The set included in the Lenovo Y50 Touch are made by JBL and include Dolby's Digital Plus technology. Sound just pours out of those things. Every song, every movie and every television show sounded better through the Lenovo Y50 Touch's built-in speakers than they did on even some expensive headphones. It doesn't hurt that a red and black sub-woofer on the bottom of the machine provides a bit of base. In Star Trek Online I could hear steps around me just as clear as if someone was in the same room with me.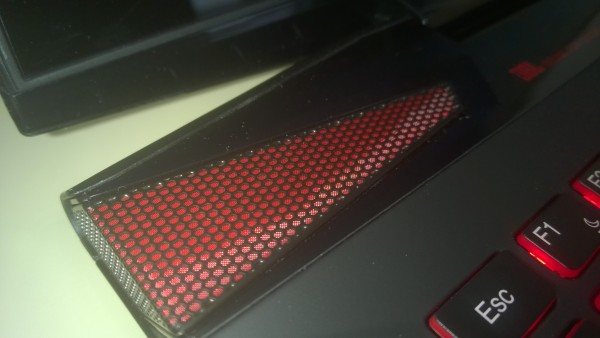 Backing up the processor inside the Lenovo Y50 Touch Touch is a NVIDIA GTX-860M graphics card with 4GB of its own. For users who are heavily into browsing the internet and working out of productivity applications that's not such a big deal. For users who are going to game, it's absolutely essential. The graphics card performed well in the latest version of Sim City and was easily able to max-out the game's graphics. It fared a bit worse in Star Trek Online. Getting to maximum settings were fine, but on four occasions the Lenovo Y50 Touch locked up, forcing me to turn the settings back down to finish a multiplayer match.
To be clear, it doesn't really matter what game you throw at this thing; it can play it and play it well.
Keyboard & Touchpad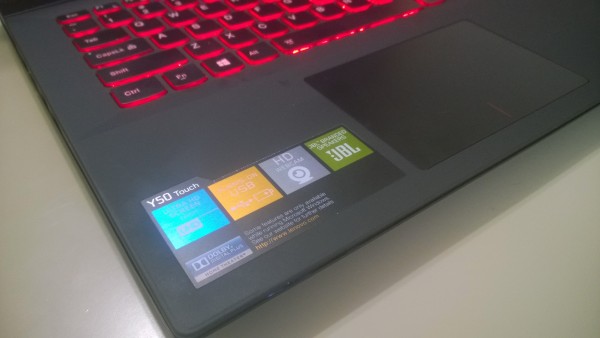 Why Lenovo is choosing to brand the slightly curved keys that it also includes in its other machines remains unclear. However, it is clear that the AccuType keyboard in the Lenovo Y50 Touch is just as good. Each key has a slightly soft curved surface that feels great to the finger. The mechanism behind each key is still, but not so stiff that you feel like your fingers are slamming into a wall repeatedly. Every single key press feels satisfying, even on the number pad. Which is great if you're going to be pressing the numbers keys over and over trying to stop an onslaught of enemies from overrunning your position in a game.
Miraculously, Lenovo absolutely nailed the touchpad in the Lenovo Y50 Touch too. The texture is slick, but not too slick. Pressing the buttons built in just below the trackpad's surface also feels satisfying. That being said, they're so loud that clicking them in a library will instantly make you self-conscious. This is actually the first trackpad, though, that'd I'd be comfortable gaming with full time. Its slick surface makes adjusting camera angles or moving the cursor around less of a chore than on other machines.
Display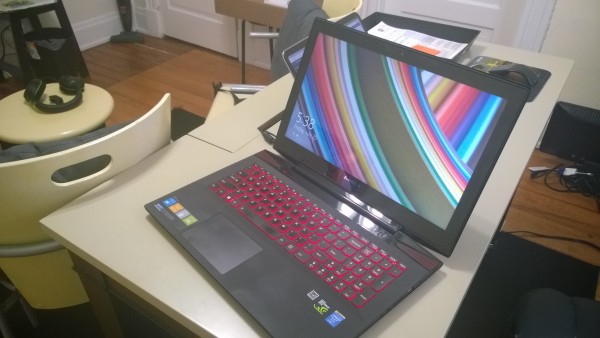 The Lenovo Y50 Touch's full high-definition display perfectly complements the other areas that Lenovo choses to focus on. That is, except in three crucial places. Compared to the Dell XPS 13, the display on the Lenovo Y50 Touch isn't as bright as one might expect for such a high-end machine.
Another issue that cropped up time and time again was the touchscreen. As a person who is actually quite fond of Windows 8.1 and touchscreens, the Lenovo Y50 Touch's feels a bit slow to respond. A look over the machines specifications revealed that the Lenovo Y50 Touch can interpret up to 10 fingers at a time, but it sometimes struggled with the simplest of Windows gestures, like swiping from the right to reveal the Charms Bar. Also, that giant bezel doesn't exactly make playing touch-based video games feel as intuitive as they do on tablets.
Where everything gets really interesting is when you combine the 1080p display and Windows 8.1. The display leaves a lot of space for Live Tiles and apps in the Start Screen environment, but using the default settings for the desktop made everything comically small. Updating the settings changes this, but it's so obvious you'd have thought Lenovo would make those changes on the Lenovo Y50 Touch before it ever arrived on user's door steps. To be clear, even with a mouse and keyboard every button feels so small and you can forget using touch in the Desktop with the default scaling settings.
Battery Life
Lenovo rated the battery life of the Lenovo Y50 Touch at about 5 hours. That seems about right. Of course, turning up the screen brightness or playing games brings that down quickly. Thankfully, adjusting the system settings gets you better battery performance. I should also note that the Lenovo Y50 Touch runs super-quiet and just warm to the touch when you're gaming. That's definitely not been the case with other notebooks I've tried to play games on that are this thin.
Software
In almost every respect, the Lenovo Y50 Touch is a powerhouse built perfect for just about everything. That being said, Lenovo absolutely loads the Lenovo Y50 Touch with all sorts of software, ruining what should have otherwise been a pretty premium experience. 30-Day Free trials of Office 365 and McAffee Internet Security aren't necessarily welcome. Users, especially at this price range, know how to download both of those themselves. That's to say nothing of the fact that Windows 8.1 includes free antivirus, negating the need for McAfee.
Lenovo also stuffs the Start Screen full of apps that are absolutely unnecessary and scream "we were paid to include this." There's Evernote, and Zinio Online Newsstand. Even online storage solution HighTail is included. Kindle is included on the machine too, you know, on the off chance that users want to read their books on this rather large device.
It gets worse when you go into the Desktop. There are control panels and widgets just about everywhere. None of them really do anything that other third-party control panels also included on the machine don't do. But there they are, taking up space and getting in the way. Makes for a really confusing game session when you dive out of a title to look for a specific setting.
Conclusion
The Lenovo Y50 is a monster. The discreet graphics, comfortable keyboard and insanely good speakers make it a gamer's dream. Even music and video producers will find it nice. The screen disappoints though and the rat's nest of add-on software make the out-of-box experience a bit rough.
This isn't a machine for someone in the market for a ultrabook or someone looking for a tablet. This is an all-out desktop replacement with a touchscreen and enough ports to put even some all-in-one desktop machines to shame. If you're in the market for a slim computer with enough processing power and battery life to get you through the day, this isn't the machine for you.
If you're in the market for a gaming laptop that you might want to take to other's houses for gaming parties and music production this is the right machine. Provided you can get over its rather unremarkable exterior and $1,000+ price tag.
Advertisement