The Toshiba Chromebook CB35-A3201 answers the complaint many Chromebook users voiced after the first round of small, 11-inch devices dominated the market. They're great for people with small hands or kids, but those of us who need something bigger struggled. Now we get a few models measuring 13 or 14 inches from Toshiba, HP, Samsung (coming soon) and Google (now dated because it doesn't use the faster and more power efficient Haswell chipset).
There's a large crowd of smaller 11-inch Chromebooks sitting at the bottom of the price ladder. These cost between $200 and $250 and come with budget quality hardware. People will larger hands will prefer a computer like the Toshiba Chromebook 13-inch Chromebook because it comes with more spacious keyboard and touchpad, higher quality hardware and only costs about $20 to $70 more, depending on which 11-inch machine a user compares it to.
The Toshiba Chromebook give us a 13-inch display, making it a lower-priced competitor to our current favorite; the HP Chromebook 14.  The Toshiba Chromebook costs $279 compared to the HP, which sells for $299-$349 with more memory and 4G from T-Mobile built-in. Samsung will soon launch the Samsung Chromebook 2. It comes with an 11-inch display for $300 and a 13-inch model will sell for $399 with a much higher resolution screen. Finally, Google released the Chromebook Pixel, a luxury model that costs over $1,300 thanks to higher quality hardware and a higher resolution screen.
While the Toshiba Chroembook easily beats the smaller 11-inch models for those of us with normal to large hands, does it measure up to HP? Should users buy one now and even with the Samsung Chromebook 2 coming May? In a word, no!
Pros

Great battery life
Decent keyboard
Attractive for a plastic chassis

Cons

Low-end display
Terrible trackpad
Chassis easily bends and warps

Toshiba Chromebook | $279| Google Chromebook

The Competition
Unboxing Video
Who is the Toshiba Chromebook for?
The student market, and people who spend most of their time in a browser, will enjoy Chromebooks in general. The Toshiba focuses on those who want a slightly larger machine than the slew of 11-inch machines out today.
While the Chromebook does come with compromises, compared to Windows or Mac laptops, most users don't need that much power. A tablet or Chromebook will do fine. The Chromebook comes with a keyboard built-in and costs less than most of the 10-inch display tablets available. A Chromebook works great for anyone who doesn't need to edit video, organize a music collection or play high-end video games.
Design
Toshiba gives their Chromebook a textured feel. The plastic silver cover and bottom comes with a fine textured grid, while the bezel and platform around the keyboard and trackpad feels like brushed aluminum. The silver plastic looks very nice from a distance and even close up it seems attractive. However, it scratches easily.
The Toshiba Chromebook comes with cheap materials that warped after storing it in a computer bag over night. I put the computer on a flat surface and it wobbled until I bent it back into shape. See the video below:
Keyboard and Touchpad
We see the best and worst of the Toshiba Chromebook in the keyboard and touchpad. Toshiba put a spacious and easy to use keyboard on this machine that's mushy, like almost every other Toshiba tested here, but it didn't affect typing.
The Toshiba Chromebook comes with a terrible clickable trackpad. It's so sensitive we get unwanted movement of the cursor while typing. When I want to press down and click with it, only the bottom half registers a click. Some trackpads work this way by design, but trackpads designed that way frustrate people who expect the whole surface to click. MacBooks click better at the bottom than the top, but they at least work without moving the center of the keyboard platform. See the video above to understand how badly it works.
Display
I've not seen a Chromebook yet with a great screen besides the $1,300 Chromebook Pixel. Next month Samsung will release the Samsung Chromebook 2 with a 1920×1080 display, which should scratch the itch for a lower-priced Chromebook with a higher quality display. With the Toshiba, we get a 1366×768 13-inch display that looks okay in medium to low light.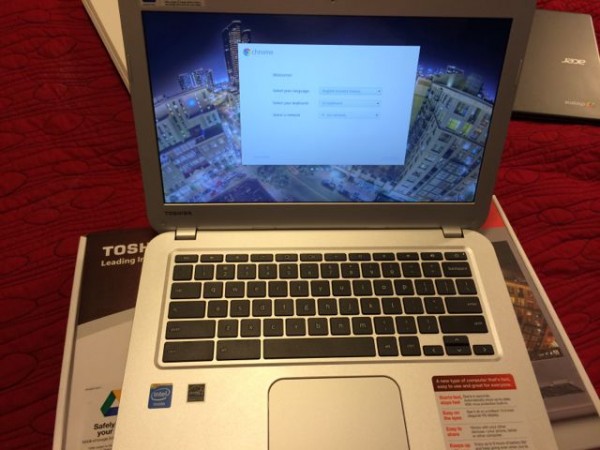 To get long battery life, users must reduce screen brightness to 50-60 percent, but at that level it's too dim. At higher brightness the display looks fine, but a little washed out. The glossy display reflects light, making it hard to view content in bright or direct lighting.
Features
The Toshiba Chromebook uses ChromeOS, a unique operating system that runs as an overlay on top of the Chrome browser. Most "apps" run inside the browser, but the OS lets users go full screen with most of those apps. Most ChromeOS apps come free in the Chrome web app store.
Toshiba didn't give us anything that we can't find in another Chromebook except the 13-inch screen.
Toshiba chose to go with the same Intel Celeron 2955U processor that most of the current generation of Chromebooks uses. We only get 2GB of memory and 16GB of storage. The computer reboots incredibly fast, but the low memory specs slow the machine down if the user opens a lot of browser tabs or web apps.
Performance and Graphics
Chromebooks don't need high-end specs to work well. The Toshiba runs as fast as the other current generation of Chromebooks. The higher-end HP Chromebook 14 with 4G buillt-in comes with double the RAM, so it runs faster.
Since the machine runs online games or video, the graphics system doesn't get taxed much, so it performed fine. The speakers on the bottom sound loud enough to use in medium to quiet environments.
Battery Life
Here's where the Toshiba Chromebook shines. At typical screen brightness of about 60%, the battery consistently got over 8 hours. Even at higher brightness levels it lasted 7 hours.
Running a few hours and then letting it sit in standby doesn't drain battery as fast as other machines. I used it for a couple hours a day and didn't need to recharge till the fifth day.
The Bottom Line
We gave the Toshiba Chromebook our Best of CES 2014 award. After using it for a couple of weeks, I don't think we'd do that now. Even though HP released their computer months ago, it remains the best current generation Chromebook available. Until Google launches an updated Chromebook Pixel, the HP beats it too, thanks to a faster processor and longer battery life. We're excited to see the Samsung Chromebook 2 next month. It may take the crown as the best larger display Chromebook available. The Toshiba certainly didn't take the prize away.
Toshiba failed to put anything into this Chromebook to compel us to recommend it. If they fix the trackpad and put 4GB of RAM in the computer and improve the quality of the materials so it won't bend or scratch so easily, then they'd offer a great machine.
Gallery
This slideshow requires JavaScript.
Specs
| | |
| --- | --- |
| OS | Google ChromeOS |
| Display (size/res) | 13-inches, 1366 x 768 |
| CPU | Intel Celeron 2955U Haswell Processor |
| RAM | 2GB |
| Graphics | Intel Integrated Graphics and webcam |
| Storage | 16GB SSD plus 100GB free Google Drive Storage for 2 years |
| Optical Drive | none |
| Wireless | Wi-Fi 802.11 b/g/n; Bluetooth 4.0 |
| Ports | 2 USB 3.0, HDMI, SD card slot, headphone/mic, Kensington Lock |
| Size | 13-inch display |
| Weight | 3.3 pounds |
Advertisement