The OKGEAR SATA to USB adapter makes copying data off an old 2.5-inch internal notebook SATA hard drive to a new drive via USB simple and inexpensive.
Who Needs the OKGEAR SATA to USB Adapter
Sometimes a user needs to upgrade a notebook hard drive on their computer. Maybe it's showing signs of dying soon or it's just too slow. Maybe the drive got full and a larger one is in order. For whatever reason, users can use one of the following three options for copying their data off the old drive onto the new one.
An external drive enclosure which turns an internal into an external drive
Get a hard drive dock that connects via USB or e-SATA like one from Thermaltake
A simple cable adapter for  cheaper one-time use
Of the above options, the first one works best for people who plan to continuously use the old drive for a backup solution. That's fine if the old internal drive still works. However, these usually cost more than a cable.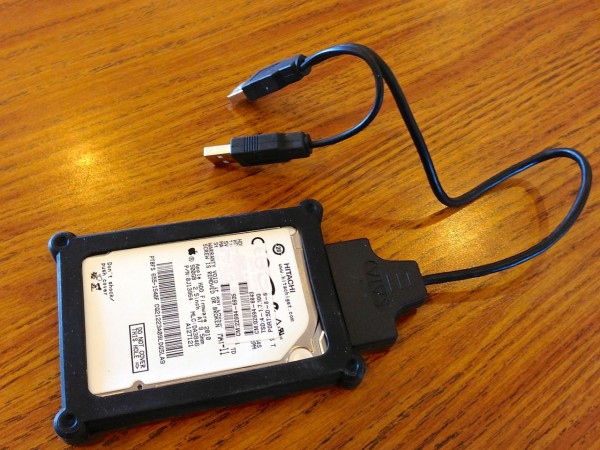 The second option works better for people who do this a lot. Since it's not a mobile option and costs more, most users will prefer the first option or a third.
If the old drive shows sings of dying (loud noises or lots of read/write errors), then who wants to spend $30-$100 for a one time, or seldom used, tool that's overkill. That's where the OKGEAR SATA to USB Adapter fits.
Value and Features
Only two things separate this adapter from any of the scores of others available. First, it's inexpensive. Amazon sells it for $10. Second, it comes with a silicon drive sheath to keep the old drive protected while in use. The sheath isn't a permanent protector, but will keep it safe for a short time. For long-term use get an enclosure which will keep the drive safe. The sheath's only purpose is to keep users from shorting the internal electronics of their drive due to static shock.
After putting the sheath on the drive, plug the SATA end into the drive. It snaps into place perfectly. The other end of the drive comes with two USB plugs. One carries the data and the other offers backup power in case the drive needs more juice than a computer's USB port offers. I plugged both into my Mac to ensure it got enough power, but it didn't really need it.
The adapter won't win any speed competitions, but it worked great. After putting a new solid state drive in the computer, I plugged this drive into the machine and copied over my files and settings using the built-in feature in OS X. Windows offers a similar tool upon installation.
At just $9.95, this adapter provides a cheap way to easily connect an internal hard drive or solid state drive to a computer's USB port for temporary file transfers.
Advertisement