The 16″ AOC e1649Fwu Portable USB Monitor isn't a groundbreaking technology or even the best quality external monitor you can buy for your laptop, but the mixture of value, simplicity and weight make it a decent option for anyone who wants dual displays on the road, as long as you're very careful with it and you can overlook some significant problems.
I tote around a 13.3″ MacBook Air and occasionally a 14″ Samsung Series 3 notebook. Both computers offer decent screen real estate for simple tasks, but I miss my larger display attached to my computer at home. You can use your iPad with something like AirDisplay, but I also like to have my iPad free for other tasks while using two monitors for a total of three.
With two displays I open two or three windows research for writing, which takes about 75% of my computing time. Adding this light 16″ USB powered monitor to my computer bag makes me more productive as I'm out and about while only adding a couple of pounds.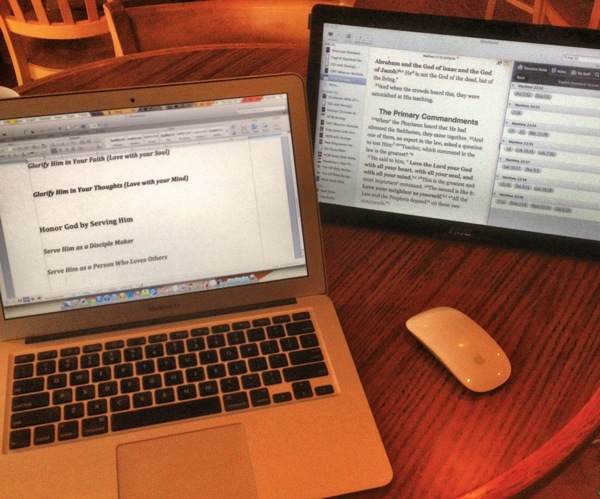 The AOC monitor has some flaws, which I hope they will address with a refresh, like display image quality and a couple of strange hardware choices.
Pros

Light
USB-powered
Easy to use and setup on Windows or older OSX

Cons

Faulty shipping drivers on OS X Lion
Thicker than the competition
No protective case
Awkward USB connection location
Won't play DRM video
Drains computer batter twice as fast
Display Quality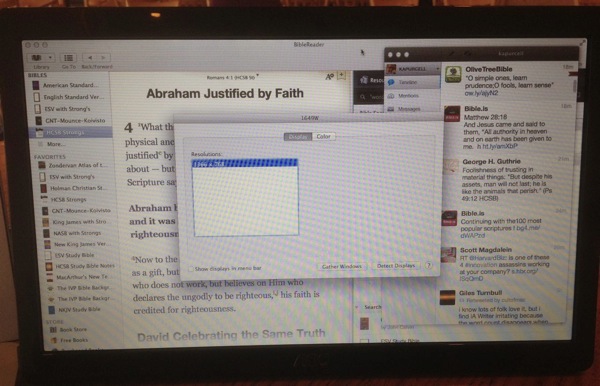 The 16″ e1649Fwu AOC Portable USB Monitor display quality won't wow anyone. Images seem soft and text looks slightly dull. Before I updated the driver text looked washed out. Compared to my laptop displays I noticed a big drop in quality. Like nearly every other laptop and even desktop monitor the AOC uses a glossy screen. The AOC screen almost looks like a mirror in bright settings when you're viewing dark images or interfaces. It's more glossy than most.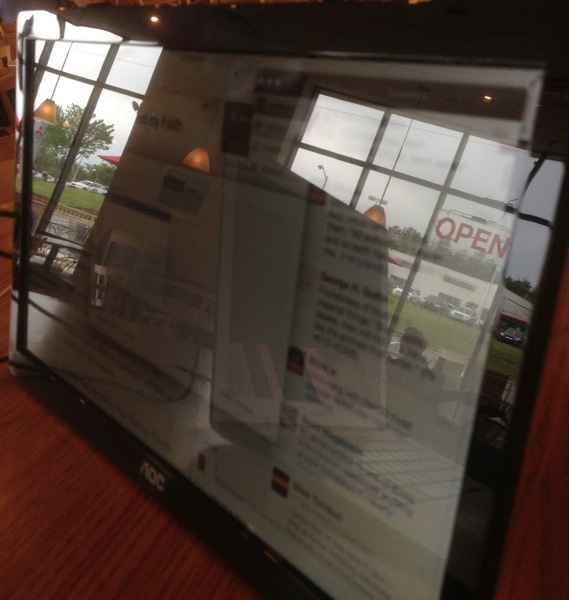 You're not going to use the monitor for Netflix or other DRM protected video because it's not HDCP compliant. That means you'll get the following error after you press play.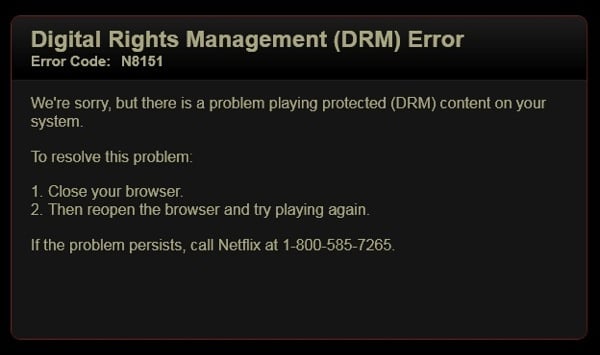 I don't often watch DRM video on a second monitor while I'm using my laptop, so that wasn't a problem for me. I see the AOC as a business tool. If you planned to watch video on an external display then don't get this one.
Build Quality & Design
The AOC Portable USB Monitor is light and feels flimsy. When you carry around a product you hope it will hold up to the rigors of a mobile life. If you don't drop it, you should be alright so long as you protect it in a padded computer bag. That's what I did and had no problems, until my bag unexpectedly opened and it fell out display side down. The display died leaving a mess when you turn it on (see below).
I don't fault AOC entirely for this. They didn't drop my monitor. However, if it had some protection on the screen maybe it would have held up better. A plastic cover over it or a case around it, like a screen I've seen from Toshiba might have helped.
Before I dropped it, putting the screen in my bag uncovered made me nervous. I had no problems since I put it in my bag so that the screen side of the AOC faced my laptop giving it some protection. I'm careful not to put anything with sharp points in that pocket. I still wish it had a cover to protect the screen.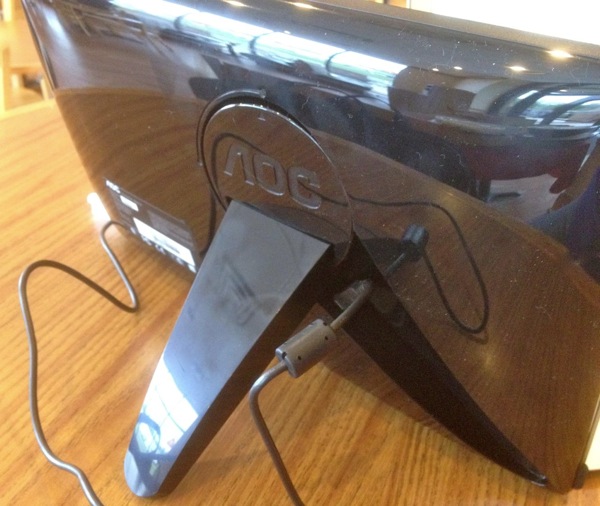 AOC curved the back of the display to give it a sturdy form factor so it won't bend easily. Its thicker than my laptops. I feels like it's probably hollow inside the curved back, which give it strength and holds the leg that props the display.
The leg flips out on the back of the display and recesses into the back so that it won't snag as you pull it out of your bag. It flips out to prop the monitor and the leg rotates so it can hold the display in either portrait or landscape mode. The leg connects to a round disc recessed into the back of the display. It doesn't rotate easily, a good thing while you use the display but a pain when you're trying to turn it to move between portrait and landscape mode. You have to use some force to turn it.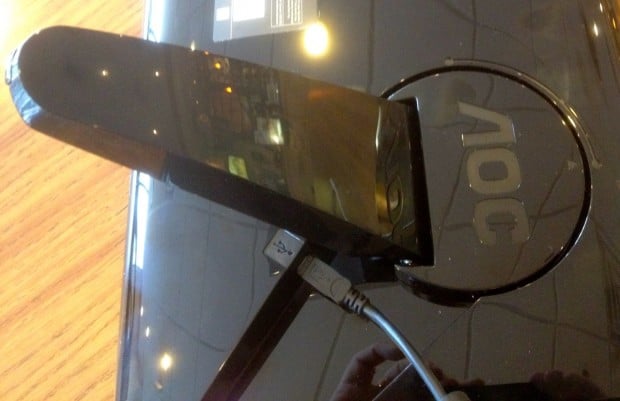 AOC provided a USB cable with a mini connector on one side, which you plug in to the display unit. The other end offers full-sized dual USB connectors so you can plug it into a computer. I only need to plug in one USB connector since my MacBook provides enough juice to power the display. The secondary connector plugs into machines that don't have enough power using one connector. If you're laptop can't power it using one connector and only offers one USB port per side, you'll need an extension cable to make it work.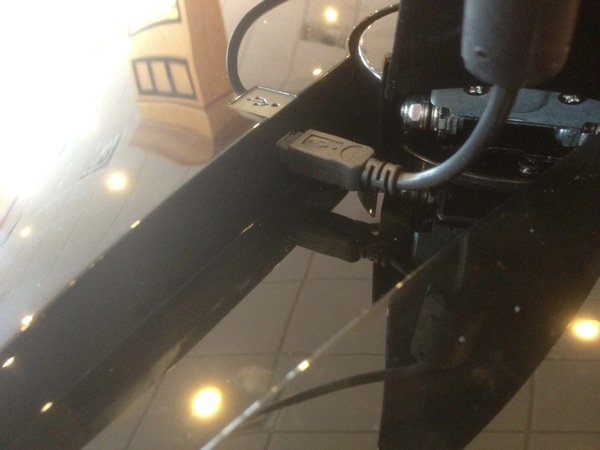 I hate where the mini-USB connector plugs into the back of the AOC. You flip out the leg and it plugs into the back where the leg would be when it's not flipped out to support the monitor. I struggled to connect it in this awkward place because of the lack of space in that recessed location. I wish it connected along one of the edges that not resting on the table in either portrait or landscape mode.
One thing to remember. Since your computer powers the monitor it drains the battery faster. This morning my MacBook Air drained from 100% to 40% in half the time it normally takes.
Setup
You will need driver software to run the display on most machines. Be sure to download the latest driver from DisplayLink, which makes the software. The drivers that came with the monitor don't work properly on the latest build of Mac OS X 10.7.3 Lion or Windows 8.
In OS X 10.7, the display won't rotate into portrait mode properly with the included drivers. For users of Windows 7 the included drivers work fine, but I'm running Windows 8 now so I had to get the update.
Once you install the alpha drivers from DisplayLink, you can plug the display into your computer and it should immediately connect in any environment. Windows handles screen rotation well. Just open the display properties in the computer's Device Manager. To access the rotation setting in OS X Lion, hold down the COMMAND+OPTION key. Click on System Preferences and Displays while still holding the keys down. You'll see the Rotation drop down box. Rotate 270 degrees to make it work.
Without the updated drivers, you're Mac will show a Blue screen and the e1649Fwu display will be black. You get higher quality text with the updated drivers too.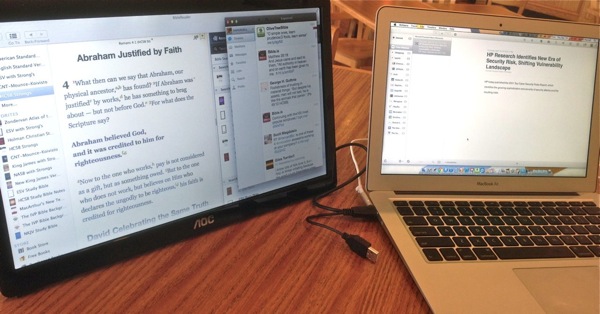 Value and Recommendation
Despite the weaknesses, its nice to have a second display connected on the road. At only $150 you can't expect too much. I really like the added screen space, so I willingly compromised on the display quality issues and the awkward USB connector. It's good enough to keep your Twitter client and a chat client live as you work. You can watch a video podcast or keep your music player open and viewable. The wide-screen format makes it great for keeping a couple small windows open. I put my Bible software on it as I write my sermons.
The lack of screen protection worries me. I'm really interested to compare this portable USB monitor to the one I saw from Toshiba with 14-inch USB Mobile LCD Monitor with Matte Finish. It costs a little more but seems to solve a couple of the problems that I discovered with the AOC. It has a matte finish, which won't reflect as much in bright light. It places the USB connector along the side and comes with a case to protect it. It's also thinner.
If you can get one for close to the $100 price (Amazon has it for $114) and don't mind the weaknesses, then I recommend you give it a try if your retailer has a good return policy. Otherwise take a look at the Toshiba mentioned previously. I hope to get one of those in for testing soon.
Advertisement