One of the best parts of my home office setup is having two monitors. It's a serious boon to productivity, helps me organize my desktop better, and keeps me from having to switch back and forth between windows all of the time. Whenever I travel I always lament the lack of second monitor on my laptop as I tediously work the Alt+Tab combo for every little thing. It must be an even bigger issue for people who spend more time on the road than I do.
The most obvious solution is to carry a travel monitor as well as a laptop. That comes with its own set of issues — they add even more weight and bulk, plus you have to keep track of another cord or two. And many USB monitors aren't worth the hassle as they don't perform well.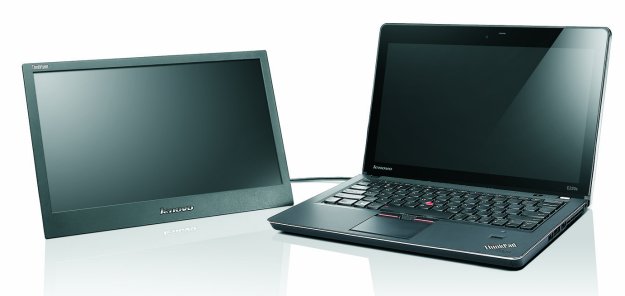 Is the $199 Lenovo ThinkVision LT1421 portable monitor any different? At 2.4 pounds (with the cover, 1.8 without) it's not too heavy, but does it perform well enough to make it worth the weight?
Pros
Light and portable
Bus-powered
Performs well
Sturdy design
Cons
Same size and weight as a second notebook
Colors aren't as deep as traditional monitor
Design
The ThinkVision features a 14-inch matte display and measures 13.2 x 8.6 x 0.85 inches, just a little larger than a MacBook Air (12.8 x 9 x 0.68 inches). It won't take up too much space in a bag and, depending on the size of your notebook, may even be able to fit into the laptop compartment alongside it.
With the ThinkVision, you only have to keep track of three things: the monitor, the detachable cover, and the USB cord that both connects and powers it.
The cover serves double duty; it protects the screen during travel and provides a flat surface for the monitor when in use. It's possible to use the ThinkVision without it, but it's nice to have something sturdy and flat to sit it on. It's useful on beds and small/cramped hotel desks.
It's harder than it should be to snap the cover on sometimes, as it's just one solid piece of plastic without snaps or flaps, but that's a minor quibble.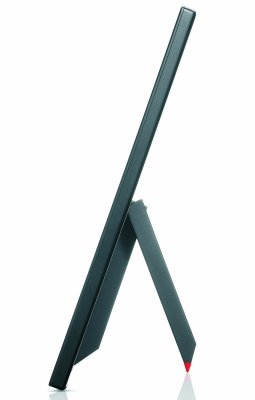 On the back, the adjustable kickstand is sturdy enough to hold the monitor in a wide range of angles. The red, rubber tip also keeps it from sliding around or shifting, even if you do.
You'll also find the brightness adjustment buttons on the back and the miniUSB port. The monitor comes with a Y split USB cable; miniUSB on one end, two normal USB 2.0 connectors on the other.
Performance
Despite having two USB connectors on the end, many users won't have to take up two ports to get the ThinkVision LT1421 powered up. Some older laptops may not offer enough power in individual ports, but newer ones do. I tested the monitor on a MacBook Pro, the Acer Aspire Ethos, and the Samsung NF310. In each instance I only had to use one of the USB connections.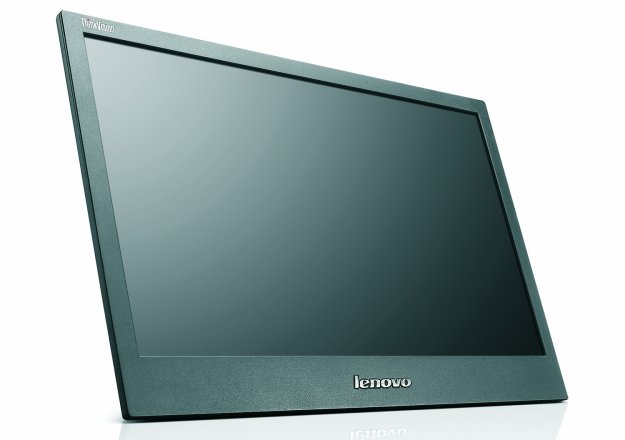 The matte display has a max resolution of 1366 x 768. Despite not being glossy, it has decent horizontal viewing angles. Vertical angles are narrower, but still not bad. The end result is that users won't need to keep to a narrow sweet spot when placing the monitor.
Once connected and all drivers installed, each computer recognized the monitor right away and connected to it in under a minute. It registers just like a second monitor connected via VGA or HDMI with all of the same options, such as desktop mirroring or extending.
During testing, I didn't note any lag, refresh, or performance issues with the LT1421. From playing 720p and 1080p video to moving windows between one screen and another, everything moved as smoothly as I'm used to.
The one drawback is the color depth. Overall, the ThinkVision displayed bright colors and deep blacks, but in images with color gradients I saw some pixilation. Transitions aren't so smooth. This is really only a problem for people who work heavily with images — best to keep them on your notebook's monitor. For web surfing, reading documents, etc., this isn't very noticable.
Ease of Use and Setup
Before plugging in the monitor, users must install the DisplayLink drivers from the included CD or download them from Lenovo.com. Given that the audience for this product likely includes many ultraportable users (not to mention netbooks), I wish Lenovo had included the drivers on a USB drive instead of a CD.
After installation and a reboot, all users need to do is plug the monitor in. There are no extra utilities to worry about. To control the monitor, simply go to Windows' or OSX's normal monitor settings areas.
Who Is The ThinkVision LT1421 For?
As part of the Think line from Lenovo, the ThinkVision is obviously aimed at the business crowd. Business travelers, to be exact. Those who often find themselves in hotels, unfamiliar office spaces, or on the road. If having two monitors at home is your ideal setup, then this travel monitor makes a sweet addition to your kit.
The company also touts it as a good tool for presentations in a pinch — just aim the ThinkVision at your audience and keep your notebook's screen turned toward you. If you're traveling with a small ultraportable, having a larger display to watch movies on during your downtime is also nice.
However, given that it is the size and weight of a second notebook (an ultraportable, yes, but still), it may not be worth the hassle if you don't travel a lot and only take the occasional business trip. However, being a person who falls into that camp myself, I would still consider buying one because the work I do when I travel for business is intense enough that having another monitor would make me so much more productive.
The Bottom Line
Given its excellent performance, I highly recommend the ThinkVision LT1421 to business travelers and power users. It's light enough not to make a huge difference in your travel bag and won't require an extra case or burden you with many more cords. The $199 price tag is reasonable, considering the benefits.
Advertisement