When choosing an ultraportable consumers have to find a good balance between light weight, power, and display size. Usually a 13-inch notebook will win out over a 14 or 15-inch model due to a more palatable size and weight. But now Acer is offering a tempting new proposition: a 14-inch laptop with a 13-inch's footprint and weight. Meet the TravelMate Timeline 8481T, a notebook that promises top notch performance for professionals and road warriors.
Acer accomplished this task by taking a 13.3-inch laptop and reducing the bezel size so it can fit a 14-inch screen. Thus you get the benefits of a larger display coupled with a 3.7 pound, 0.87-inch thick chassis. The only fly in the ointment being that the resolution is still 1366 x 768 — no higher options available.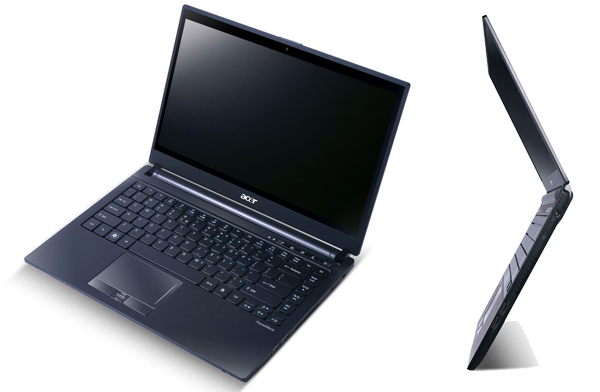 The 8-cell battery will allow users to leave the power brick behind, as it's rated to last a whopping 13 hours (with a 3,000 cycle longevity). Even if it gets only 9 or 10 that's all day for most people, making the Timeline 8481T even more portable.
The notebook is powered by an Intel Core i5 processor, Intel HD Graphics 3000, 4GB of RAM (max 8GB), and a 320GB, 7,200 rpm hard drive. There's one USB 3.0 port on board as well as a port that will charge devices even when the computer is off or hibernating. All of the ports give enough juice to charge USB-powered phones as well as other gadgets.
The TravelMate Timeline 8481T is aimed square at the business travel crowd, so it also has some sweet security features on board: TPM 1.2 encryption, anti-shock protection for the hard drive, ProShield Security, and BioProtection Fingerprint reader. The high definition webcam should make video conferencing less painful.
It looks like a sweet package for just $999. You can get your hands on one starting early next month.
Advertisement