Apple updated their OS today, releasing OS X 10.7 Lion. With it came updates to iWork and iTunes to make them more Lion friendly. There is also an update to the Remote Desktop Client in the OS. You can get these updates by clicking on the Apple Menu and selecting Software Update. If you purchased them in the Mac App Store, they will show up in the Updates tab.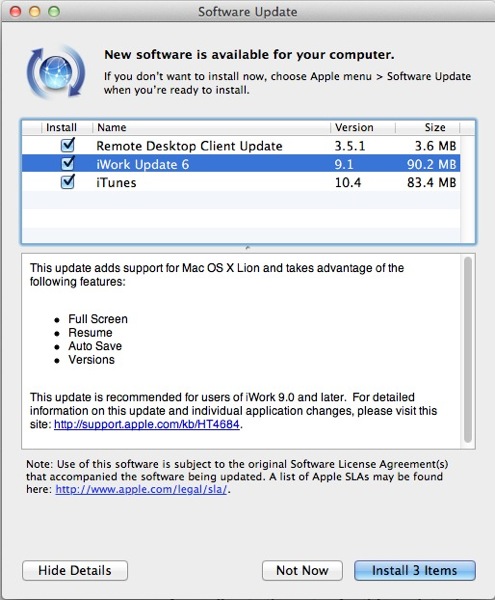 iWork Updates
iWork Update 6 provides four things. First, you get the compatibility with OS X Lion's full screen mode which lets users click the full screen button in the upper right, and hides the menu bar so that you only see it when you need it.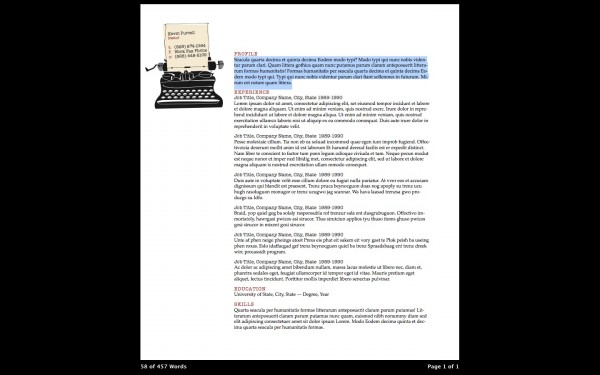 The Lion Resume feature now works in the iWork apps. When you close down an iWork program like Pages, it will now open to the same point you were working on. For example, a report you were working on (which is saved automatically when you shut down thanks to the new Auto Save) will be opened when you restart Pages.
Auto Save will do as its name suggests. Your documents, spreadsheets or presentations will all save automatically. Any changes you make will be saved to the file so that you can restore them if your computer shuts down unexpectedly, or the app crashes. If you accidentally save over some needed edits you want to restore, Auto Save also saves a version of the file.
Versions works with Auto Save to let you restore documents to a previous version. If you create a presentation and then accidentally save it with all the pictures removed, you can go back to the version where the pictures were still present.
Keynote now adds two new "builds," which are transitions called Anvil and Fall Apart.
iTunes Updates
Like the iWorks apps, iTunes now fills your screen in Lion thanks to full-screen mode. Switching between it and other apps is possible with gestures.
Also included is 64-bit support along with some under-the-hood stability and performance improvements.
Remote Desktop Client Update
The Remote Desktop Client lets users connect to their Mac remotely. This update provides some stability, usability and compatibility with Lion.
Advertisement