Apple has announced the availability of Mac OS X Lion in July in the Mac App store for the relatively low price of $29 as an upgrade. The OS X Lion update will arrive in the Mac App store in just a few weeks allowing users to update their MacBook, MacBook Pros and MacBook Air notebooks to the latest Apple operating system.
We have covered many of the new OS X 10.7 updates, but Apple went into more detail, naming the top 10 features of OS X Lion and showing off more about the new operating system.
Mac OS X 10.7 Lion In Action Video
Mac OS X Lion Top 10 Features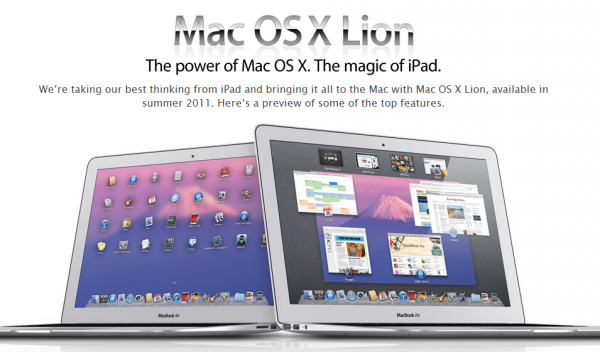 Better Multitouch Gestures – Momentum based scrolling, new gestures and more integration.
Full Screen Apps – iLife and other apps are optimized to go full screen and deliver a better user experience.
Mission Control – Put Expose and Spaces together and you gain the new Mission Control which gives you fast access to your open apps and desktops.
Mac App Store – Apple will be moving more and more of your software purchases to the Mac OS X App store. The App store is built right into OS X Lion.
LaunchPad – With a simple gesture, you can gain access to your favorite apps. In Launchpad you will have a collection of app pages, similar to your iPad homescreens.
Resume – When you are using applications, and need to close them or restart, the apps know where you left off and will open right back up to that same location, even keeping your text highlighted.
Auto-Save – You no longer need to save every ten seconds. in OS X Lion, the operating system will autosave your documents for you, preventing lost files.
Versions – In addition to saving your documents automatically, OS X Lion will also save versions so that you can hop back and forth between versions of a document in a Time Machine like interface.
Air Drop – easily share documents with your friends by dragging a document to their image after you choose Airdrop from the menu.
Mail – The new Mail app is optimized for OS X Lion with a full screen optimizations and conversation view.
If you want to know more, you can check out the 200+ new OS X Lion features from Apple.
Mac OS X Lion Pricing and Availability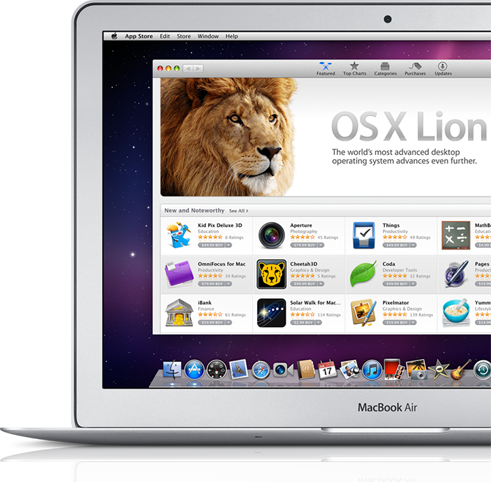 Mac OS X Lion will only be available in the Mac App Store which limits the upgrade to users on OS X Snow Leopard. The OS X Lion update will be available for purchase in July and will require a 4GB download. We don't have any specifics, but we are hoping Apple will allow users to make a bootable USB drive with this download in order to do a fresh install and keep a backup of OS X Lion handy.
If you don't have Snow Leopard installed and you want to upgrade to OS X Lion, you will need to purchase an upgrade to Snow Leopard so that you have access to the Mac App Store. Your Mac must be powered by an Intel Core 2 Duo, Core i3, Core i5, Core i7, or Xeon processor to work with OS X Lion.
Advertisement