At Computex, a tech trade show in Taipei, ASUS announced a new 3D gaming notebook for the hard-core gamer called the ASUS G74Sx. It is part of the Republic of Gamers (ROG) line which is designed for serious gamers who want the power to run any game they choose anywhere they please. It is a 17″ notebook that features 3D output and runs the latest Quad Core Intel Core i5 and i7 processors with NVIDIA 3D Vision graphics. We got a hint of this new notebooks at CeBIT earlier this year.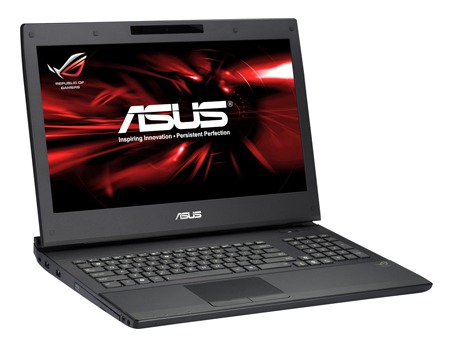 Hardcore Specs
This new notebooks will have some serious chops. The ASUS G74Sx is powered by Quad Core 2nd Gen Intel Core i5 and Core i7 processors and includes WiMAX technology. For graphics the G74SX uses the NVIDIA GeForce GTX 560M which will drive the latest games available including titles like Duke Nukem Forever and Crysis. You will also be able to plug the notebook into an external 3D HDTV to get full 3D video and gaming output on a large screen via HDMI 1.4 compatible displays.
The built-in 17.3″ display will be 3D capable as well having a full HD resolution of 1920×1080. The G74Sx will not only be a good gaming system but also a nice entertainment notebook.
Cool Runnings
Because this is a powerful system it needs powerful cooling. The G74Sx will have what ASUS calls "a unique thermal management system". The chassis has a pair of fans that will cool the CPU and the GPU. It draws the cool air into the front of the system through vents and blows the hot air out the back through another set of vents.
The system will need this extra cooling since it is designed with gamers in mind who like to squeeze every last ounce of power out of a system by over-clocking. The system will have special overclocking features, but ASUS didn't share particulars.
Pricing and Availability
There is no pricing or available date as of yet.
Advertisement