With MacDefender making Apple's recent security update useless within hours of its release, it has become obvious that the days of running a Mac without anti-malware security software are over. Even though Apple is making an attempt to deal with this problem, they will need to do more. Until they do, here are some possible Mac Security solutions for you to consider to keep your MacBook and iMac safe.
Free Mac Security Software
AVG LinkScanner for Mac – Free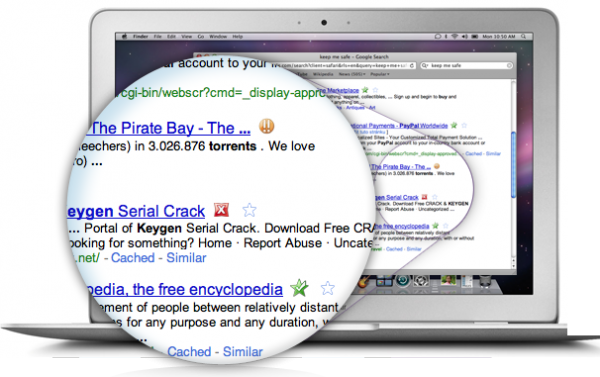 The primary purpose of this is to defend against things like MacDefender by scanning the pages you visit for malware. This is defensive software designed to avoid infection. It doesn't scan what is already on your computer, but tries to keep the bad stuff from getting their in the first place. It only works on Intel-based Macs.
iAntiVirus – Free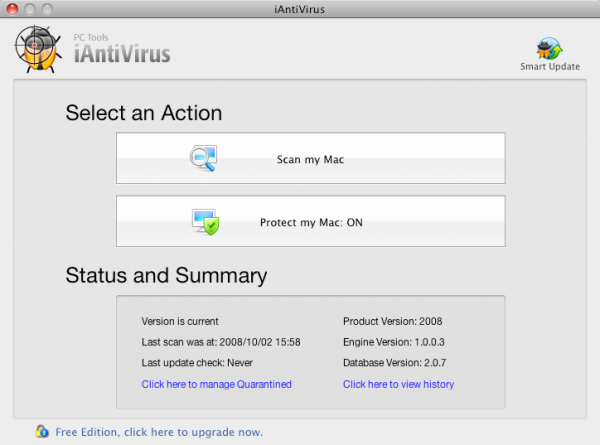 iAntiVirus from PC Tools offers a free version that handles the basics like protection of most forms of malware and can scan your system. It just offers no company-based tech support. You have to get support in their forums. For company  support you will have to pay $29.95 for the premium version.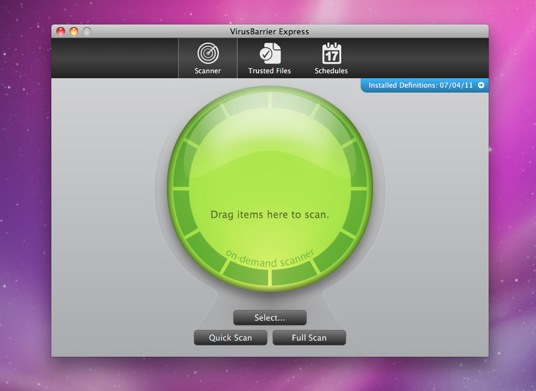 One of only two apps in the Mac App Store, VirusBarrier has this free version and a $10 paid version. Their site has two other solutions that start at $50. This is a decent basic program that offers antivirus, anti-spyware, firewall and anti-phishing protection. You can add support for protection against spam, parental controls, backup and data protection (various technologies to help secure your files). We've installed the free version and it scanned our system quickly. However, it did nothing to stop a potential infection of MacDefender that we were hit with recently.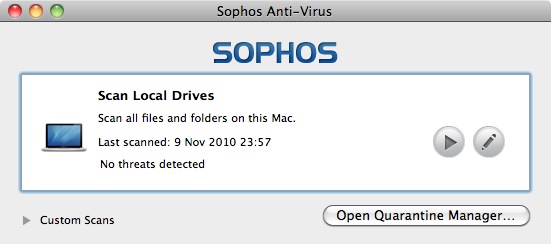 Sophos protects against most of the malware you will see from viruses to trojans to worms. It also scans for files with Windows viruses in them. That way you won't infect your other systems with files on your Mac that you share with a Windows PC. It will find the viruses on your computer and either quarantine or remove the virus. It also says that it works with both Intel and PowerPC Macs.
Paid Mac Security Software
If you don't mind paying to get a few extra features, here are some paid Antivirus solutions.
This solution will scan your mail, your whole system when you ask it to do so, and any file you access. It has a 30 day trial version. If you run a Mac and a PC you can get a dual platform license for a little more.
One of the veterans of Internet security, Norton used to be the best, fell on hard times but has recently come back to improve their software a lot. This full suite of Internet security solutions will handle viruses, phishing scams, and identity protection. It includes their Antivirus and Confidential programs. The latter is designed to help protect your identity. It scan all downloads and your email too.
ProtectMac is a full-featured antivirus solution designed for the Mac. Most of the rest of these are PC ports. That means the other guys are more familiar with fighting this battle in the trenches, but do they know OS X as well? Based on some poking around with those familiar with Mac security software, this looks like a good first choice for paid software.
It seems ProtectMac has all the bases covered with scanning of your hard drive, network, detection of viruses, worms, trojans and spyware, and it finds not only threats specific to the Mac but Windows threats too just in case you download a file to your Mac and then later unleash it on a Windows system infecting the PC. It also scans as you surf and will look for rogue files on external drives too.
Kaspersky has long been considered a good PC antivirus tool. On the Mac side it offers scanning of files, email attachments and Internet downloads as they are downloaded or opened. It will also monitor web sites and warn you if you are at a suspicious site. It focuses on prevention but also has back-end support if there is an infection.
This solution only works on Intel systems.
McAfee promises to secure you when you are surfing, look for malware on your system, and clean it up. The program has firewall security which detects external intrusions form those trying to access your system. It also scans downloads from the Internet or email.
This is not our choice because of the bad history the company has of bogging down systems and cluttering up new PCs with crapware so we recommend you look elsewhere. Plus it is one of the most expensive of the included programs.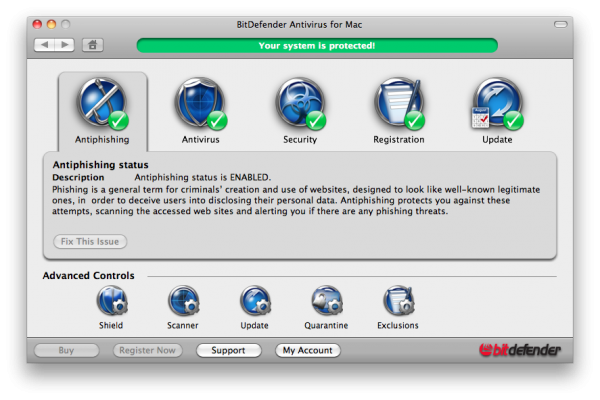 BitDefender has features to deal with viruses, spyware, and identity theft. You can scan the whole system on demand or at scheduled times. It will quarantine infected files. Mac users will like that it has a more Mac interface than some of the others. And it seems to work on both Intel and PowerPC Macs.
There is a version for $10 more that not only protects your Mac but also works with Boot Camp installations of Windows.
Safe Internet Practices
Free is usually better than paid, but not if free means it doesn't do the job. Based on our experience with free Windows antivirus and security software, often free is good enough when coupled with the following intelligent practices:
Never open email attachments from people you don't know
Never open email attachments from people you do know until after you confirm they intended to send the attachment to you
Don't download pirated software sometimes called WAREZ
Avoid porn sites
Avoid online Flash video games
Only download software from trusted sources
Never click OK or YES when asked to download anything you didn't specifically request by clicking a download link
Turn off the automatic open feature in Safari that opens downloaded files OR
Use Chrome or some other browser that never automatically executable files without your input
If you do the above, then you are unlikely to get a virus or any malware while using a Mac or even an up to date Windows Machine. But just be safe consider installing one of the above security programs on your Mac.
Recommendation
Since security software is not the kind of thing you can download a bunch of different products and install them all, you have to pick one and try it out first. We suggest that if you want to go with a free program, try out Sophos first. It has a good reputation. If you don't like it, then try VirusBarrier since it is free in the Mac App Store.
If you think you need a little more and are willing to pay, we think that first step would be to get the trial version of BitDefender because of its good reputation on the PC side and the fact that it seems to be a very Mac-like experience. If it works, great; if not then look at ProtectMac which is also well-respected.
Advertisement