Microsoft has released the Microsoft Standalone System Sweeper, a new tool that works alongside Microsoft Security Essentials, as an advanced system cleaner. If you have a difficult to remove malware or virus problem, this new tool from Microsoft may be able to detect and remove the problem.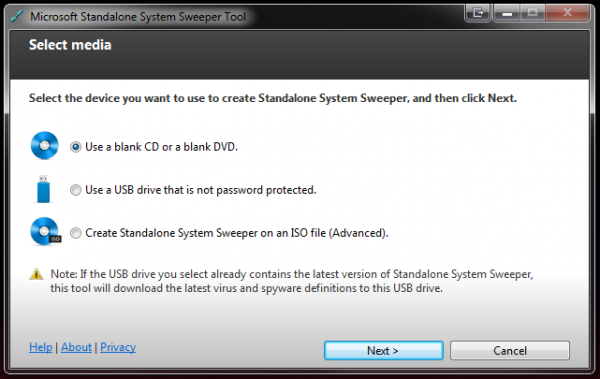 Unlike the Security Essentials, this new tool creates a Bootable USB or DVD that allows you to boot up your computer in a safe mode so that the virus and malware scanning software can run, even on systems which are infected to the point of preventing virus scanning applications from running in Windows. These types of tools are common on paid anti-virus applications and occasionally as standalone tools, but it is good to see Microsoft releasing what looks to be a user-friendly tool.
The Microsoft System Sweeper tool works with Windows XP, Windows Vista and Windows 7 for both 32 bit and 64 bit versions. The tool can be used to create a System Sweeper Disk on demand, with the latest definitions so that you are ready to repair your system.
To use the Standalone System Sweeper, prepare the DVD or USB, boot into the tool by putting your USB drive or CD in your computer and follow the prompts. You will likely need to enter the system Bios to change the settings. This can typically be done by pressing one of the Function keys or the Del key while your computer is booting. For specific instructions, search for your notebook name, model and BIOS. From there you will need to use your keyboard to change the boot order.
It is great to see Microsoft stepping up to deliver tools like the Standalone System Sweeper to users that need help cleaning up virus or malware infections on Windows notebooks. To help stop viruses before they start, be sure to install an antivirus application like Microsoft Security Essentials.
Advertisement