NVIDIA just announced the NVIDIA GeForce GTX 560M mobile notebook GPU which is the latest gaming GPU to roll off the lines at NVIDIA with support for Direct X11, NVIDIA PhysX, NVIDIA 3D Vision, 3DTV Play and for the first time NVIDIA Optimus.
The new NVIDIA GTX 560M GPU will be arriving in gaming notebooks from major manufacturers starting today, with more gaming notebooks arriving in June.
NVIDIA GTX 560M Notebook Pricing and Playability
The new NVIDIA GeForce GTX560M GPU is designed hit the "Notebook Gaming Sweet Spot," which is in the $999 to $1,999 price range according to NVIDIA. These notebooks are a step up from the multimedia notebooks many mainsteam users purchase, but not as expensive as the extreme gaming notebooks that bring out of this world pricetags.
NVIDIA tells us that the GTX 560M powered gaming notebooks will be able to offer 1080P resolution with Max Detail on games like Crysis and Duke Nukem Forever, all at playable frames per second.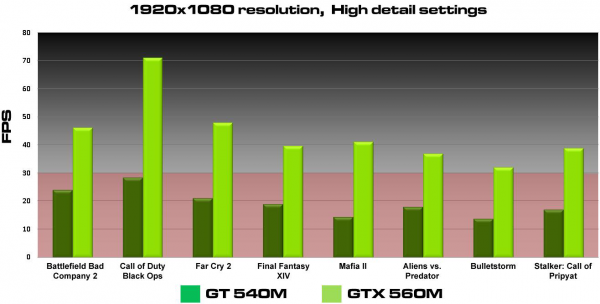 Compared to the NVIDIA GT 540M, the new GTX 560M promises playable framerates at maximum detail on games like Battlefield Bad Company 2, Call of Duty: Black Ops, Far Cry 2, Final Fantasy XIV, Mafia 2, Aliens vs Predator, Bulletstorm and Stalker COP.
NVIDIA GeForce GTX 560M Technologies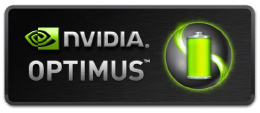 NVIDIA Optimus – The new GeForce GTX 560M GpU packs in a lot of NVIDIA Technology, but one of the most exciting additions, especially for notebooks that aren't dedicated totally to gaming, is NVIDIA Optimus.
NVIDIA Optimus will automatically switch between the NVIDIA GPU and the integrated Intel GPU based on your needs so that your battery will last as  long as possible. In practice this means that while you play Duke Nukem Forever you will enjoy high FPS and full details at the cost of battery life, but when you are taking notes in class or checking Facebook you'll enjoy the battery life of a notebook with an integrated GPU.
NVIDIA 3D Vision – The new GeForce GTX 560M equipped notebooks will support NVIDIA 3D Vision, which allows users to connect wired or wireless glasses to their gaming notebook to enjoy up over 500 games in 3D. This same technology can also be used to view movies and photos in stereoscopic 3D.
DirectX 11 – The GeForce 560M GPU supports DirectX 11, but NVIDIA is claiming that if you have a GeForece GTX 560M GPU you won't just get Direct X11, you'll get, "DX 11 done right." How so? NVIDIA tested the GeForece GTX 560M against the AMD Radeon HD 6780 GPU and found a 5 to 20% increase in FPS while playing Direct X 11 games.
PhysX – Rather than being limited to predetermined animations, PhysX allows games to deliver more realistic actions and animations based on, you guessed it, physics. To see how PhysX changes gameplay, watch the video above which shows a splitscreen view of PhysX off and PhysX on in Mafia 2.
Verde Drivers – The NVIDIA Verde Driver program delivers monthly drivers for Verde GPUs so that users get the most up to date drivers possible, so that they are ready to play new games when they arrive.
NVIDIA GeForce GTX 560M Notebooks
The new NVIDIA GeForce GTX 560M GPU will soon be found in many notebooks, but the first notebooks to deliver a GTX 560M GPU solution are the MSI GT683 and the MSI GT780, which are available immediately. Coming soon, we expect to see the following models sporting NVIDIA GeForce GTX 560M GPUs in June.
MSI GT683
MSI GT780
ASUS G74Sx -NVIDIA 3D Vision
ASUS G53Sx – NVIDIA 3D Vision
Alienware M17x – NVIDIA 3D Vision OR Optimus
Alienware M18x – NVIDIA SLI
Toshiba Qosmio X775 – NVIDIA Optimus
Clevo P150HM
Clevo P170HM
NVIDIA GeForce GTX 560 M Notebook Gallery
Advertisement