Samsung has their info page for the new Samsung Chromebook announced this week at Google I/O Developer's Conference. They have three links to "shop" for the Chrome OS netbooks, however clicking the link results in a page saying you can't yet buy one.
At least you will be able to get a look at the three models they have coming in June. The Samsung Chromebook Series 5 White with Wi-Fi only will cost $429. With 3G the price is bumped up to $499. The Titan Silver model with 3G is also $499.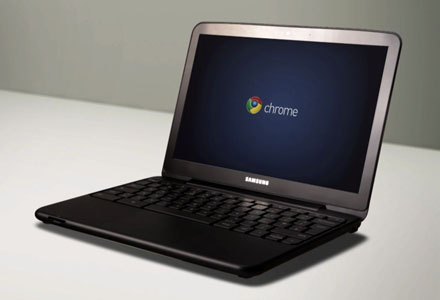 To learn when they become available you can sign up to receive an email from the company when they become available.
They also have a page to help you decide if one of these new machines is right for your needs. They deal with things like power, size, and whether a cloud based OS will be satisfying to you. If you need to be able to install specific applications, need a larger screen than 12.1 inches, or want something with some power, then don't bother. The other issue is the price. You are making a lot of compromises for a computer that won't do all that other PCs can do for the same price or just a little bit more.
Samsung Series 5 Chromebook Demo Video
Below is a hands on video from Engadget:
Thanks to Marco at Notebook Italia for the heads up.
Advertisement