MSI has just announced a new gaming notebook, the MSI GX780 with a steelseries keyboard that is designed with gamers in mind. This new notebook doesn't go up to 4.5GHZ, but it does come with everything you need to game on the go — including Sandy Bridge, Nvidia GeForce GT555M graphics and a gamer friendly keyboard layout.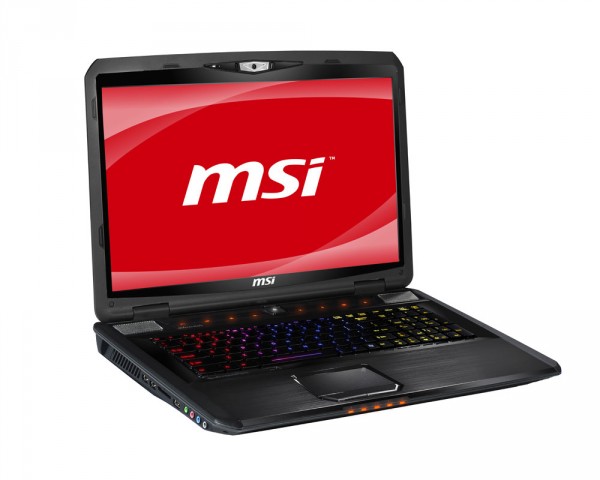 MSI GX780 Quick Specs
Inside the GX780 you'll find a 2GHz Intel Core i7 Sandy Bridge processor, 1GB Nvidia GeForce GT 555M, 16GB RAM and the ability to add dual 750GB hard drives in Raid 0. The 17.3″ display has a 1600 x 900 resolution or you can opt for a full HD 1080P resolution.
MSI GX780 Keyboard

What MSI is hoping sets this notebook apart from the crowd is the inclusion of a steelseries keyboard that is optimized for gamers and delivers a collection of controllable LED backlighting options. MSI claims one of the advantages is a more durable keyboard, but doesn't share how the keyboard is more durable.

What is clear, is that MSI has thought through the key placement to make sure that gamers aren't hitting the wrong buttons in the middle of an intense gaming session. One way that MSI has achieved this is by replaceing the left Widnows key with a function key and making Ctrl and Alt bigger.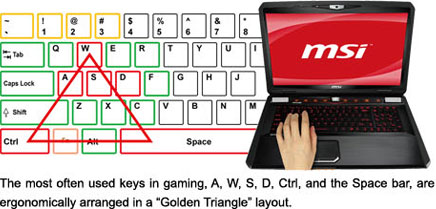 Another improvement is the Golden Triangle ergonomic layout of the often used A, W,S,D, Ctrl and Spacebar keys to deliver a more comfortable position for your hands.
Finally, before you get bored with this keyboard talk, it's worth mentioning that the gaming keyboard supports up to 10 key-presses at once, allowing users to get complicated key combos in.
MSI GX780 Audio
Rounding out the experience is a Dynaudio audio experience with 2.1 sound including a subwoofer in the base of the notebook. MSI says that it has worked with creative to deliver an optimized experience.
MSI GX780 Design
Finally, gamers not looking to light up the room will appreciate the clean design which ditches the typical LED lighting found on many notebooks for a "spacecraft" like brushed aluminum finish.
MSI GX780 Price and Availability
MSI has not announce pricing or availability of the MSI GX780.
MSI GX780 Gallery
Advertisement