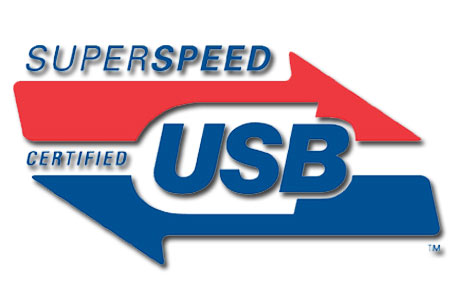 USB 3.0 support is hit or miss on notebooks right now in part due to a lack of an Intel or AMD Chipset that supports USB 3.0, which has left vendors to rely on a secondary chipset to add USB 3.0 support. AMD is changing this now with the new AMD A75 and A70M chipsets that will natively support USB 3.0 on AMD powered systems, including the new Fusion line of mobile processors.
The Inquirer reports that these new AMD chipsets will be the first certified "SuperSpeed USB" chipsets. This means it will be much easier for manufacturers like HP, Gateway, Dell and others to support USB 3.0 on their upcoming notebooks and mini notebooks. This is good news for consumers who want a faster connection, but don't want to go with an Intel Thunderbolt connection, currently only found on the MacBook Pro, and bringing a noticeable lack of consumer accessories.
USB 3.0 will deliver a faster transfer rate for moving files from your computer to an external hard drive and USB 3.0 delivers more power, which means that hard drives which may have needed to connect to two ports or power supply will likely be able to connect with a single connection for power and data transfer.
This is good news, and is another feather in the hat of AMD, which is on track to give Intel a challenge in the processor race again. We've been using the AMD E350 APU in a sub-$500 notebook from Gateway for a month now and have been impressed with everything the budget priced notebook can do. Add in USB 3.0 support and you have an even more attractive package for consumers.
This is especially important given the current amount of USB 3.0 hard drives which greatly outnumber Thunderbolt accessories, and are much more likely to end up on the desk of your average consumer. So far we've only seen professional-level Thunderbolt drives and accessories announced. Another cool use of USB 3.0 is a Bus-Powered Monitor which can plug in to a USB 3.0 port and display 1080P video without the need for any additional power source.
Advertisement