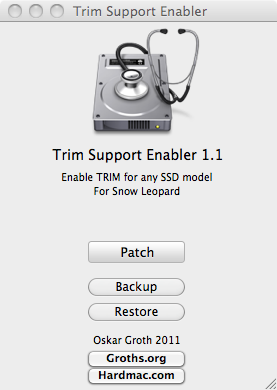 TRIM is a function with SSDs that helps the operating system know where to write files so that the SSD, to deliver better long life performance for the SSD. TRIM isn't available in Mac OS X be default, but you can enable TRIM support in Snow Leopard with the handy TRIM Support Enabler.
Trim Support Enabler takes care of the current "hacks" that will allow you to use TRIM on MacBook Pro and MacBook Air models with SSDs. The small utility is free to use and allows you to backup your system before you patch.
TRIM is set to arrive on OS X this summer when Apple is believed to launch OS X 10.7 Lion, but you don't have to wait.
Before you go any further, make sure you have updated to OS X 10.6.7, otherwise this patch will not work. We also suggest you do a Time Machine backup just in case something goes wrong.
How to Enable Trim Support in OS X 10.6.7 with a Click
Download TRIM Support Enabler.
Extract the files from the zip Drive.
Open the Trim Support Enabler App
Click Backup
Choose a place to save the file you are about to patch
Click Patch
Wait 3-5 minutes while the file is patched
Reboot your MacBook Air or MacBook Pro
TRIM should be enabled. You can check this by opening up your System Profiler, and clicking on Serial-ATA. It should look like the below screenshot.
Advertisement