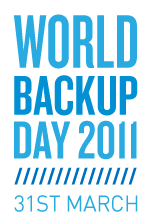 Backing up your computer is important enough that you shouldn't need a day dedicated to it, or a collection of deals on online backup services and hard drives, but that is exactly what today is. March 31 is World Backup Day 2011, which should serve as a reminder to backup your computer, smartphone, iPad and even the hard copy pictures and documents you have around the house.
Why You Should Backup Regularly
Hard drive failures are one of the most common computer issues that friends and family bring to tech savvy individuals and unfortunately all to often when the hard drive crashes you've lost all of your documents, music, pictures and other important files. The sad part is that hard drives fail all the time, but note everyone takes the simple steps to backup their data. It used to require an afternoon and a B.S. in Computer Science to setup automatic offsite backups, but with the amazing collection of tools available today there's no reason not to backup.
According to World Backup Day the annual hard drive failure rate is 3%, with a climb to 6% for 3-year old hard drives. When hard drives crash the data is often un-recoverable. Companies like DriveSavers can try, but all too often the hard drive is just too damaged to save your data.
If nothing else gets you to backup, think of the explaining you'll have to do when your kid is 18 and you have to explain why you have no pictures of his first three years of life because you never backed up. Got it? Good, now let's find out how to backup.
What is World Backup Day?
World Backup Day was born on Reddit, after user adamjeff proposed that everyone could use a "reminder to save all your cherished pictures, videos and other important data to somewhere secure." So, on March 31 2011 we suggest you revisit your backup practices, start backing up and most importantly test your backup processes. Now there's a World Backup Day website and a Facebook page.
How to Backup?
There are a few ways to backup your computer built right into the operating system. If you have Mac OS X you can use Time Machine to backup your files automatically. On Windows, you can backup your installation of Windows 7 and setup a backup to an external hard drive.
Thankfully, there are plenty of additional methods of backing up which are incredibly simple and can help you backup to an offsite location as well as locally. It's important to keep a copy of your files at a different location that way they are safe in the case of a natural disaster or fire.
Online Backup Services:
CrashPlan and CrashPlan+: CrashPlan provides a free tool that allows you to backup your data to an external hard drive or to another computer at your house or to a friend's computer. The paid version, CrashPlan+, adds online backup to the mix so that you have your data in multiple locations. CrashPlan+ starts at $1.50 a month for a limited account, and can include your entire family for as low as $6 a month with unlimited storage that covers all of your house.
Carbonite: Carbonite offers an automatic online backup solution with unlimited storage and easy access to your files for recovery or for access on the go using the iPad app or Carbonite website. Carbonite includes one computer for $54.95 a year. Check out our Carbonite Review.
Mozy: Mozy also offers automatic online backup as well as software to backup to a local hard drive. The Mozy service offers 50GB of backup space for $5.99 a month or 125GB for $9.99 a month.
SugarSync: SugarSync offers 5GB of storage for free and will automatically sync your files to the web and to multiple computers. With SugarSync, you need to identify the folders you want to backup, but it is a very easy process. The larger plans start at 30GB for $49.99 a year and range up to 250GB for $250 a year. SugarSync has given Notebooks a free 30GB promo code to give away, check out the World Backup Day Deals below to find out how you can enter to win.
World Backup Day Deals on Online Backup Services, Storage and Software
SugarSync: SugarSync has partnered with Notebooks.com to give away a free 30GB 1 year subscription to SugarSync. To Enter Follow @SugarSyncand @Notebookscom and tweet the following: "I'm in to win a @SugarSync 30GB/year account from @Notebooks.com  Find out How & Check Out these Backup Deals -Notebooks.com/go/BackupDay"
CrashPlan: Giving away 5 1-year unlimited subscriptions for following @CrashPlan on Twitter and tweeting: "I'm celebrating #WorldBackupDay by backing up my personal and business data with @CrashPlan! How are you celebrating @WorldBackUpDay?"
SpiderOak: SpiderOak is giving away free upgrades to 5GB of online storage for users who signup on World Backup Day and also offering 10% off all paid plans. You can also enter to win one of 10 100GB online backup and storage accounts by tweeting with the hashtag #worldbackupday.
BackBlaze: BackBlaze is another online backup storage and backup service and is offering 10% off with the coupon code worldbackupday. Additionally, you can enter to win one of 10 Unlimited online storage subscriptions by including the hashtag #backblaze in a Tweet.
MiMedia: Earn a chance at one of 10 100GB MiMedia online acccounts by following @MiMedia and tweeting with the hashtag #MiMediaCo.
Paragon: Paragon is offering 40% off the Paragon Backup and Recovery Suite with the coupon code ParagonBackup.
ScanMyPhotos: ScanMyPhotos is offering 10% off of photo digitizing which is a great way to backup the shoeboxes of pictures you have stored around the house. The prepaid box costs $184 and includes free S/H and same day scanning. Use coupon code Twitter to save 10%.
DollyDrive: Dolly Drive is giving away a free year of free storage and an iPod Touch. You can find the details at Dolly Drive. For more, check out our Dolly Drive Review.
Seagate: Seagate is offering discounts on a collection of hard drives through Friday including the 750GB and 1TB ultra-portable products and the 2TB and 3TB GoFlex Desk products. Prices range from $78-143.00. Checkout the Seagate Specials.
These are just the World Backup Day deals we could find, we're sure to see many more throughout the day and we'll update the post with the deals. Don't forget to enter to win our free 30GB SugarSync account!
Advertisement