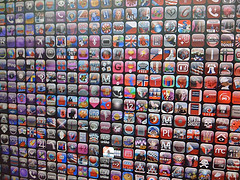 If you've ever heard about a cool iPhone or iPad app , but haven't ben ready to buy, you've probably wished for a way to add the app to an App Wishlist from your iPad or iPhone. While iTunes on Mac OS X and Windows will allow you to add an app to your iTunes wishlist, this feature is missing in the app stores on the iPhone, iPod Touch, iPad and iPad 2.
Surely this is an oversight, and not a strategy to just get you to click purchase, but either way, we have a guide to show you how to create your own App Wishlist, right from your device. This method will even let you add apps from the Mac App store to a wishlist.
How to Create an App Wishlist For On The Go:
You can't add an app to your official iTunes Wishlist while on the go, but we are going to create our own App Wishlist with Evernote. To start, log into Evernote and create a new folder. We suggest something short and easy to remember. We chose to name our Evernote notebook Apps, so that we wouldn't forget.
How to Add an App to Your App Wishlist From the iPhone or iPad:
First off, you need to set up your Evernote email account that looks like this [username][email protected]. This will allow you to email notes to yourself. If you don't already have this setup, log into your Evernote account and click on settings to create one. When you have your account, add it to your address book as Evernote – YourName, or something easy to remember.
Step 1. When you hear about an iPad 2 app or iPhone app you are interested in, but aren't ready to buy just yet, look it up on your iPad like normal.
Step 2. Instead of clicking Buy, click "Tell a Friend"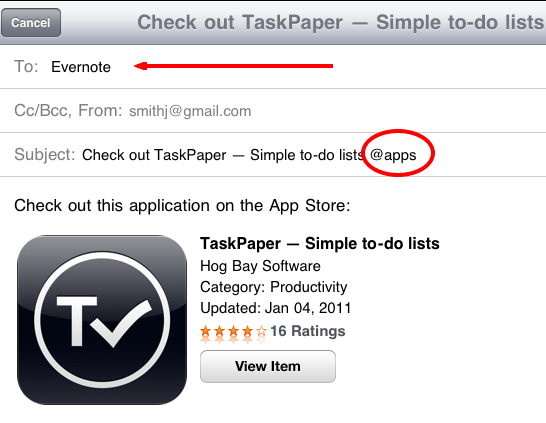 Step 3. When the email comes up, send the email to your Evernote account and add the name of your App notebook to the end. In our case we add @Apps. This send the note to the correct folder.
Step 4. That's it, now your App will be waiting in your Evernote App Wishlist folder. From here you can click the link from your iPad, iPhone or on your computer to be taken to the App store. Or, you can research the app later, which is handy for specialized apps that cost more than 99 cents.
How to Add an App to Your App Wishlist from the Mac App Store:
The process is essentially the same on your Mac while in the Mac app store, but unfortunately you cannot send it to your Apps folder or access the Evernote email address from your Mac Address Book.
Step 1. The easier way is to right click on the App icon and choose Copy Link.
Step 2. Open link in your Browser.
Step 3. Add the page to Evernote using the Evernote browser plugin.
With so many cool Mac Apps in the Mac App store, it would be nice to have a way to save those that interest us for a later date. Perhaps Apple will add this over time.
How to Share your iPad or iPhone App Wishlist:
After you create your wishlist, you can share it with friends or Twitter followers to show what you are interested in or in the hopes that they will gift the app to you. To do this you will need sharing enabled in your Evernote account.
After you enable sharing, share your Apps folder, or whatever you called your App Wishlist folder, and proceed to share you're link. Here's my small, but growing iPad App Wishlist.
App Wall image via Oyvind Solstad
Advertisement