If you like to keep your email organized and filed away, there's great news for users of Gmail. There is a new lab feature in Gmail called Smart Labels, which will automatically label your incoming mail into "buckets" or "folders" for easy organization and management. If you're already managing email with rules that apply labels to incoming mail, don't worry because the new Smart Labels will play nice with your existing setup.
What are Smart Labels: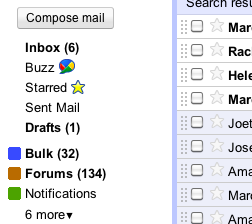 Smart labels are automatically applied labels that help to group and identify incoming email as one of three types so that you don't have to sort through so much incoming email. Smart Labels work with Priority Inbox to make reading and responding to important emails easier and faster.
The three current Smart Labels are as follows;
Bulk – mass mailings such as newsletters and promotions from stores you have shopped at or signed up for emails from.
Notifications – account statements and receipts.
Forums – emails from group discussions and forums.
How Do I Turn on Smart Labels in Gmail?
Step 1. To start using Smart Labels in Gmail you need to log into your account and click the labs icon in the upper right corner. You can also click this Settings Link to open Labs in your Gmail account.

Step 2. Scroll down to the Smart Labels settings and click "Enable".
Step 3. Scroll to the bottom of the page and click "Save Changes".
How do you edit Smart Labels?
Step 1. To edit Gmail Smart Labels, click on "Settings" and then click on the "Filters" tab.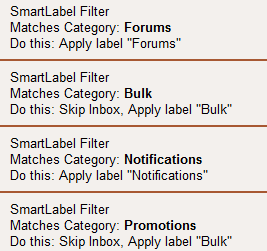 Step 2. Scroll to the bottom where you will see your Smart Labels.
Step 3. Click Edit on a label you want to edit.
Step 4. From here you can add emails from senders or that contain certain words to a specific category by choosing it from the drop down.
Step 5. Click Next Step and if the results look right you can click Update Filter to make the change.
Advertisement