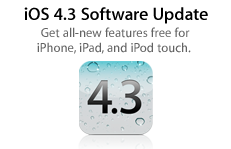 Apple has released iOS 4.3, a new software update for the iPhone, iPod Touch and iPad devices which delivers improved home sharing, hotspots and other features to the collection of Apple devices. The upgrade process will take some time depending on how much data you have on your device, so you shouldn't do it right before you need to run out the door.
iOS 4.3 is definitely an update you want to install. Not only does it deliver faster browsing, but you can also stream movies and music from your iTunes library over WiFi to your iPad or iPhone. Additionally Apple has improved AirPlay to allow for streaming from apps on the marketplace and has finally allowed users to set the preference for the iPad switch to mute or orientation lock.
How To Update your iPhone, iPod Touch or iPad to iOS 4.3
Check for the latest version of iTunes:

Step 1: Make sure that you have the most recent version of iTunes. Apple just release a new version this morning, which addresses some bugs with iTunes 10.2. To Upgrade to iTunes 10.2.1 you should open iTunes and click Check for Updates.
Step 2: You Will be prompted to update iTunes and the system will download iTunes 10.2.1. Alternatively, you can  download the installation file from iTunes.com.
Step 3: Exit iTunes and allow the installation to finish.
How to Upgrade to iOS 4.3:
Step 1: Open iTunes
Step 2: Connect your iPhone, iPod Touch or iPad to your Computer.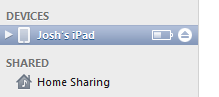 Step 3: Make sure you have an up to date backup of your iPad, iPhone or iPod Touch.
Step 4: Click on the device's name in the right hand iTunes sidebar.
Step 5: Under the Summary Tab, click, Check for Update.
Step 6: The update will download. If you are attempting to upgrade right away, the download may take some time.
Step 7: When prompted, accept the user agreement and click "Next" where applicable.
Step 8: When finished you can look under Settings ->General -> Version to see that your device has been upgraded to iOS 4.3.
iOS 4.3 Release Notes, Features and Bug Fixes:
iOS 4.3 Software Update

This update contains new features and improvements, including the following:

• Personal Hotspot*

– Share iPhone 4 cellular data connection with up to 5

devices (combination of up to 3 Wi-Fi, 3 Bluetooth,

and 1 USB)

• iTunes Home Sharing

– Play music, movies and TV shows from a shared iTunes

library on a Mac or PC (requires iTunes 10.2)

• New AirPlay features**

– Play videos from the Photos app including the Camera

Roll album, iTunes previews, enabled third-party apps

and websites on Apple TV

– Play slideshows from Photos on Apple TV using

transitions available on Apple TV

• Faster Safari performance with Apple Nitro JavaScript

engine

• HD video out using the Apple Digital AV Adapter***

– View 720p HD videos from Videos app, iPod app,

Photos, YouTube, Safari, Keynote, and enabled

third-party apps on an HDMI display

• Ping features

– Push notifications for comments and follow requests

– Post and Like songs directly from the Now Playing

screen

– Parental controls

• New Settings

– Messages setting for number of times to repeat an

alert

– iPad side switch setting to lock screen rotation or mute

audio notifications and sound effects

• Single tap conference call dialing with a pause to send

a passcode

• Bug fixes

Products compatible with this software update:

• iPhone 4 (GSM model)

• iPhone 3GS

• iPad

• iPod touch (4th generation)

• iPod touch (3rd generation)

*Requires iPhone 4 with tethering data plan

**Requires Apple TV (2nd generation) running software

version 4.2 or later

***iPhone 4, iPad, iPod touch (4th generation)

For information on the security content of this update, please visit:

<https://support.apple.com/kb/HT1222>
Advertisement