On Feb. 22 Amazon turned on the rumored free Amazon Instant Video streaming for Amazon Prime members. It is a Netflix style video streaming service. The rumors surfaced a while back. There were even screen shots of users who had the service enabled, but that was short-lived. Now all Prime members have the service with a count of 5,000 TV shows and movies available, according the numbers listed on the service's website.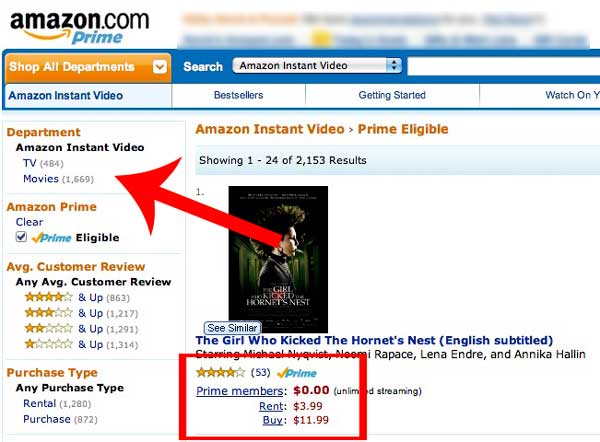 What is really exciting for Prime Members who have Amazon enabled set-top boxes like the Roku, is this service is available on those devices as well. As you can see below, this is a shot taken of the same movie above available for free streaming on a Roku XDS.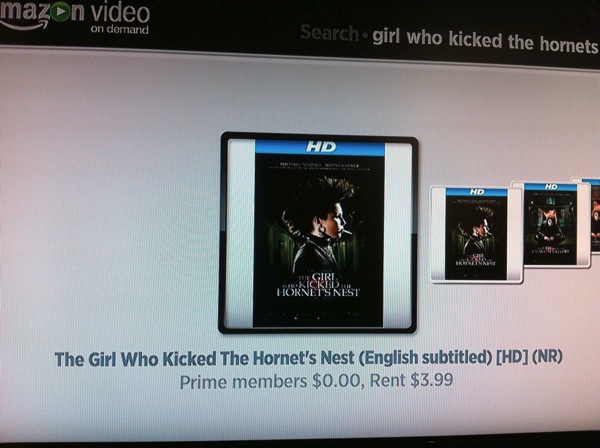 As you can see the Prime Members label with a price of $0.00. Below you can see the Roku XDS box connected to our HD set.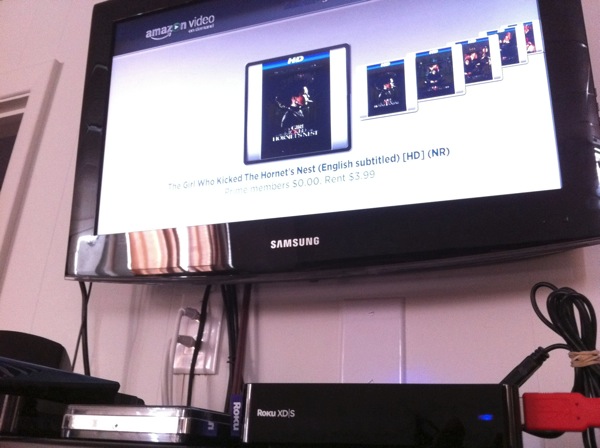 Amazon Prime membership gives Amazon customers some great benefits and is free to college students and everyone else for a free trial. The wording of the announcements suggests that free Prime members won't have access to the streaming, but if you have a free college account let use know if you can stream for free.
When customers click on the Amazon Prime link at Amazon.com, they are greeted with the following letter from CEO Jeff Bezos: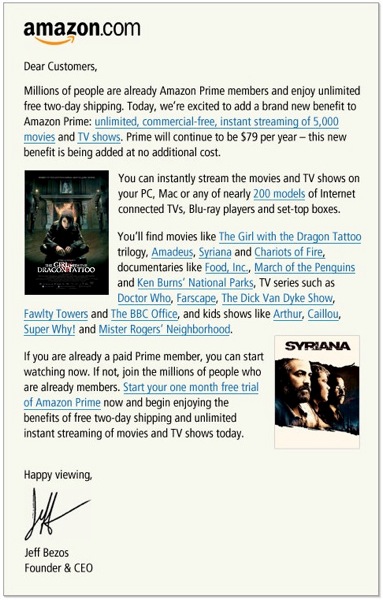 The benefits of the $79 Prime membership now include the following:
unlimited 2-day shipping at no extra charge
discounts on overnight shipping ($3.99 in most cases)
access to the instant streaming via web or 200 Internet connected TVs, Blu-ray players, or set-top boxes
The quality of the movies and TV shows is not great. We looked for a few of our favorite TV shows and didn't find any of them included and there are no recent releases in the movies category. Hopefully that will change. For now, this is one more option for those nights when there is nothing to watch. And for Prime customers it is a nice extra. The video quality itself is as good as any other Internet streaming service.
Below we show you how the service works with the Roku box.
If you are not a Prime member and don't do a lot of business with Amazon, the $79 fee is too steep to make this worth signing up just for the streaming content. Netflix is far ahead in selection.
Advertisement