At Mobile World Congress NVIDIA took the wraps off of Kal-El, the latest Tegra processor, and the first Quad Core mobile processor. The new processor is designed for mobile devices such as tablets and the demo took place on an Android tablet which showed off the multimedia capabilities of the processor, which by the way contains a new 12 core GeForce GPU.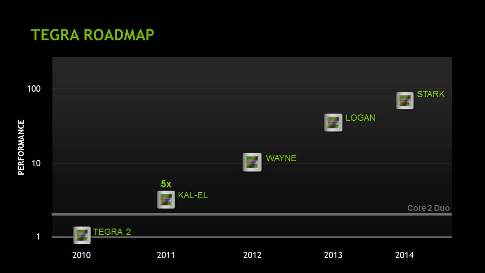 The new Kal-El Tegra processors aren't a mythical demo, to be shown off and forgotten; rather NVIDIA is claiming an August timeframe for the new processors to be in real devices, such as tablets and super phones, that will be in production.
The new Kal-El Tegra processor was able to play back 1440p video at 2560×600 resolution on a display, while also running on the 1366×768 resolution tablet display. NVIDIA is claiming 5x the performance of the current dual core Tegra processors and claiming new efficiencies will allow for up to 12 hours of HD video playback under optimal conditions.
Check out tech demos of the Kal-El Quad Core Tegra processor below:
And a benchmark of NVIDIA Tegra Kal-El
For a look at how the Kal-El processor handles gaming, check out the coverage from SlashGear, which reports a 3X improvement in the game being demoed.
Advertisement