The Kensington Virtuoso iPad Stylus is a new stylus designed to work with Apple's iPad, and with a plan sheet of paper thanks to a pen hidden in the other end. The Virtuoso is a long slender stylus with just enough weight to feel substantial and in our testing it's the best iPad stylus we've found to date.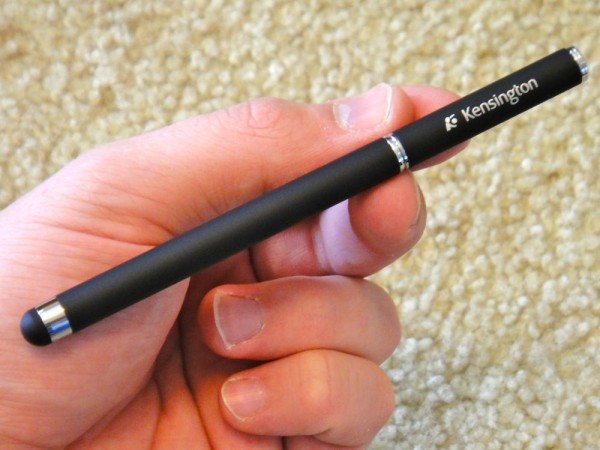 While the iPad wasn't designed to work with a stylus the way that traditional Tablet PCs are, users have been clamoring for the perfect stylus ever since the iPad made it to store shelves last year. There have been numerous iPad styluses released since then with different ends, shapes, sizes and features. We've tested out a large number of iPad styluses, as have our friends at GottaBeMobile. The Kensington Virtuoso won't compare to the standard tablet PC styluses, but it should be the new standard for iPad Styluses.
Kensington Virtuoso iPad Stylus Review Video:
If you haven't used an iPad stylus, they aren't just for picking your apps, but also for writing in apps like Note Taker HD, Penultimate and many others. Warner Crocker from GottaBeMobile has an iPad inking showdown worth watching if you want to see the variety of ways you can write on your iPad.
Build and Design:
The Virtuoso is currently at the top of the pack thanks to a really nice build and design that makes it feel like you are holding a real pen, and in fact you are. If you take the top off of the Virtuoso you are left with a standard pen to write with. The Virtuoso comes in black and gunmetal and weighs .05 pounds which is hard to imagine, but suffice to say it feels like a real pen, not a toy. It is lighter and thinner than the HardCandy Cases iPad Stylus we previously reviewed.
Usability and Writing:
When it comes to using the Virtuoso iPad stylus, prepare yourself for a great experience. While you will be limited somewhat by the iPad and whatever software you use, the Virtuoso is a great iPad stylus that won't hold you back. Writing is smooth, with the same rubber style tip we've seen on most iPad styluses released, but thanks to the length of the stylus it's easier to hold and write.
Here's a look at how the Kensington Virtuoso compares to the HardCandy Cases iPad Stylus and the Targus iPad Stylus in length: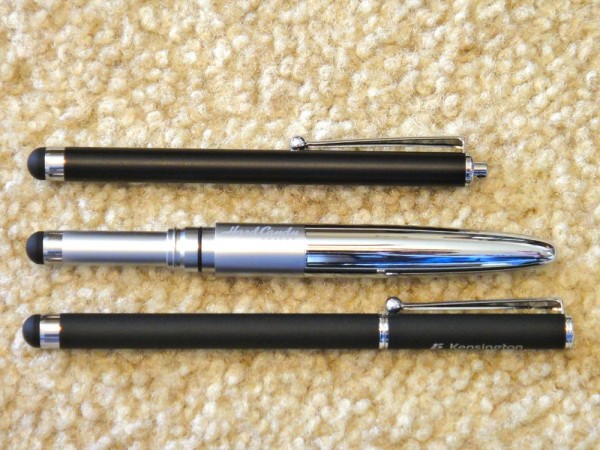 While it may not look like much of an edge over the HardCandy Cases stylus, the Kensington is noticeably longer and since it is thinner it is easier to hold.
Conclusion:
The Kensington Virtuoso iPad Stylus is a perfect combination of size, weight and feel to be your next iPad stylus. While the extra length may not look like much, when you are holding this in your hand writing on the iPad you will really appreciate it. If you want a stylus for the iPad you should definitely add the Virtuoso to your short list.
The Kensington Virtuoso iPad Stylus will be available from Kensington for $24.99 soon and can also be found at [amazon_link id="B004BSF1I8″ target="_blank" ]Amazon[/amazon_link] and other retailers for as low as $15 right now.
Kensington Virtuoso Gallery:
Advertisement