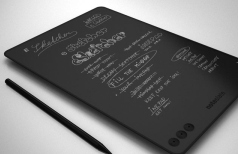 Some have belittled Apple's iPad tablet for being a misnomer–it is designed to be a "pad," but lacks a stylus or digital pen input to be a truly digital pad, which would come in handy for certain academic, enterprise, and consumer applications. Enter NoteSlate, which comes with its own stylus and minimalist look that will allow users to replicate the ink on paper feel.
The device's 13-inch display eschews the iPad's color LCD screen for an electronic ink display similar to those found on e-readers such as Barnes and Noble's Nook and Amazon's Kindle. True to its pad heritage, the NoteSlate comes with a black pencil that writes white text and comes with its own eraser. The slate itself is a minimalist black slab with a matte finish that gives the tablet the look of paper.
The display has a resolution of 750 X 1080 pixels. The device has a USB port, SD slot, and headphone jack. Because it uses energy sipping e ink technology, the slate will have a battery life of about 180 hours compared to the iPad's 10-hour lifespan per charge.
As e-reader hardware makers have touted the technology as most resembling print on paper when promoting e-books, the NoteSlate's use of e-ink as a dedicated digital notepad should give users the same feel. Priced for $99, the single-task device is geared for a specific audience and doesn't come with multimedia extras, such as viewing photos, surfing the Internet, or browsing videos. However, it will make a great companion for the writer or artist, the student note taker, or the corporate executive who needs to jot down quick thoughts.
A blue, green, and red version will be available in December this year while the black or white model slate will be available in June. The company is exploring bringing a color display version to the market in the future.
The concept to me is a great idea, but whether it will catch on is another story. There are other concepts for inking pads on the market already, such as the Pulse Smart Pen, which uses special, physical paper with raised dots and the pen's sensor maps the dot and creates a digital image for export later. That Smart Pen would be easier to tote and would appear less geeky on the street as it is a physical pen with real paper compared to the e-ink slab.
There are also tablets that utilize Microsoft's Windows operating system, formerly known as Tablet PCs, that can convert to a tablet and provide excellent inking recognition. However, at the $99 price, the NoteSlate would be much cheaper than the alternative Windows tablets, and the NoteSlate's use of e-ink would make it easier on the eyes as  e-ink promises reduced eyestrain.
Via: Laptop Mag
Advertisement