One of the most anticipated iPad cases was the Quirky Cloak, a community influenced product which came to life after catching the eye of iPad owners and Quirky influencers. The Quirky Cloak iPad case gives users a decent amount of protection while carrying the iPad and can provide several angles for using your iPad.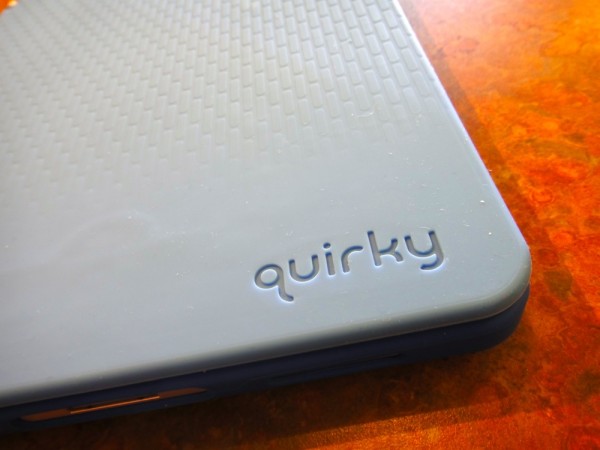 The Cloak has built in kickstands and hinges that allow you to use it at a slight angle for typing, propped in landscape mode using a friction hinge and in portrait mode with a second kickstand. The kickstands are built into the cover which folds around to give you access to the kickstands, but keeps them safely tucked inside while you are carrying your iPad in the Cloak case.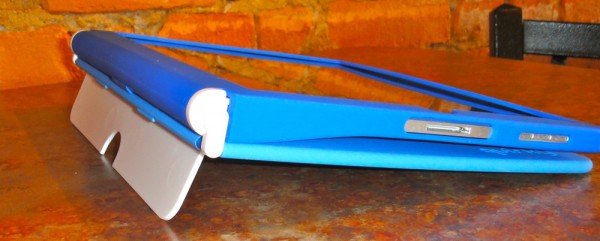 Usefulness: One of the most important factors in finding a good iPad case is whether or not it is useful. The Cloak is a very useful iPad case in that it offers several options for use — on a table to type, propped in landscape mode on your legs or a table and in portrait mode on your counter or other hard surface. The friction hinge that holds the case in place in landscape mode needs to be "locked" in with a small amount of pressure when you set it down otherwise you may experience slipping.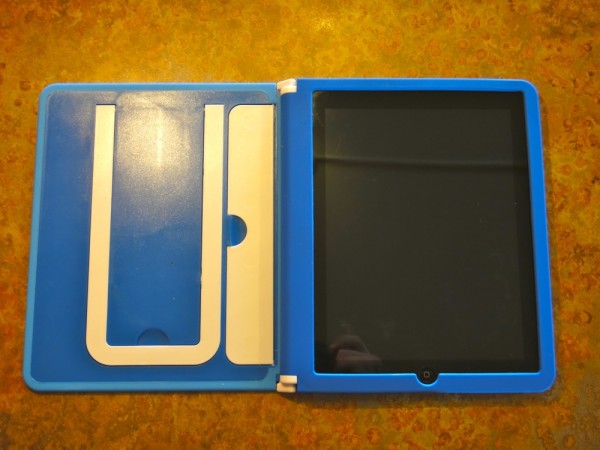 There are cutouts for the speakers and you have access to all of the iPad's numerous buttons without any issues.
The one downside to this case is that it is very bulky compared to a case like the Incase Convertible Magazine iPad case, which means that you lose the slim feel of the iPad when you put the Cloaky on. Another issue is that the case weighs 1.2 pounds which is almost like holding a second iPad! If you hold your iPad for extended periods you won't want to make this your primary case, but the good news is that it is very easy to put your iPad in the case and to take it out.
The weight and bulk added are a personal preference as I found out when showing the case off at a local lunch for geeks. While I couldn't use a case this bulky on a regular basis other attendees had no problem with these factors.
Durability and Fit: Overall the case feels sturdy, though the kickstands do feel like they could be made of slightly thicker plastic. We haven't had any issues with breaking in our use, but there are reports of broken kickstands on the Quirky Cloak review page.
While we like how easy it is to remove the iPad from the case we do wish that the silicon that keeps your iPad in the case was a bit stiffer. As it is now if you grab the edge of the iPad while in this case you can easily lose grip as the silicon slips away. We haven't dropped the iPad while in this case, but if we continued to pick it up by the right edge while the case is open we could see ourselves losing grip at some point.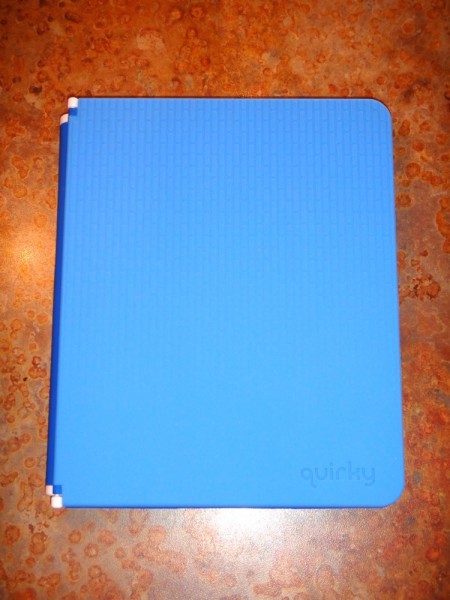 Protection: If protection is important you'll like the hard front cover which will protect your screen from bumps and more. The back is made of only silicon, but it is think enough to handle the occasional bump and to keep your iPad from getting scratched.
Conclusion: The Quirky Cloak iPad case is definitely an eye catching case thanks to its size and bright color schemes. The ability to use the case in many manners; landscape, portrait and typing is a nice feature — one that continues to set it apart from many other cases which offer users a portrait mode only or varying levels of landscape and typing only.
If you are looking for an iPad case that has this versatility, and don't mind the added bulk and weight, then the Quirky Cloak iPad case would be a good choice.
The Quirky Cloak iPad Case is available for $54.95.
Pros:
Protect's front of iPad with hard cover.
Multiple modes – typing, landscape and portrait.
Cons:
Bulky case almost doubles thickness of iPad.
Weight of case almost doubles the weight of your iPad.
Silicon fit is loose on right side.
Cloaky iPad Case Gallery:
Advertisement