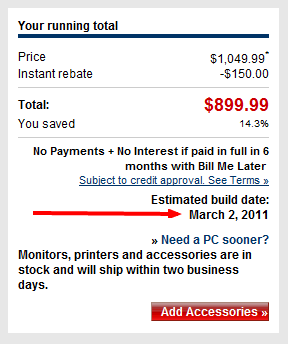 The Intel Cougar Point Chipset flaw that prompted a Toshiba laptop recall is causing similar issues throughout the laptop industry as reports come in that new laptops and notebooks will be delayed from major manufacturers like Dell, HP, MSI and others. According to statements made to CNET several manufacturers are in the process of working with customers who already purchased affected systems.
Notably Dell has stopped selling recently introduced Alienware M17x R.3 model which won our Best Notebook of CES award at CES 2011. Clicking on "Build Now" sends users to an empty page not found page. Other affected Dell models include the Dell Vostro 460, Dell XPS 8300 and Alienware Aurora R.3.
HP has cancelled an event scheduled for next week where the company had planned to announce a collection of new business laptops, notebooks and other computers using the Intel SandyBridge processor.
The HP consumer laptops like the Pavilion dv6t Quad Edition that are already up for sale with the flawed Intel chipsets can still be purchased, but they have a delivery date of March 2nd, which should allow HP to get a new processor in place.
MSI and Gigabyte have halted sales of their SandyBridge compatible motherboards until a fix has been finalized.
The recalls and delays could have been even worse if the numerous consumer laptops, slated for March and April, had made it to market. Even with an estimated billion dollar loss, this issue could have been much worse if it hadn't been caught this early.
Advertisement