Plantronics has just released an upgrade to their popular Voyager Pro UC headset, the Voyager Pro UC 2. This updated bluetooth headset takes everything you loved about the old headset and, thanks to smart sensors, addresses the most common Bluetooth headset annoyances.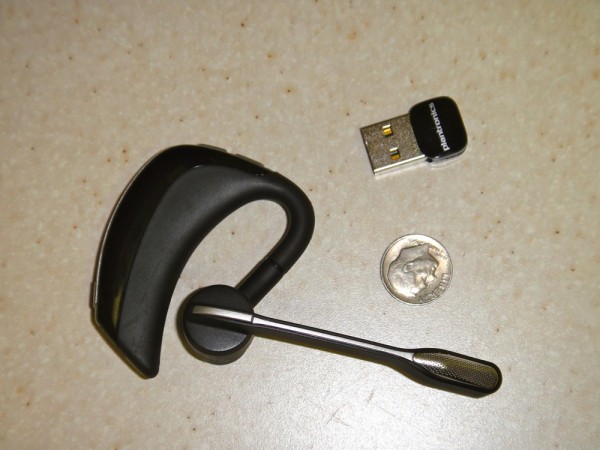 The Plantronics Voyager Pro UC 2 retails for $199 and can connect to your Bluetooth enabled smartphone as well as to your computer with the included Bluetooth adapter which is smaller than on the original Voyager Pro UC headset.
We've had the new headset for a day now and have been able to use if for several calls which our recipients reported were quite clear and we sounded loud enough while talking in a regular phone voice. What really excites us is the use of new smart sensor technology from Plantronics. These new sensors solve almost every issue I've ever had with Bluetooth headsets and assures that the Plantronics Voyager Pro UC2 won't end up in the bottom of a desk drawer.
So how do these magical sensors allow the Voyager Pro UC 2 to overcome the problems that come with every other Bluetooth headset? Let us tell you. And yes, we did test the sensors out multiple times to make sure they work as advertised.
Auto Answer – If you are getting a call all you need to do to answer is place the headset on your ear and you're ready to talk. No trying to remember what button answers the call!
Smart Call Answering – Plantronics calls this Smart Call Transfer, but essentially the headset knows if you want to use it to answer the call or if the call should be routed over your phone's speakers. This is great for people like us who often leave their headset in a bag or even in the car and end up screwing up a phone call because the audio goes to a headset that's 15 feet away!
Auto Call Button Locking – If you stow the headset in your bag or pocket the headset knows you aren't wearing it and it locks the call button so that you don't call someone on accident.
Auto Pause for Streaming Media – If you are listening to music or audio through the headset and you remove it the headset will pause or mute the audio. If possible the headset will pause your media. When we streamed Pandora on our PC the headset was also able to mute the audio when we took the headset off, since it couldn't pause the webpage that was in the background.
The Plantronics Voyager Pro UC 2 comes with a small Bluetooth adapter that allows for better connectivity to your laptop. YOu can connect the headset to your PC and your mobile phone at the same time and the device can even update your Skype status when you take a call on your mobile phone so that you aren't interrupted.
We'll be putting the Voyager Pro UC 2 to the test over the next few weeks with multiple computers, including a Mac, to see how it handles under heavy use before we share our full Voyager Pro UC 2 review, but so far we are very impressed with the new features and call quality.
Advertisement