The free office suite, OpenOffice, is newly updated to version 3.3 and ready for free download now. This suite has modules for word processing, number crunching, presentations, database creation/editing, and drawings — which allows many users to choose it over Microsoft Office for use at home.
There are plenty of new features that make OpenOffice 3.3 a worthy upgrade. Given the fact that it is free, there is no reason not to try it if you are looking for a powerful yet free office productivity tool for Windows, Linux, Mac OS X, and Solaris.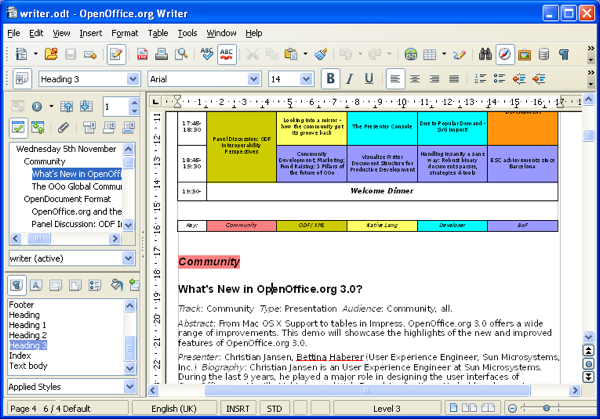 The included modules are;
Write for word processing
Calc for spreadsheets
Impress for presentations
Draw for making graphics
Base which is a database module.
It has all you would need to replace Microsoft Office or iWork.
Some of the new features, which you can learn about from the web site, are as follows: For Calc users, it is now possible to have up to a million rows of data. Also there is improved CSV (comma separated value) import. Drawing objects can be inserted into Calc spreadsheets. In Impress, there is an improvement to slide layouts. The Thesaurus tool is also totally redesigned and the print dialogue is improved as well.
Here is the download page for all platforms.
Advertisement