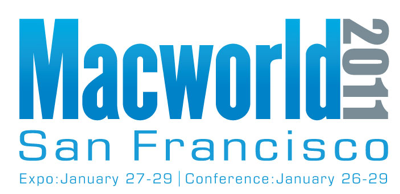 MacWorld Expo 2011 is right around the corner and the conference organizers are extending our readers a couple of special offers. An Expo only pass is $25 if you buy it online or $45 at the door. If you register through this link however, you can get in the door for just $15. If you are interested in any of the pricier conference sessions or packages, you can save 10% by visiting the special link as well.
So what do we expect to see at MacWorld? Lots of accessories, software and apps. While Apple no longer sponsors or exhibits at the show, there will be almost 300 Mac and iOS related companies on site.
I spoke with Paul Kent, the organizer of MacWorld recently and he said the focus will definitely be on mobile. Approximately 70% of the products will be mobile and with 37% of the exhibitors being first-time MacWorld exhibitors, we expect to see some fresh faces and products.  He said we should keep an eye on Altigen, a new exhibitor that will be introducing something new.
MacWorld is also well known for being one of the few industry shows open to the general public. The Expo portion of the show kicks off on Thursday (1/27) and closes on Saturday (1/29).
Advertisement