Sharing homemade video with loved ones can be tricky business. Large files, an array of video recording formats used by cameras, complex editing software, low-horsepower laptops and mobile device video limitations all conspire to make the process too complex for many mainstream consumers.  The new PogoPlug Video, announced at CES 2011, is an easy-to-use device that takes the pain out of video sharing and may just be the quickest way to share special moments with loved ones, no matter what kind of computer or mobile device they happen to use.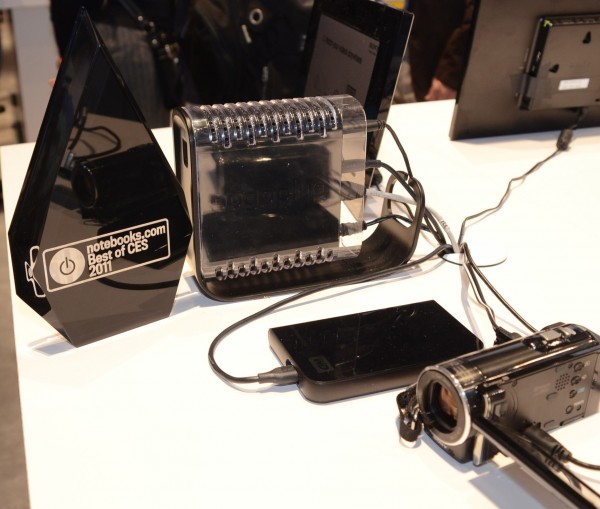 Many consumer video cameras record in AVCHD format. While consumers enjoy shooting HD home movies with cameras from Sony and Canon, amongst others, editing and transcoding these movies can be an exercise in frustration. There are several video editing applications and conversion utilities that can make AVCHD movies digestible by video sharing services and mobile devices, but a powerful Mac or PC is recommended.  Even with the most powerful notebooks, it can take several hours to get longer home movies transcoded and uploaded to YouTube or Facebook.
The PogoPlug Video can eliminate the post-shooting workflow for HD shooters. Just plug a video camera into the PogoPlug Video via USB and your friends and family can instantly watch video that you just shot. It doesn't matter what kind of device your loved ones use, or how fast their Internet connection is. PogoPlug will automatically make the adjustments.
The PogoPlug Video can stream clips to the iPhone, iPad, Android devices and other smartphones and computers. The PogoPlug Video is also UPnP compatible which means you can stream videos to UPnP devices like the Xbox 360 and PlayStation 3.
In addition to simplifying sharing your AVCHD and other HD videos, PogoPlug Video makes it easier to share pictures between family and friends who might not be up to importing, uploading and sharing photos. With the PogoPlug video your mother could plug her camera into the USB port and with a few clicks share the photos with you for easy download.
If you aren't familiar with the PogoPlug device it also allows you to plug in up to 4 USB drives or for remote access to documents, photos, videos and other files. It can also be used to enable remote printing with select printers. It makes it easy to have a personal cloud with virtually limitless storage capacity.
Since you can access PogoPlug on the go, you're also no longer constrained to the size of your iPhone or iPad for video and photo collections. Simply connect to the PogoPlug from your mobile device and you can have up to terabytes of storage in your hands, limited only by the number and size of drives you plug into the PogoPlug Video. The PogoPlug Video will be available for $199 starting on March 1st.
The PogoPlug Video is Notebooks.com's choice for Best Storage and Sharing Solution of CES 2011.
Advertisement