AT&T was the last of the big wireless carriers to add a MiFi Mobile Hotspot going with the Novatel Wireless MiFi 2372. Like the others it shares a mobile broadband signal with up to five other devices over a miniature 802.11n wireless router. We picked one up and wanted to show it to you before we test it out over a long trip in the coming week.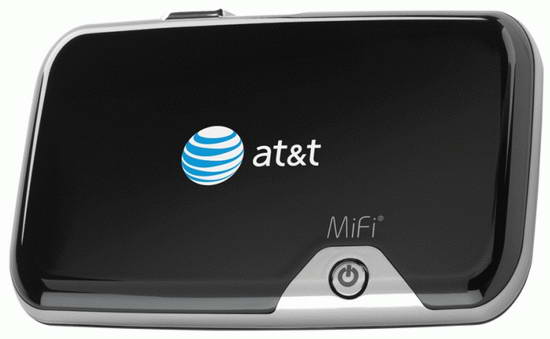 Like the older versions sold at Verizon and other places, the AT&T model is a small device. It is a little chunkier but still small. We wish that Novatel would beef up the battery and make it a little thicker even.
On the top you see the power button wich is also an indicator light. The light is either off, solid, or flashes with different colors indicating different things as follows:
NO LIGHT = off
RED = low battery if flashing or error if solid
AMBER = battery charging if flashing and fully charged when it is solid
GREEN = GPRS/EDGE service is available if flashing or connected when solid (this is the slower network)
VIOLET = UMTS/HSPA service is available when flashing an connected if it is solid (this is what we refer to as 3G or broadband)
BLUE = Roaming service is available when flashing or connected when solid
On the front edge there is also a blue indicator light that shows that Wi-Fi signal is available but nothing is connected when solid and when it starts flashing it indicates that a wireless device is connected and accessing the Internet.
One of the biggest differences between the AT&T Mi-Fi 2372 and older MiFis is that it has a GPS radio in it. There is a landing page that is displayed when you connect via your browser to the default IP address which is 192.168.1.1. On that pages are all the settings. But it also shows a map and can find the current location of the unit as well as display the weather condition and forecast in that area. This is a nice touch by AT&T which we think will be quite useful on our upcoming trip. We will post screen shots when we post our final review in a couple of weeks.
Advertisement