Apple may as well quote the retail price of the iPad as $550 since buying a case is almost as necessary as charging the iPad. Because of this there are a huge selection of cases available for the iPad and while the Scosche foldIO P1 has the worst name we've seen all year for an iPad case it is our pick for the Best iPad case of 2010.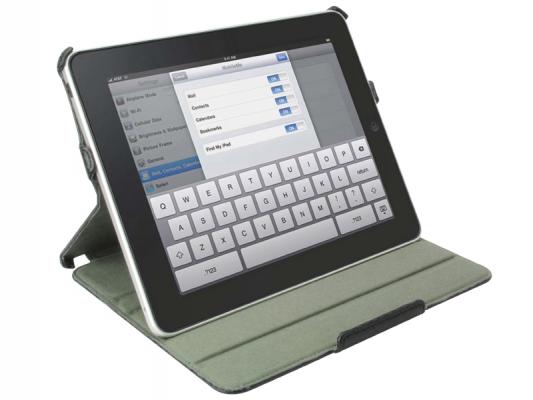 The foldIO p1 case is a folio case similar to the Apple iPad case, but in use we found it to be much nicer than the standard case and a cut above the rest of the many iPad cases.
In his original review of the Scosche foldIO P1 our iPad Case Connoisseur Kevin Purcell said,
"The foldIO case, aside from having a ridiculous name, is an excellent case for the iPad because it looks very nice, is quite functional, and gives the iPad that book feel without adding much bulk or weight. The Incase Book Jacket case and the Incase Convertible Book Jacket Case that we looked at last week have all of the same features except for one. They add a considerable amount of bulk to the iPad. The Scosche fold IO case doesn't."
Scosche foldIO P1 iPad Case:
The Scosche foldIO P1 iPad case retails for $50 and can be found directly from Scosche and from other retailers.
If you are looking for a tougher iPad case we recommend looking at the OtterBox Defender Series iPad Case which can protect the iPad from falls and bumps better than any case on the market and if you want the slimmest iPad folio style case we have seen we recommend the Incase Convertible Magazine Jacket which was a close second place for Best of 2010 thanks to it's slim figure and wonderful features.
For more of our Best of 2010 picks check out our Best of 2010 Series and check out our Ten Most Exciting Gadgets of 2010 where run down the technology and gadgets that made a mark on 2010.
Advertisement