Just like iPad cases, 2010 was a year of many iPad accessories to charge, hold and allow you iPad to do more than Apple intended. While the easy choice might be to name a stylus like the HardCandy Cases stylus or the Targus Stylus as the iPad accessory of the year we went with an accessory that looks great and works just as well at home and on the road. The Best iPad Accessory of 2010 is the LapWorks Space Dock.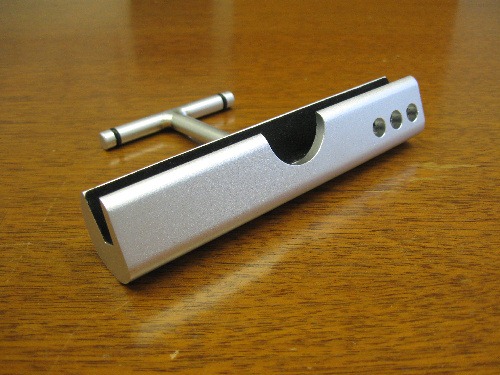 The Space Dock is a portable iPad dock that holds your iPad in landscape or portrait mode and thanks to the velvet lined holding channel you won't have to worry about scratching your iPad. The Space Dock allows you to hold the iPad in 3 angles using three holes in the back and the dock is stable enough to tap on without knocking the iPad over or shaking it too much.
The other thing we like is that the Space Dock can be disassembled to take with you to a coffee shop, class or work which fits in a bag without taking up too much space.
The Space Dock isn't perfect as it runs about $55, which is a bit pricey and it lacks anything on the base of the dock to stop the iPad from skiding while in use; but the positives outweigh these issues and earn the Lapworks Space Dock top billing for 2010.
For more of our Best of 2010 picks check out our Best of 2010 Series and check out our Ten Most Exciting Gadgets of 2010 where run down the technology and gadgets that made a mark on 2010 .
Advertisement