Apple has updated their popular iPhoto application for organizing and performing simple edits of image files to version 9.1.1. There are a number of improvements with three of them related to email support.
The email improvements include the ability to send photos using an external email application, attached photos can be resized to small, medium and large sizes and there are a couple of new email themes.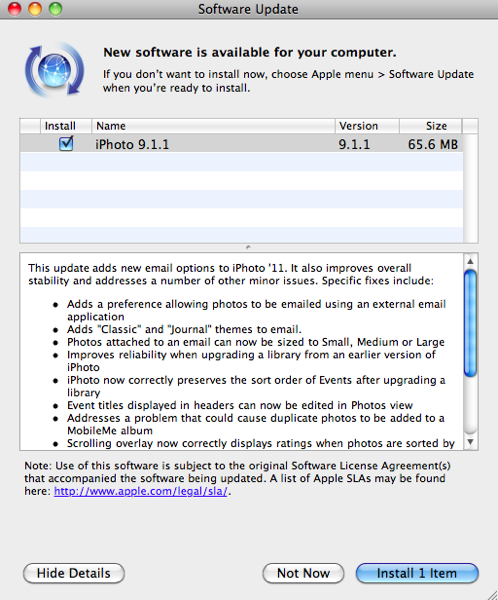 There are other improvements as well. Now when a user upgrades a photo library created in a previous version of iPhoto it will be less likely to be corrupted, something users complained about when the new version of iPhoto was released. You can read about the other updates from the list copied from the Software Update screen accessible via the Apple Menu on any Mac OS X computer.
This update adds new email options to iPhoto '11. It also improves overall stability and addresses a number of other minor issues. Specific fixes include:

Adds a preference allowing photos to be emailed using an external email application
Adds "Classic" and "Journal" themes to email.
Photos attached to an email can now be sized to Small, Medium or Large
Improves reliability when upgrading a library from an earlier version of iPhoto
iPhoto now correctly preserves the sort order of Events after upgrading a library
Event titles displayed in headers can now be edited in Photos view
Addresses a problem that could cause duplicate photos to be added to a MobileMe album
Scrolling overlay now correctly displays ratings when photos are sorted by rating
Photos are now sorted correctly when a rating is changed and photos are sorted by rating
Fixes a problem that could cause text formatting controls to become inaccessible when editing a calendar

The update is recommended for all users of iPhoto '11.
Advertisement