With release of Windows 7 Microsoft made some changes to the operating system. Programs that were once bundled such as Windows Movie Maker and Windows Mail are no longer included. You can still get them for free by downloading Windows Live Essentials 2011, which includes additional programs for Instant Messaging, Data Syncing and Blogging.
Introduction
In this article I am going to be taking a look at the new Windows Movie Maker, rechristened Windows Live Movie Maker and how to create your first movie with it. People accustomed to the old Movie Maker that came bundled with Windows Vista and XP might be in for a bit of a surprise. The Windows Live Movie Maker team continued working on improving the user experience and ended up delivering an exceptional final product I am sure many of you will be pleased with. In this tutorial, I want to take a look at the new features and introduce you to the new interface based on the popular Scenic Ribbon.
The first thing I would like to get out of the way for users of Windows Movie Maker that comes bundled with Windows XP or Vista is, they are distinctively different products. Do not expect to see everything in Movie Maker 2.6 in Windows Live Movie Maker 1.0.
System Requirements:
Operating system: Windows Vista (32-bit or 64-bit editions), Windows 7 (32-bit or 64-bit editions), or Windows Server 2008. Note: Windows Live Movie Maker is not supported on Windows XP
Processor: 1 GHz or higher for Windows Vista; 800 MHz or higher for Windows XP
512 MB for Windows Vista
Resolution: Minimum 1024 x 768
Internet connection: Internet functionality requires dial-up or broadband Internet access (provided separately). Local or long-distance charges may apply.
Graphics or video card: Windows Live Movie Maker requires ATI Radeon 9500 (or higher) or nVidia GeForce FX 5900 (or higher). I have Live Movie Maker working with a nVidia Geforce FX 5200 128 MB AGP.
Additional requirements
The following components are needed for specific Windows Live programs, and may be installed for you if they're not already on your computer.
For Writer: Microsoft .NET Framework 2.0 or higher*.
For Photo Gallery: SQL 2005 Compact Edition and Windows Imaging Codecs*.
For Photo Gallery and Movie Maker: Some components of DirectX9.
* Not required when installing on Windows Vista.
Windows Live Movie Maker (above), Windows Movie Maker 6.0 (below)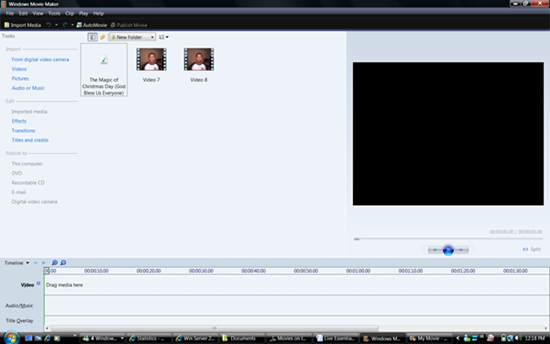 Compatibility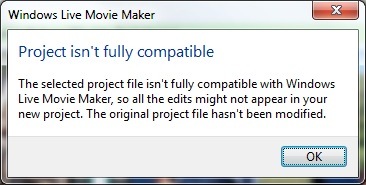 One of the key improvements Windows Live Movie Maker users will appreciate is the ability to import Windows Movie Maker projects. Although you might be warned that there are features in your existing project that might not work or are not available in this version of Movie Maker. Overall, users can appreciate that most features and functionality from the previous release works just fine.
Interface
In addition to a lighter color scheme, Windows Live Movie Maker works differently through and through. You won't find previous functionality such as a Storyboard, drop down menus, and a time lines. Windows Movie Maker used a Task based approached to creating a movie, Windows Live Movie Maker introduces a clean design with most tools and functionality revealed through the innovative Scenic Ribbon which displays common functionality once buried under drop down menus and wizards in a gallery of easy to identify icons.

The Ribbon is very intelligent and only reveals additional functionality when needed through contextual tabs that can be easily identified by their activated colors.
Adding media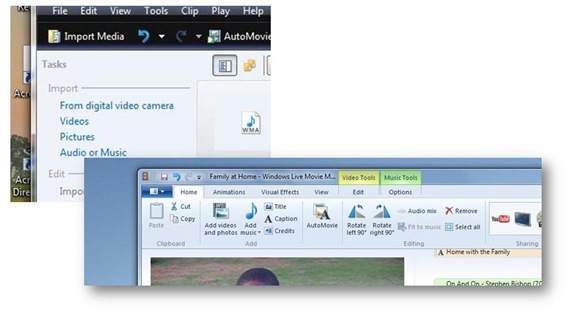 Just like the previous version, Live Movie Maker makes it quick and easy to import your media such as Videos or Photos. In Windows Movie Maker this can be done from the Import Task Pane toolbar button or Import Media toolbar button, in Live Movie Maker, you can import media through the Add videos and photos button located under the Home (tab) within the Add gallery. Once you have added your media, you will see it populated within the Bin area.
Editing content
Previously, in Windows Movie Maker, your videos would require that you drag and drop into the Story board and edit in the Time line. Windows Live Movie Maker does the opposite. Task like re-arranging or cropping a video clip are more visual and interactive. In fact, one of the lovely highlights is the actual display of multiple frames in a clip. You can use the video cursor bar to scan through a video clip and see additional sequences within the video itself. The cursor bar is a important element of the software and allows you to accomplish many of the common tasks you would do in the previous Movie Maker time line.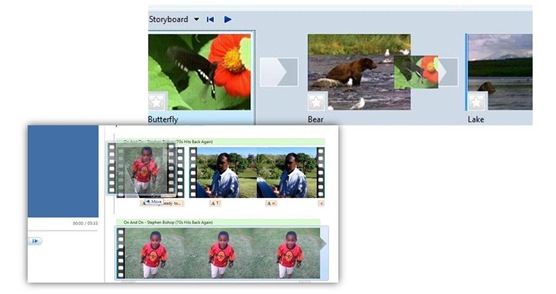 To organize your clips, all you need to do is use a drag and drop action in the order you find most desirable. It doesn't get any easier than that.
Cropping a clip
In Windows Movie Maker, this was done through the Time Line, it's just as easy in Windows Live Movie Maker. Select your video clip, go to the Edit tab which you will notice is activated in the yellow 'Video Tools' Contextual tab. Within the 'Editing' gallery, click the Trim tool button, now use the Trim Maker knobs on both sides of the clip duration in the video preview pane, drag either knob until you reach the desired point in the video you would like to see played. If you know the point in time you would like the video to  start and end, you can alternatively use the Start and EndPoint markers located in the Trim markers gallery. Once completed, click the 'Save trim' button to keep your edit.
Adding media – music
What is a movie without music? In Movie Maker, you add music to your video from the Tasks > Import (Audio or Music) link. This would extend across the time line, you then had the option of cropping and adding effects such as fade in or out. You can do that too in Windows Live Movie Maker, a bit differently of course. I even like this method, simply go to the Home tab, within the Add gallery, click Add music button. From the pop out list, you have two options, which will add a music track to the entire project or you can add music to just a specific point within a video.
If the song is distributed over the project, you can edit this by selecting the song represented by a green bar (you should see the title of the track specified), drag the video cursor, to the point in the video you would like the song to stop playing, right click the cursor and click 'Set end point' from the the contextual menu. Additional options include, you can have the song fade in and out from the 'Audio' gallery options.
Text Overlays, Transitions and Visual Effects!
The Text Tools contextual tab allows you to format your text with a range of options. To add a Caption, go to the Home Tab, from within the Add gallery, click Caption, enter your text. To format the text using a desired font and size, click Format Text Tools button and choose from the gallery of options available, one of the nice improvements users will notice, the Font list box allows you to see a preview of a font before applying. If you want to add some effects, you can do so from within the Effects gallery which provides the ability to hover over effects and preview them before applying – very cool! You will also notice any text added your clips are represented by a cream colored bar, to edit your text, simply double click this bar and edit the text within the preview window.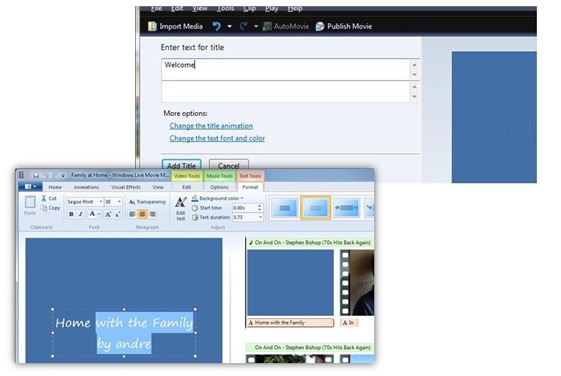 As for Visual Effects, I am happy to tell you that this functionality has improved tremendously in the final product, by benefiting immediately from the Scenic Ribbon. Hovering over available effects gives you a quick on the fly preview, you won't see this in Windows Movie Maker. You can also control the brightness of your videos and photos from within Live Movie Maker too. I hope in a future update, the Windows Live Movie Maker Team adds some robust text effects similar to what you can find in Office 2007/2010.
In Windows Movie Maker, transitions are located under the Edit > Transitions link. In Windows Live Movie Maker, the Animation tab stores a collection of transitions that you can use to control how your movie changes from one clip to the next. Again, one of the great things I like about Windows Live Movie Maker, you can simply hover a transition to preview without even applying the effect. You will notice that Pan and Zoom Gallery is grayed out, these effects are activated when you add photos to your movie.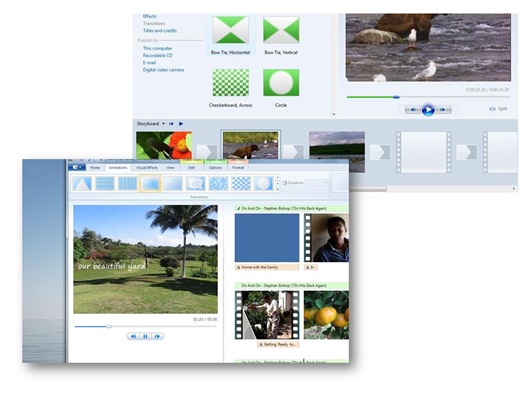 Previewing Transition before Applying
Publishing your work
Out of the box, Windows Live Movie Maker supports a number of distribution points, in today's world of online video most users I am sure would like to get their content out to a wide audience quickly. Windows Live Movie Maker does that with built in support for YouTube. If you want to share your media through traditional mediums such as DVD, no problem, just click the DVD icon in the gallery to save your video in an appropriate format suitable for use in Windows DVD Maker. You can also prepare your movie for viewing on different aspect ratios and video formats such as high and standard definition or save to a portable device, prepare for email or instant messaging.  If you don't find a suitable tool, you can download additional plug ins that will provide you with additional functionality.
A look at the final project
So, you want to see what I did? Take a look
This is a movie of some random videos of family at home visiting that I decided to put together. You can see a my mom Yvonne, my sis-in-law Marjorie, brothers Troy, Dion, and my little nephew Nathan (the star).
Advertisement