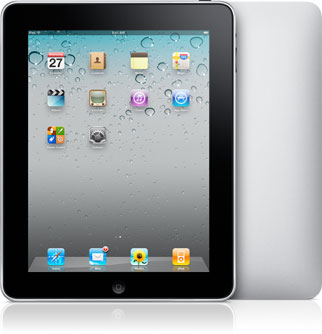 Multiple sources pointing to a refresh of the Apple iPad in early 2011. The device, dubbed the iPad 2, will likely feature both front and rear facing cameras according to leaked iPad 2 cases and also confirmed by multiple sources to Reuters, four to be exact.
If the sources are correct when the next iPad arrives in April users can expect to gain new functionality such as FaceTime calling as well as access to many of the iPhone and iPod Touch apps that rely on a camera to read barcodes.
The sources also point to a slimmer and lighter iPad, which is common in second generation Apple products. While the iPad is only 1.5 pounds, it is off-putting to users who like to hold the device in their hands for long reading sessions; especially when compared to the lighter Kindle.
If all the rumor do come true the iPad two may also have a higher resolution display, but there's no word on what that would mean and if we can expect to see a Retina display in a 9.7″ screen at the current iPad prices.
Theses sources add to the rumors which started with the display of iPad 2 cases that were leaked by a Chinese manufacturing company and shown in the video below.
With rumors of the iPad 2 just around the corner many shoppers will be wondering if they should wait until the new year to get a tablet. There's no easy answer, but if you really want a camera and a lighter iPad you may want to wait. On the other hand, Apple products normally have a high resale value so you could get an iPad now and sell it early next year without taking too big of a hit, especially if you buy a refurbished iPad for $70 to $100 off.
Advertisement