The Sony VAIO EB series of laptops recently received an upgrade and Sony sent us over the VAIO VPC-EB33FM/BJ to test out. This 15.5″ laptop comes with a Sony styling, the latest Intel Core i3 processor and some extras like Intel Wireless Display for streaming content wirelessly to your HDTV with a WiDi adapter ($99). In our testing we found that the Sony VAIO EB is a very capable laptop that delivers on many fronts including price. The VPC-EB33FM/BJ is available from Best Buy for $599 online though inexplicably for $649 in store.
Sony Vaio EB VPC-EB33FM/BJ Quick Specs: This specific VAIO EB series laptop comes with a 2.4GHZ Intel Core i3 processor, 4GB RAM, a 500GB hard drive as well as Intel WiDi and 4G networking where available (with additional fees). This model also comes with a Dual Layer DVD drive (read and write) and a webcam with built in microphone. Our test machine had a Blu-Ray combo drive and the larger 500GB hard drive, but you'll find the model configured in most stores with a 320GB hard drive and no Blu-Ray
Who is this Notebook for? This specific laptop is a good fit for a home or student user who wants a laptop that is durable with enough power to handle most needs including getting work done and entertaining. With the inclusion of 4G WiMax you can get connected on the go, but you will need to pay for it and it is not available in all locations, so don't make that a primary buying decision unless you plan already live in a location with WiMax and plan to use it. If you do want 4G you can save $100 on this laptop if you activate in store at Best Buy.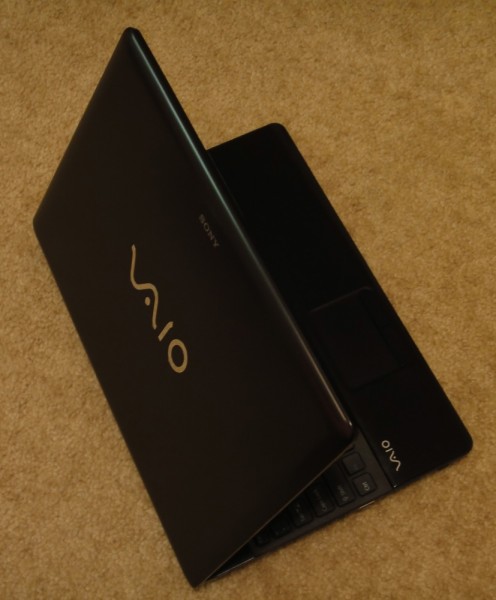 Design and Build: As with many of the Sony notebooks we have had hands on time with the VAIO EB Series has a very good feel to it. The laptop feels quite sturdy with little flex on the display when we put pressure on the rear. The hinges on the VAIO EB were sufficiently strong that the screen was held in place when open and also when closed.  Overall it is quite a stylish and sturdy feeling laptop which should serve owners well even during the stresses of use in a college setting. The matte black lid will attract fingerprints, but not nearly as bas as a glossy display like does.
Display: The 15.5″ display has a 1366 x 768 resolution which is adequate and pretty much standard on 15″ laptops these days. The screen opened up to a reasonable angle which was nice since the display is glossy and will reflect bright overhead light. We were able to get work done in theses settings, but if you do a lot of work outdoors you will want to look for an antiglare screen protector.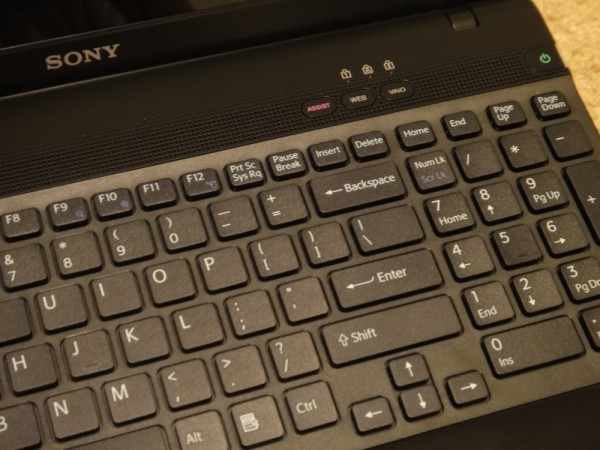 Keyboard and Mouse: The VAIO EB's keyboard is amazing for it's class and offers a very good user experience. The keyboard is a island style with good key spacing, travel and feedback. We could go on, but suffice to say it is one of the nicest we have seen on a sub $600 notebook. The keys aren't up to Lenovo ThinkPad levels and are rather flat, but still deliver a great typing experience. If you do a lot of data entry you'll appreciate the dedicated number pad that doesn't take away from normal key placement on the regular keyboard.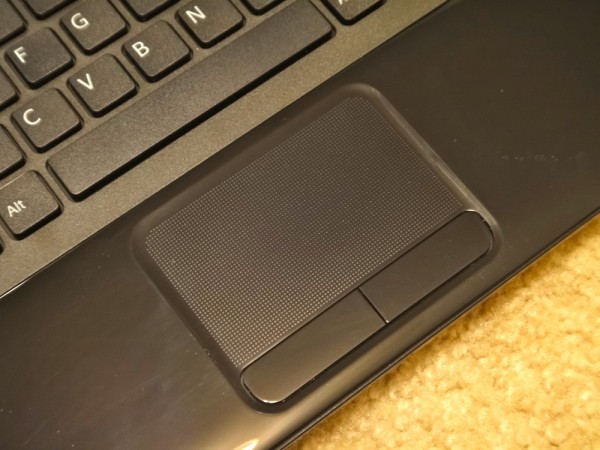 The mouse on the VAIO EB is quite responsive and also precise. The mouse surface has a texture to it that on other notebooks can get in the way, but in our testing we didn't have those issues on the VAIO EB. The mousepad supports multitouch gestures like pinch to zoom which was pretty accurate for a Windows PC. Notably missing is two finger scrolling. To scroll you can use a dedicated scroll zone or a spiral scrolling which works but isn't real intuitive.
Processor and Performance: The 2.4GHz Intel Core i3 processor, coupled with 4GB of RAM, is able to deliver a powerful computing experience. Despite running multiple applications we didn't experience slowdown and you do have enough power to run video editing apps like Sony Vegas or open large Excel sheets with multiple formulas and references. If you need to do a lot of video editing you may be better served with a laptop with a dedicated GPU, but for students, hobbyists and home users this laptop should give you enough power to edit videos and photos.
As far as entertainment we were able to play back 1080P content, though the display only really shows 720P natively, without any issues.
Audio: The integrated speakers aren't going to rock a party, but they do offer enough volume to fill a medium sized room with quality sound and could get you and a friend through a movie without a problem. There's almost no bass, but you do get a full range of sounds that are quite clear with no tinniness even at full volume.
Heat and Noise: The VAIO EB was a cool enough laptop that we didn't notice heat while putting it to the test even in areas that typically heat up enough to notice like the bottom near the CPU and the palmrest.
Battery: Under normal use we were able to achieve 3 hours and 39 minutes of web browsing and document creation with the screen brightness set at two-thirds. This is an OK battery life for a machine in this budget which isn't designed to be carried everywhere and last all day long. With some battery watching and setting tweaks you could probably get to 4 hours, but expect to hit about 3.5 on a normal basis.
Connectivity:

Left (left to right): Power, Ethernet, Vent, VGA, HDMI, USB 2.0/eSATA, Expresscard 34

Right (left to right): USB 2.0, USB 2.0, USB 2.0, DVD Drive/Blu-Ray

Front (left to right): Memory Stick Reader, SD card reader, Wireless switch Microphone, Headphone
Value: The VAIO EB is a sturdy and powerful laptop that includes many features you won't find in a laptop under $600, especially one with the Sony name. You can find a laptop with the same base specs cheaper, but the design and added features like Expresscard 34, WiDi and WiMax all come together to offer an impressive value.
Conclusion: The VAIO EB VPC-EB33FM/BJ stands out in its class for offering a tremendous value and is well worth consideration for users who want a machine that can handle the needs of your average home user or student. The refreshed VAIO EB is one of our favorite notebooks from 2010 because it is affordable without cutting corners.
Pros:
Solid Build
Powerful Performance
Great Keyboard
Tons of Extras
Price
Cons:
No two finger scroll
Small hard drive on standard models
Sony VAIO EB VPC-EB33FM/BJ Detailed Specs:
| | |
| --- | --- |
| Product name | Sony VAIO EB VPC-EB33FM/BJ |
| Operating System | Windows 7 Home Premium 64-Bit Edition |
| Processor Type | Intel Core i3 Processor |
| Processor Speed | 2.4 GHz |
| Processor Model | Core i Series |
| Display Backlight | LED Display Backlight |
| RAM | 4.0 GB RAM |
| Screen Size/Resolution | 15.5″ 1,366 x 768 |
| High Definition Capable Screen | Yes |
| Hard Drive | 320.0 GB Hard Drive (500GB as tested) |
| CD/CD-RW/DVD/DVD Recordable | Blu-Ray DVD-ROM with DVD-DL/CD-RW Combo (as tested, most models without) |
| Max CD/CD-RW/DVD Speed | Not Specified By Manufacturer |
| Wireless Network | 802.11b/g/n with Bluetooth |
| Integrated WebCam/Microphone | Yes |
| RAM Shared with Video | System RAM not Shared with Video |
| Pointing Device | Touch Pad |
| Laptop Weight | 5.6 Lbs |
| USB Ports | 4 USB Ports |
| USB Port Version | USB Port Version 2.0 |
| Wired Network Interface | 10/100/1000 Gigabit Ethernet LAN |
| ExpressCard Slot | 1 ExpressCard/34 Slot |
| Other Storage/Expansion Slots | Memory Stick STD/Duo media Slot- supports magicgate functionality and Secure Digital (SD) slot. |
| Battery Type | Lithium-Ion Battery |
| RAM Expandability | Expandable to 8.0 GB RAM |
| 3D Graphics Video Type | Intel HD |
| HDMI Port | Yes |
| Software Included | Microsoft Office 2010 Starter Edition-Includes |
| Dimensions | 16.1(w) X 1.2(h) X 10.7(d) |
Advertisement