iTunes is the popular music management tool developed by Apple for listening, managing audio files and other types of media such as Apps, Videos, TV Shows, Movies in addition to syncing with the ubiquitous iPod and iOS devices such as the iPhone and iPad. In this article, I am going to show you how to update iTunes for Windows.
Updating iTunes is very easy, in fact, it comes with it's own update manager called Apple Software Update for obtaining the latest versions of Apple software installed on your Windows PC such as Safari and QuickTime.

Click Start, type: Apple Update

Hit Enter on your keyboard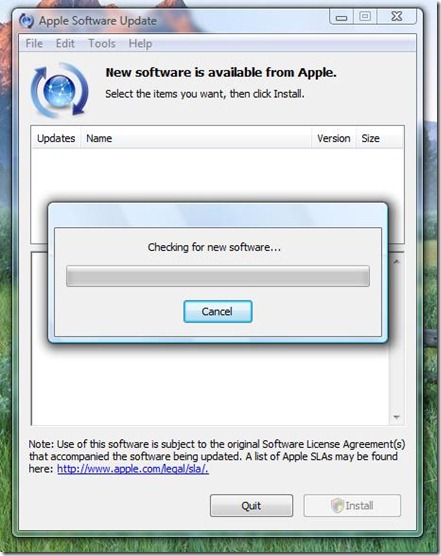 If you are connected to the Internet, it will check for the latest update.
You can individually select which programs you would like to update.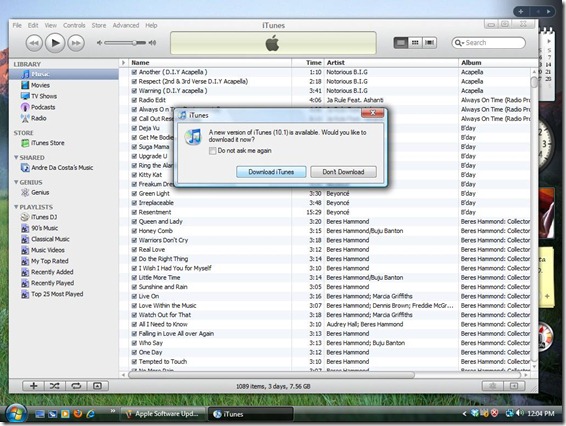 Another way you can upgrade iTunes is by opening iTunes. iTunes will automatically prompt you with a dialog informing you there is a new version of iTunes available. You can click the Download iTunes button and follow the on screen instructions to update.
Interestingly, if you browse to the iTunes Download page in Google's Chrome web browser, you are offered both 32 and 64 bit executable. You can download the 32 bit here and 64 bit here
Troubleshoot iTunes Installation Problems:
If you encounter problems during installation, the first thing to do is try removing and reinstalling iTunes, QuickTime, and other software components for Windows Vista or Windows 7 if you already have older version of iTunes installed on the computer.
Other things you can do if the problem persist include:
Disable your Antivirus utility temporarily while you attempt to install iTunes.
Close any open applications when attempting  to install iTunes.
If you had iTunes open prior to attempting the installation, the program might still be running in the background. The best work around is to restart your computer.
Make sure you are installing the right architecture for the right operating system, so if you are running Windows 7 64 bit, make sure you are installing iTunes 64 bit.
Try clearing out your Temporary Internet Files folder:Click Start, type: %temp%

Hit Enter on your keyboard

Delete the contents of the directory then download iTunes again and attempt the installation again.
Advertisement