If your iPhone battery is not keeping up with your long days a Mophie case might be the best solution. The newly updated Mophie juice pack plus is not only a case but also a battery back up for your iPhone 4.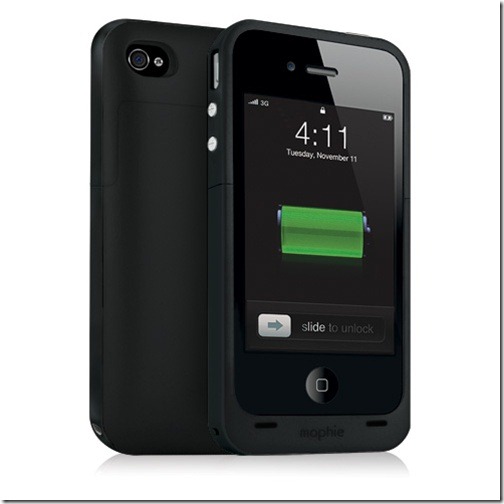 The difference between the juice pack plus and the original Mophie Juice pack is the battery. The original had a 1500mAh battery. This newer case has a 2000mAh battery which is supposed to now double the life of the typical iPhone 4. This larger battery adds a little bulk. The new case is about a millimeter thicker than the original. Another difference is the price. The newer model is $20 more at $99.95.
The new Mophie juice pack plus for iPhone 4 is going to be available soon in four color schemes – all black and black with yellow, magenta and cyan highlights.
Like the previous model there is a switch for either charging or syncing. The USB cable connects to the case and works as either a pass through to you can sync the phone with your computer or as a charging case to charge both the case and the phone. The case is hard but has a protective rubberized lining around it.
The case itself has a set of four LEDs on the back to indicate the level of battery power left in the case. When in the "stand-by" mode the case will keep the phone charged depleting its battery first. The other mode drains the battery in the phone and then uses the case battery when the phone battery is low.

Advertisement