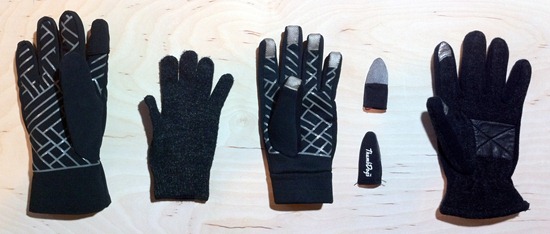 Winter is fast approaching and for some the snow is already falling! Over the last year, millions of Americans have purchased new smartphones, many of which use capacitive touchscreens which are only sensitive to skin, and won't work with a gloved finger. Naturally that means lots of people will end up frustrated when they come to realize that they have to choose between warm hands or being able to use their phone. Or do they? Fortunately, many companies are creating solutions for keeping your hands warm while still being able to use your capacitive device such as the iPhone. We've got five of those solutions and have put them to the test!
A brief intro before we get to the gloves. All of these gloves were sent to us for test purposes. I tested these gloves over the last month to get a good idea of how each one performs. In addition to doing typing tests using an iPhone, which result in word-per-minute and accuracy ratings, I've also anecdotally rated each glove between 1 and 5 in three categories that I identified as being important characteristics of capacitive touchscreen gloves. Those categories are as follows:
Performance – How easy it is to operate the phone with the glove (including typing and using apps)
Control – How easy it is to hold the phone and not drop it while using each pair of gloves and getting the phone in/out of a tight pocket
Warmth
I based the ratings on a baseline of using the phone without any gloves which I rated 5 for performance and control, and 0 for warmth. For the typing tests, I used the 'TapTyping' app which had me type six randomly selected sentences that represent average typing difficulty. Random sentences ensured that I wasn't getting used to typing the same sentence, thus favoring the gloves that were tested later. The app also doesn't use predictive key padding or auto-correction which is present in most parts of iOS (and similar assistive-methods on other operating systems), so the results you see are without any sort of assistance and should generally improve somewhat during normal use.
I've also done the typing test using my gloveless hands as a baseline – you'll see these results labeled as "Hands".
Ok and now what you've been waiting for – the reviews! Here's a quick graphical representation of how they stack up to each other, but you'll find lots of additional detail below: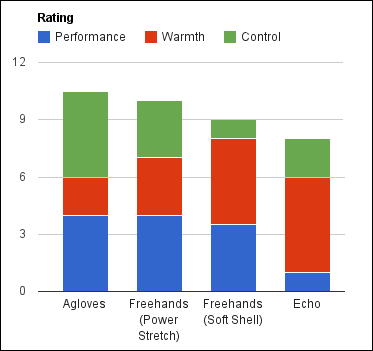 Freehands Power Stretch 5 ($24)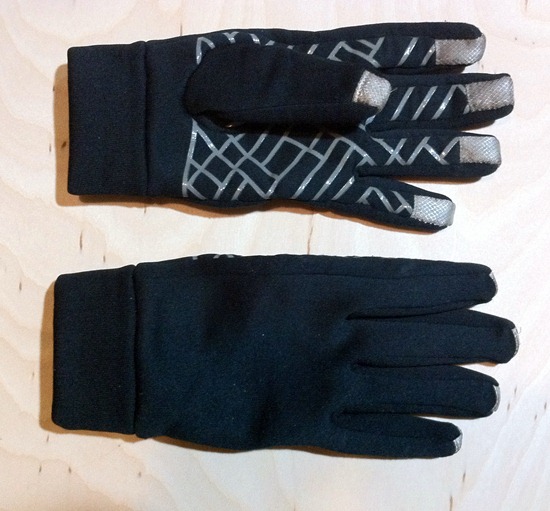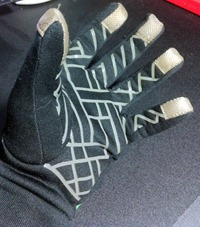 The Freehands Power Stretch 5 gloves have a touchscreen friendly zone at the end of each finger. Some might call this redundant, as most gestures only require up to two fingers, but I found it useful as I do have an application that uses a three finger gesture and was happy to be able to utilize it while wearing these gloves. The responsiveness of the capacitive areas is great, and because they are somewhat "shaped" at the tips (as oppose to being floppy) it's very easy to know exactly where the touchscreen sensitive parts will be making these gloves very good when it comes to performance.
These aren't the warmest gloves, and they are expected to be used as a liner inside of another glove, but they still work well as a Fall glove in brisk (but not freezing) weather. These would work well on the ski slopes under a pair of thicker gloves, allowing you to answer calls or read texts on the ski lift by taking off the outer glove but not having to use a completely naked hand. The lines on the palm size of the glove could be forgiven if they actually provided some utility, but while it appears as though they might provide some additional grip, they hardly do.
Still, the thinness of the gloves makes them better on control than bulkier gloves. After a few weeks of use, I can see some slight fraying of the capacitive material – a process which will only be accelerated if these gloves are used as liners (due to the repeated abrasion during removal of the outer glove). Eventually, such fraying might reduce the performance of these gloves, but fortunately they don't cost an arm or a leg.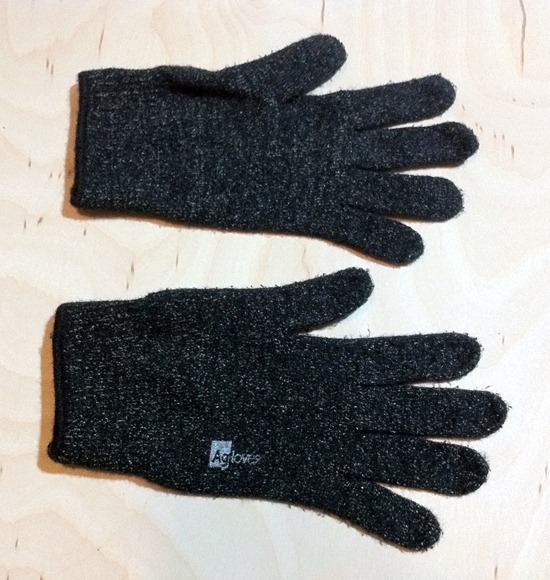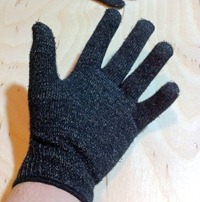 The Agloves are a unique approach to capacitive touchscreen gloves. While most other gloves give you areas at the tips of your fingers that work with your capacitive touchscreen devices, the Agloves are sensitive to capacitive touchscreens throughout, thanks to silver coated nylon strands embedded into the gloves. This means that all 10 fingers as well as any other part of the glove will work with a capacitive touchscreen.
These gloves rated very well in control because they are quite thin, making it easy to hold your phone and get it out of your pocket. They also scored well in performance as they were the fastest and most accurate gloves I used during the typing test. Because the silver thread is woven throughout, these gloves don't have unsightly silver patches at the end of the fingers, and are the most discrete in their style.
Performance comes at the cost of warmth though; these thin gloves aren't too much warmer than no gloves at all, but they work well during the Fall . They might work well as a liner underneath a larger glove. Thinness also can result in low durability. If these gloves get pinched, they can tear somewhat easily.  They also won't do well in wet weather.
Echo Boiled Wool Touch ($35)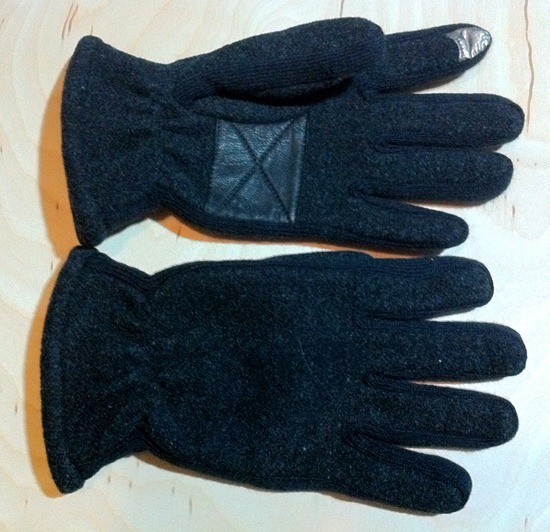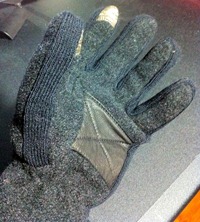 The Echo Boiled Wool gloves are probably the most stylish of the gloves I tested. They have a leather-like patch on the palm and a stylish lining that runs around the sides of the glove and fingers. These gloves are certainly the warmest of the ones that I've tested which is thanks in part to the polyester lining that is built right in. The Echo Boiled Wool gloves have a capacitive sensitive area on the thumb and index finger for touchscreen use. Warmth and style are the best points of these gloves, but it pays for it in other areas.
You'll notice that the WPM is a measly 1. This result is a combination of a few things. First of which is the lining inside. The lining is only attached on the inside at the tips of the fingers and around the wrist. Everywhere else in between, the lining is separate from the outside of the glove. This allows the outside of the glove to rotate around the inside lining which means that the touch sensitive areas can rotate to random places around your finger instead of always being in a consistent place. This makes it hard to know with which part of the glove you need to tap your phone. Not helping this problem is the relatively small area of the touch sensitive points.
While the Freehands Power Touch gloves have touch sensitive areas that wrap all the way around the front and back of the finger, the Echo gloves only have a sensitive point on the fingerprint area of your finger. So instead of a poking motion, these gloves expected a motion which involves your fingerprint area flat down on your screen, which isn't the most comfortable way to interact with your device. It's also possible that the lining will pull out (think: flipping the glove inside out) because of the way it's attached, but I didn't seem to have an issue with this. It may be a problem if your hands get sweaty or moist.
These gloves will probably work fine for answering/ending the occasional call, but typing and games are mostly out of the question, unless you enjoy exercises in frustration. These are definitely my choice for warmth though.
Freehands Soft Shell ($28)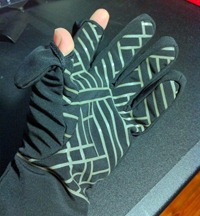 In addition to their Power Stretch gloves, Freehands has another solution. This time, instead of using special material that allows one's fingers to interact with a capacitive touchscreen, they simply have flaps that fold the material back at the thumb and index finger allowing you to use your good old natural pointers for use with your device. The flaps are held back with magnets. At first, these magnets would occasionally let the flaps go when I tried to bend my thumbs to type on the phone, but after a little breaking it they held just fine. These gloves are were warm for the most part, but are obviously going to be coldest at the flaps where they are least insulated, if you tried to use these on the slopes, you might end up with a numb thumb and index finger.
Trying to fold the flaps back after use (with both gloves on) can be a little bit frustrating. My fingers also didn't stick out as far as I'd like meaning that when I needed to bend them, I was squeezing the glove material which can result in fatigue during use. Having the best fitting gloves for your hand size is the best way to combat this, and the ones I've been testing were a bit larger than perhaps were optimal for me. As with the Freehands Power Stretch gloves, the lines across the palm side of the glove don't really provide any grip, and the bulkiness of the glove makes it hard to feel the phone in your hand, giving you less confidence about your ability to hold it than you would have with thinner gloves.
Thumb Dogs ($13)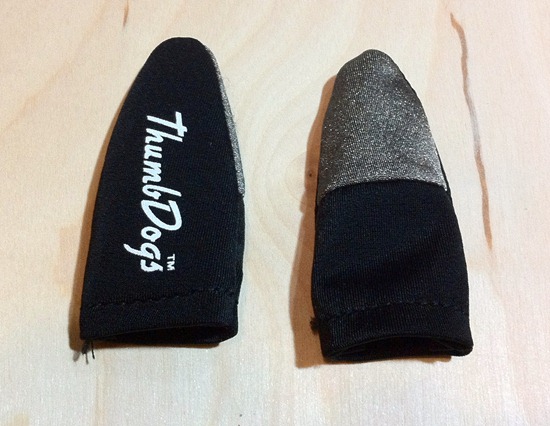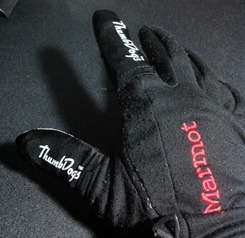 The Thumb Dogs are definitely the most flexible and inexpensive solution that I've tested. One pack comes with four Thumb Dogs which are little sleeves that are designed to go over the thumb and index finger of existing gloves. This means you can turn any pair of gloves that you already own into gloves that work with your touchscreen device. I've tested them with several gloves and they seem to work well, but your results will vary depending upon the type of glove that you use them with. Because of this, don' let the WPM and accuracy ratings weigh on you too much as they only represent how the Thumb Dogs performed with the particular gloves that I used them with.
The Thumb Dogs work fine and are a flexible solution, but they aren't for everyone. First of all, they can be annoying to use and keep track of. You have to put them on the thumb and index finger of each glove you are using them with, which means putting one glove on one hand, putting the Thumb Dogs on, then removing that glove, putting the other glove on, and putting the Thumb Dogs onto that glove. Then you can pick up the first glove and wear both; you'd have a hard time trying to put them on your gloves while both of your hands are gloved.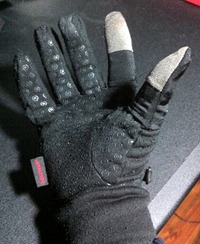 They also have the tendency to come out of their optimal position when you remove your gloves, so you'll likely have to adjust them frequently. They also aren't guaranteed to stay on and really love to grab hold of the hook end of velcro (found on plenty of jackets) so don't be surprised if one of them disappears. There's also the realization that Thumb Dogs are almost like accessories for your gloves, which are already accessories themselves. This just ads to the number of things that you need to keep track of and it get's complicated if you are frequently in and our of buildings and removing your gloves then putting them back on. I also wish they were a bit more discrete instead of having big white Thumb Dog logos on all four of them, and an inside tag with the same logo that tends to pop out and annoying when you are putting them on your gloves. They don't look too bad on a black glove (pictured above), but they'll stand out on other colors.
With that said, this is the only solution that will let you use gloves, that you already know you love, for use with your capacitive touchscreen devices.
My Choice
When it comes down to it, my personal choice would be the Freehands Power Stretch gloves. They are reasonably priced and work great for typing and app control. While they aren't quite as quick or accurate as the Agloves, I'm happy to sacrifice a little bit of performance and control for additional warmth.
Advertisement