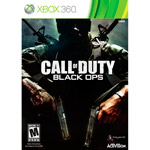 To celebrate Black Friday we're giving several hot Black Friday items. One of the hottest games of the holiday season is Call of Duty: Black Ops and we're giving away a copy for you to play on your XBOX 360, PS3, Nintendo Wii or PC. A free copy of Call of Duty: Black Ops sure beats any other Black Friday price on this first person shooter.
Call of Duty: Black Ops has an MSRP of $59.99.
If you're not familiar with the Call of Duty: Black Ops, please take a look at this trailer before buying it for your younger loved ones. It's rated M for mature for a reason. The game is extremely violent, foul language is scattered in just about every scene and your character's tasked to kill people in just about every corner of the world. While you might want young kids playing Call of Duty: Black Ops because of this kind of content, this is exactly what draws teens and adults to this game.
Call of Duty: Black Ops follows the story of a special forces fighter as he conducts covert missons during the Vietnam War era. The campaign mode is a bit more strategic than previous installations of the Call of Duty franchise. Rather than simply blasting everything that moves, Call of Duty: Black Ops requires you to sneak around and get crafty.
Many gamers couldn't care less about Call of Duty: Black Op's campaign mode. Instead, they simply want to jump online and play in multi-player mode. The game has multi-player maps of all sizes and something for everyone. Gamers can customize their characters like never before. You can spend a good amount of time changing out uniforms and customizing your weapons.
How to Win Call of Duty Black Ops
If you've read this far that probably means you'd like to win a copy of Call of Duty: Black Ops for yourself or a loved one. Entering to win is easy, just answer the below questions in the comments section below. You must answer all three questions in the comments if you want to be entered to win a copy Call of Duty: Black Ops.
1. Which gaming system would you play Call of Duty: Black Ops on if you won this giveaway?
(we need to know so we can send you the right version)
2. Why do you prefer gaming on the PS3/XBOX 360/Wii/PC?
3.  Besides Call of Duty: Black Ops, which game  is the BEST game out there that's on your Christmas wish list? What makes it so great?
Only one entry per person is allowed. This giveaway is only open to U.S. residents aged 18 and over, where allowed by local regulations. Multiple entries will be disqualified. We'll pick a random winner via Random.org next Friday, December 3, 2010.
Visit Notebooks.com's Black Friday page to learn more about shopping for gadgets on Black Friday and throughout the holiday season.
Good luck!
Advertisement