Black Friday is just around the corner, marking the beginning of the Christmas shopping season. But what tech products to kids really want? And can their parents afford them? Topping the list for kids 12 years old and under is Apple's iPad, followed closely a computer and iPod Touch.
According to Nielsen, children have very expensive taste.
The Apple iPad starts at $499, making it a pretty expensive Christmas, even if you're able to get a deal on Black Friday. The best price we've seen is from TJ Maxx, which has limited quantities at select stores for $399. That's a pretty tall order for parents in this economy. According to the study, 31% of kids have the want an iPad within the next six months.
The [amazon_link id="B001FA1O0O" target="_blank" ]Apple iPod Touch[/amazon_link] and a computer (brand not specified) are both on 29% of kids' wish lists. As Nielsen points out, the iPod Touch has displaced the [amazon_link id="B0018SRLGE" target="_blank" ]Nintendo DS[/amazon_link] and PSP from the top mobile gaming gadget spot. While the iPod Touch does much more than just mobile gaming, children view the iPod Touch primarily as a gaming device.
Gaming consoles and accessories, such as the [amazon_link id="B002BSA298″ target="_blank" ]XBOX Kinect[/amazon_link] round out the list. Obviously kids are very interested in playing video games and having fun with their gadgets, but there is one item on the list that almost any paraent wouldn't mind having their kids over use.   At the very bottom of the list, 11% of kids want an eReader.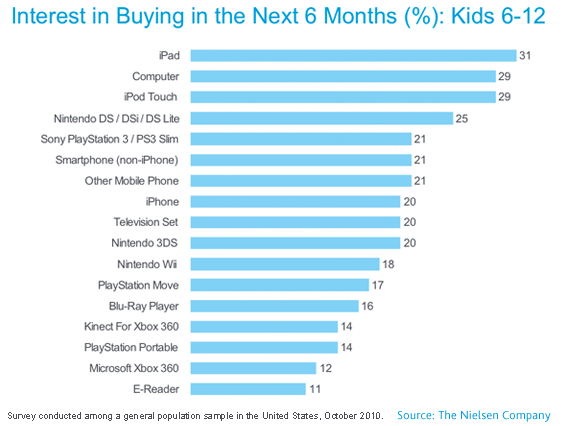 For more information about Black Friday, please visit Notebooks.com's Black Friday info page.
Advertisement