Apple's repeatedly promised iPad users that iOS4 would be coming to the iPad in November. Now that we're nearing the end of the month, quesions are swirling as to if Apple will still release iOS 4.2 this month. Apple has released early versions of iOS 4.2 to developers and other industry insiders and there were apparently too many remaining issues to distribute IOS4.2 to iPad, iPhone and iPod owners earlier this month.
Update: iOS 4.2 is now available for the iPhone, iPod Touch and iPad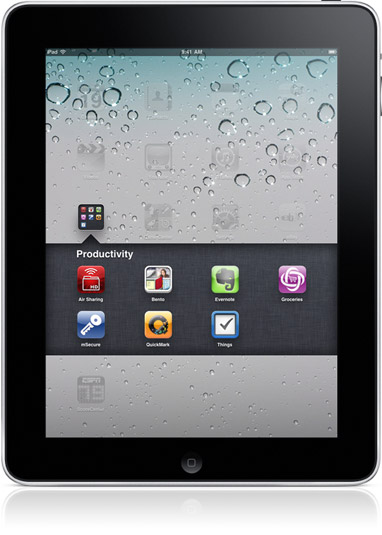 So what is IOS 4.2 and why should you care? IOS 4.2 is a version of Apple's mobile operating system that will finally unify most of the look, feel and software features found on the iPhone 4 with the iPad. The iPad still runs a version of iOS 3, which is the same mobile operating system that originally shipped with the iPhone 3GS and previous versions of the iPod touch. Many features that iPhone 4 users take for granted, such as multi-tasking and app folders, are simply not available on the iPad as of today. Applications written specifically for iOS4 do not offer the same experience on the iPad as on the iPhone or iPod Touch.
Apple's promised over 100 new features for the iPad with the release of iOS4.2. Some of the most anticipated iOS 4.2 features for iPad are Airplay and multitasking. Currently, users can only use a single app at a time and can't run media apps, such as Pandora, in the background while browsing on Safari or using any other app. When iOS 4.2 is finally released, iPad users will be able to keep multiple apps open at a time, allowing them to quickly switch between apps.    Airplay is a feature that will allow iPad, iPhone and iPod Touch users to stream music and video to their TVs via Apple TV boxes.
Here is a look at a beta version of iOS4 on an iPad.
Many iPad users have complained that their iPads feel stale when compared to their other Apple mobile devices. Currently, the experience is inconsistent and is frustrating many iPad users.
If you're considering buying an Apple iPad in the coming days, go for it. There's no reason to wait for iOS4.2 to launch before buying an iPad as it's an easy and free upgrade.
The final version of iOS 4.2 is now known as iOS4.2.1. This version of the OS has been released to Apple's developer partners to test their applications against it. This likely means the release of IOS4.2.1 is imminent and we expect to see it released prior to Black Friday.
For more information about iOS4.2 for iPad you can visit Apple.com's  info page on the subject.
Advertisement